Windows 10 ships with many unnecessary applications, and most PC users don't ever use them. Hence, it is better to uninstall those apps that you do not require to improve overall system performance and empty the hard disk storage. If necessary, you can install them from Microsoft Store in the future.
It is tough to uninstall these built-in apps manually, and even you will not find a correct way to remove these programs. Here, 10AppsManager plays a handy role and helps you eliminate the built-in Store apps.
10AppsManager for Windows 10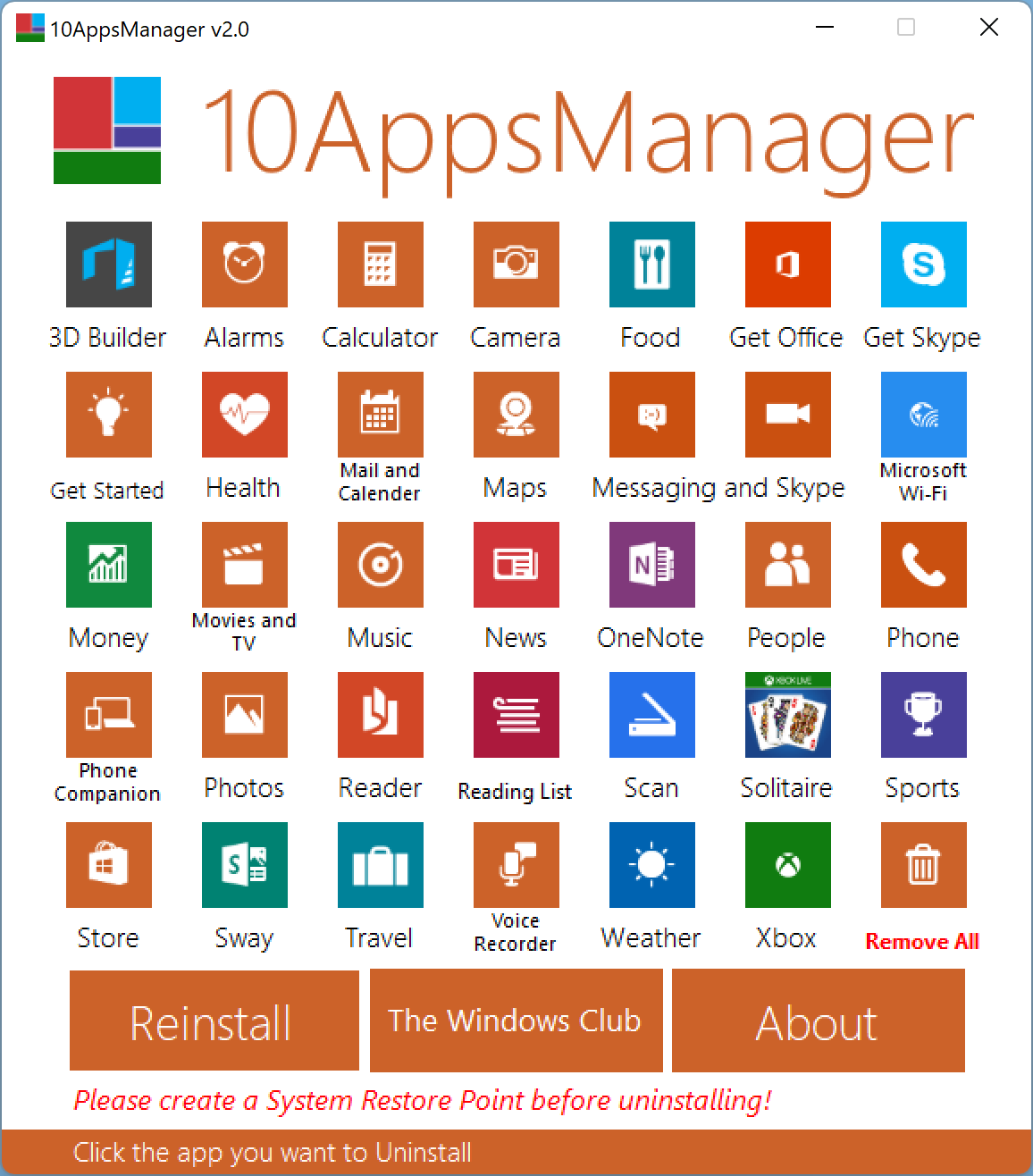 10AppsManager is a freeware tool that allows you to quickly uninstall and reinstall the default built-in apps in Windows 10. While Microsoft will enable you to install and uninstall these in-built Store apps manually, the process is not so easy for the preinstalled apps. You can easily uninstall or reinstall 3rd-party apps, but not the default preinstalled apps that Windows 10 ships with. The 10AppsManager automates the process and lets you carry out the operations with a click.
To uninstall or reinstall Windows 10 preinstalled Store apps, you need to download this portable tool and then unzip its contents in a folder. After extracting the contents of the 10AppsManager zip file, double-click on the setup file to launch it.
Since it is a third-party application, we recommend creating a system restore point before making any changes to your PC.
The 10AppsManager tool allows you to uninstall the following preinstalled Microsoft Store apps:-
3D Builder,
Alarms,
Calculator,
Camera,
Food,
Get Office,
Get Skype,
Get Started,
Health,
Mail and Calendar,
Maps,
Messaging,
Skype,
Microsoft Wi-Fi,
Money,
Movies and TV,
Music,
News,
OneNote,
People,
Phone,
Phone Companion,
Photos,
Reader,
Reading List,
Scan,
Solitaire,
Sports,
Store,
Sway,
Travel,
Voice Recorder,
Weather, and
Xbox.
To uninstall a Microsoft Store app, click on its entry on the 10AppsManager you will be prompted for "Are you sure you want to Uninstall this app?"
Click the Yes button to confirm the process of uninstalling the application from your Windows 10 PC. Once the uninstallation process is completed, you will see a message, "Uninstalled Successfully."
Download 10AppsManager
If you need 10AppsManager, you can download it from the TWC website.
Conclusion
In conclusion, removing unnecessary built-in applications is a good way to free up hard disk space and improve the overall performance of your Windows 10 computer. While it is challenging to remove preinstalled default apps manually, 10AppsManager is a useful tool that can help you quickly uninstall and reinstall them. By using this freeware, you can easily get rid of the default apps that you do not require and create more space on your PC. However, as 10AppsManager is a third-party application, it is recommended to create a system restore point before making any changes to your computer.