Are you frustrated with your browser's built-in download manager and worried about file corruption with slow internet? Many download managers are available online, but not all work as advertised. Learn more about why you may need a download manager for smoother downloads.
In this gearupwindows article, we will discuss twelve free download managers that work on Windows 11/10 PC. These are the following:-
VideoProc Converter
Xtreme Download Manager (XDM)
Download Accelerator Plus (DAP)
Ninja Download Manager
Free Download Manager
Neat Download Manager
FlashGet
GetGo Download Manager
FreeRapid Downloader
Internet Download Accelerator (IDA)
JDownloader 2
EagleGet
Why do we need to use a download manager?
If you're wondering why you need a third-party download manager when all modern browsers come with built-in ones, let me give you an example. Imagine you want to download a 5GB video and keep a copy on your PC. If you have a slow internet connection, interruptions during the download can lead to lost bandwidth and time. Plus, if the download link expires, you can't resume with the regular browser download manager. That's why we recommend installing a good download manager. Download managers save bandwidth by resuming links and can download up to 20 times faster than traditional methods. In the next section, we'll explore some of the best download managers available.
Best FREE Download Manager for Windows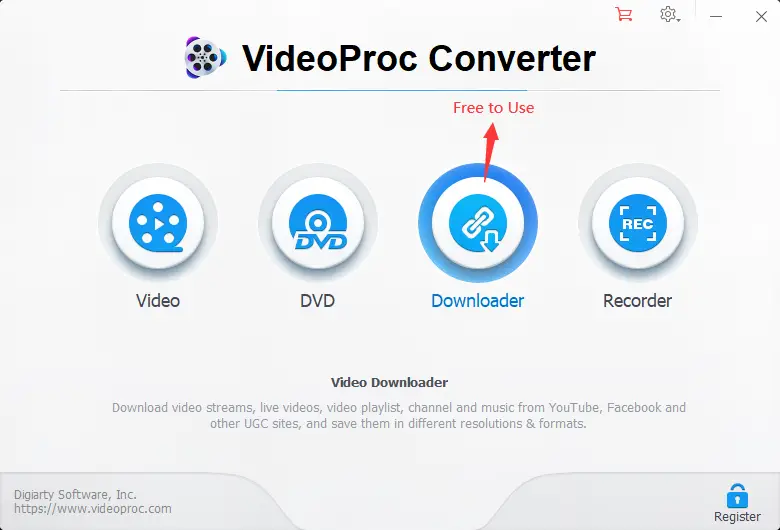 VideoProc Converter offers a powerful range of features. Its built-in free downloader engine allows you to download videos, audios, and playlists from popular websites in original quality, in formats such as MP4, AVI, and WebM with complete audio and subtitles. Plus, the built-in toolbox lets you edit the downloaded videos, including cutting, merging, cropping, rotating, splitting, adjusting speed, volume, and color, adding watermarks, and more.
In addition to downloading, VideoProc Converter can also convert video/audio formats such as MKV, MOV, FLV, WebM, WMV, MP3, and AAC, as well as transcode HEVC to H.264 or vice versa to reduce file size while maintaining quality. And if you need to record your webcam or desktop screen with sound, VideoProc Converter has a built-in screen recorder.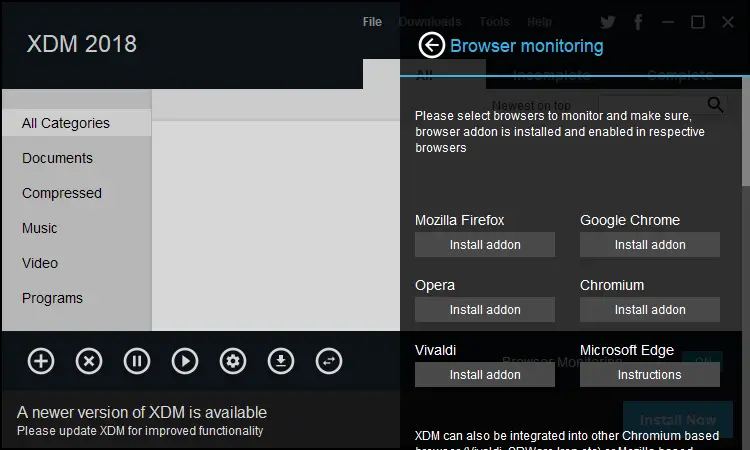 Xtreme Download Manager (XDM) is a versatile and feature-rich free download manager that offers impressive download speeds of up to 5 to 6 times faster than normal. Its modern design and user-friendly interface make it easy to use, while its pause, resume, and stop options allow for convenient downloads. XDM's organization feature allows you to sort your downloads into categories, while it's data compression and segmentation algorithm further speed up downloads. Additionally, XDM offers the ability to convert streaming videos from popular websites such as YouTube, and Vimeo and integrates seamlessly with popular browsers like Chrome and Firefox.
Download Accelerator Plus (DAP) is a popular and reliable download manager that boasts impressive speeds, with claims of up to 400% faster downloads than regular browser downloads. Although the free version does have advertisements, it is still a great tool for those with slow internet connections or frequently interrupted downloads. With DAP, downloads can be split into smaller chunks to speed up the process and organized into categories for easier management. DAP is also compatible with several popular browsers, including Internet Explorer, Firefox, Google Chrome, Safari, and Opera, and allows for previewing of audio and video files while they are being downloaded.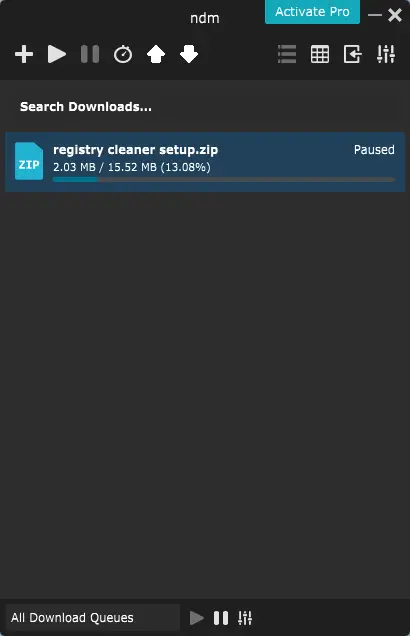 Ninja Download Manager (NDM) is a modern and user-friendly freeware tool that offers an impressive range of features for a free download manager. With NDM, users can pause and resume downloads, limit download speeds, download videos from the internet, and convert them to different formats. NDM integrates with popular browsers like Google Chrome, Edge, Mozilla Firefox, Opera, and Internet Explorer and allows for the scheduling of downloads for a specific date and time. It also includes a clipboard monitor, password manager, connection control, and sequential file writing, which sets it apart from other download managers. The developer claims that NDM can increase download speeds by up to 20 times by using multiple concurrent connections, making it an excellent tool for those looking for faster download speeds.
Free Download Manager seems to be a feature-rich and versatile download manager that supports various protocols, including HTTP/HTTPS/FTP/BitTorrent, and provides users with several features to increase download speeds, such as dividing files into smaller chunks and downloading them simultaneously. Additionally, it allows users to pause, resume, and schedule downloads, organize files, and adjust traffic usage.
One notable feature of FDM is the ability to download videos from popular websites like YouTube and save them in native .flv format or convert them to other video formats. Moreover, the software includes a built-in upload manager, which enables users to share their files with others securely.
Furthermore, FDM is available in many languages and supports Windows and macOS. The software is free to use and offers a lite version that can be customized by adding desired functionality as plug-ins. Overall, FDM seems to be a reliable and user-friendly download manager that offers excellent download speeds and a wide range of features for managing and tracking downloads.
Neat Download Manager is a powerful and user-friendly download manager that can handle various file types and download them at an accelerated speed. It supports HTTP, HTTPS, and FTP protocols and can also download videos from popular websites. The software has a simple and intuitive interface, making it easy to use for both beginners and advanced users. Additionally, it offers advanced features such as scheduling downloads, resuming broken downloads, and bandwidth control. Despite being a small-sized program, it is a reliable option for Windows users who need a fast and efficient download manager.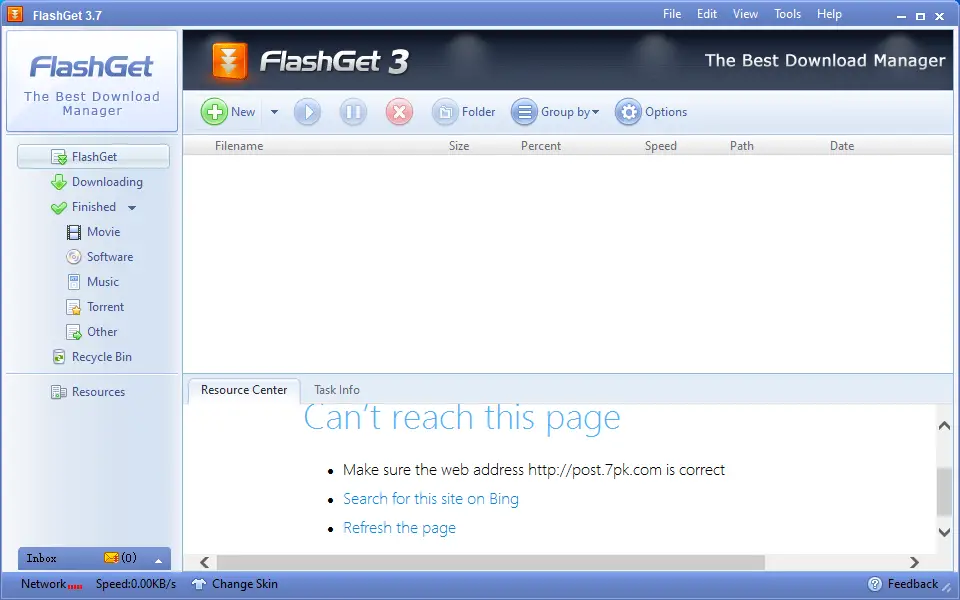 FlashGet is a free and user-friendly download manager that offers a wide range of features to enhance your downloading experience. It utilizes Multi-server Hyper-threading Transportation techniques and optimization arithmetic to split files into several parts, making the download process faster. With support for various protocols, including HTTP, BT, FTP, and eMule, users can download multiple files simultaneously. The software is also customizable, offering various skins and browser integration. Additionally, it is completely free from adware or spyware, and automatically scans downloaded files with your computer's anti-virus program. The program is lightweight and does not impact regular computer use, and it includes a Recycle Bin feature to recover accidentally deleted files. Overall, FlashGet is a reliable and efficient download manager that is completely free to use.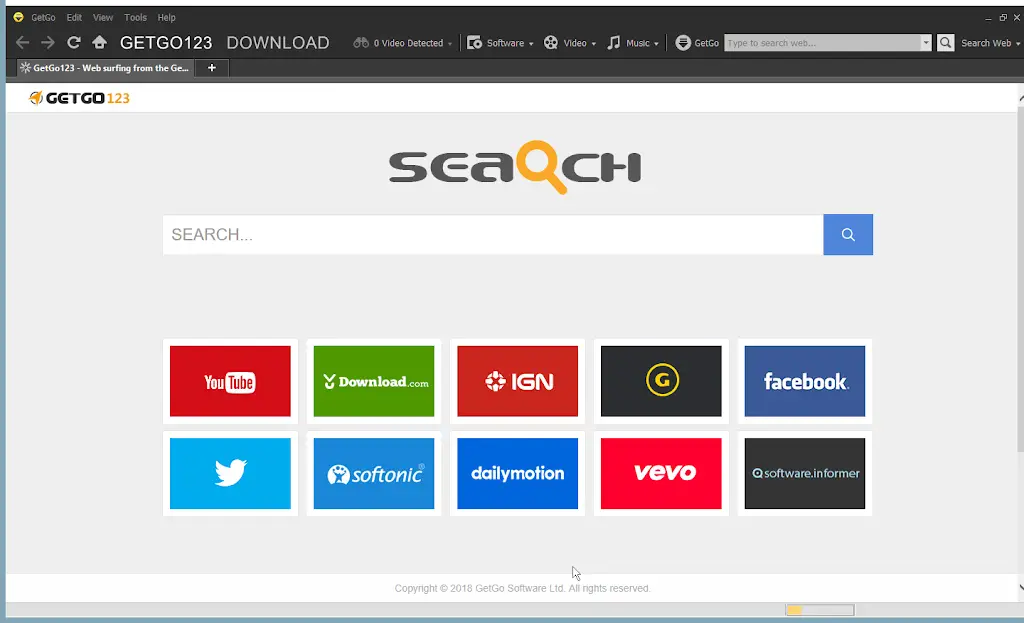 GetGo Download Manager is a free software that boasts a powerful built-in web video downloader. It is optimized for modern web browsers and compatible with Windows 11, Windows 10, Windows 8, and Windows 7 operating systems. The program's integrated search bar allows for quick and easy video and music file downloads, while the auto-resuming feature ensures uninterrupted downloads. GetGo's ability to divide files into smaller blocks and download them simultaneously speeds up the download process. The program features a sleek and customizable interface with three skins to choose from. It monitors the user's browser and suggests itself as the download manager for media files.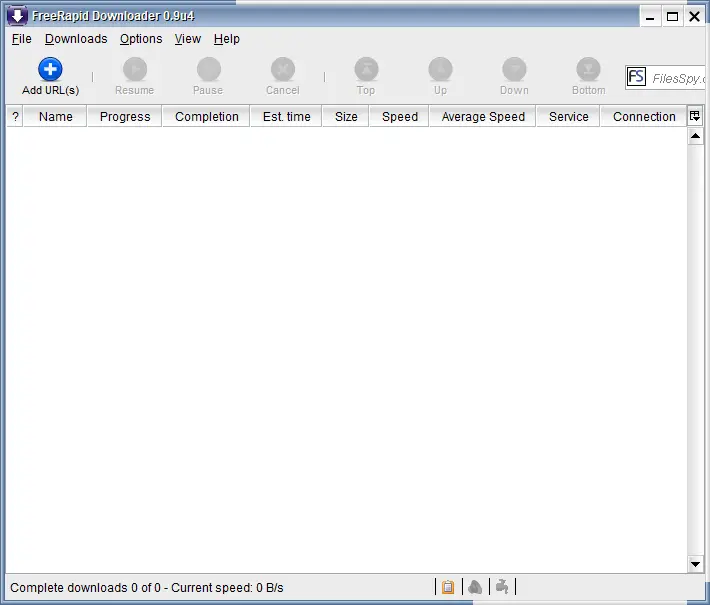 FreeRapid Downloader is a user-friendly and versatile freeware utility that simplifies the process of downloading files from various websites. With a simple and intuitive interface, it supports multiple protocols and websites, including popular ones like Youtube, Facebook, Picasa, and RapidShare. Developed on the Java platform, it is compatible with multiple Windows operating systems, including the latest Windows 11 version. It also supports a multilingual interface, ensuring that users from different regions can use it seamlessly without language barriers. With its ease of use and extensive support, FreeRapid Downloader is a valuable tool for downloading files from the internet.
Internet Download Accelerator (IDA) is a feature-packed and easy-to-use download manager that can enhance your download speeds. With its browser integration, you can seamlessly download files with a single click. The software can detect download links on the clipboard, allowing you to start downloading files instantly. IDA supports downloading of video and audio files from popular websites and categorizes downloaded files into groups for easy access. You can also schedule downloads, pause, and resume downloads at any time, and download files from multiple mirror sites simultaneously. With its Site Manager, you can easily manage all your downloads, and the software keeps a history of your downloaded files for easy tracking. IDA is compatible with all Windows operating systems, from Windows XP to Windows 11, and is available in both 32-bit and 64-bit versions.
JDownloader 2 is a powerful and versatile download manager that is free to use. It is compatible with Windows 11, Windows 10, Windows 8, and Windows 7, and offers a wide range of features to enhance the download experience. With its intuitive interface, users can easily add download links from various websites, and the program will automatically detect and capture links from supported websites. It also supports downloading from premium accounts and offers batch downloading for multiple files at once. Additionally, JDownloader 2 has a link grabber feature that allows you to extract links from text or web pages, and a clipboard monitor that automatically adds download links to the program. Overall, JDownloader 2 is a reliable and feature-packed download manager that is ideal for both casual and power users.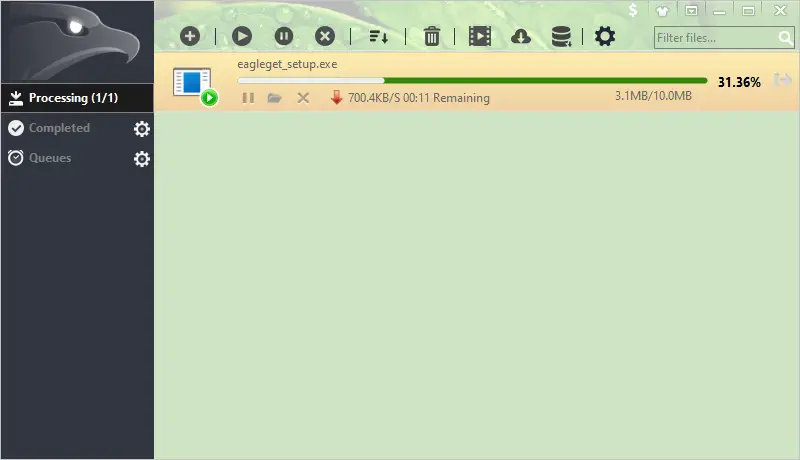 EagleGet is a free and powerful download accelerator that can increase download speeds by up to six times. This software integrates with various web browsers and supports HTTP, HTTPS, FTP, MMS, and RTSP protocols. It includes a built-in media grabber that allows users to download videos from popular video-sharing websites, and it automatically detects and downloads videos from web pages. EagleGet also features a built-in malware checker that scans downloaded files for viruses and other malware before they can harm the user's system. The program's user interface is user-friendly and customizable, with a variety of skins available. Additionally, EagleGet supports batch downloads, file management, and scheduling, making it a versatile download manager for Windows 11/10.
If you know about any other free download managers that I have not covered in this post, please share them in the comment box. We will test them out and introduce them in our blog.
Conclusion
In conclusion, using a download manager can help you download large files faster and with greater reliability, especially if you have a slow internet connection or frequently encounter interruptions. In this article, we discussed 12 free download managers that are compatible with Windows 11/10. Some of the download managers discussed include VideoProc Converter, Xtreme Download Manager (XDM), Download Accelerator Plus (DAP), Ninja Download Manager, and Free Download Manager. Each download manager has its own unique features, such as built-in downloader engines, data compression, and browser integration. Overall, using a download manager can save you time and frustration, and with the variety of options available, you are sure to find one that suits your needs.