PDFRedactor.com released a new Windows program that is called PDF Redactor. It is a neat PDF text redaction-free software tool designed to redact or delete sensitive text and images in a PDF file to protect privacy. It does not only black-out content to make it unreadable, but the blocked part cannot be found even if readers use the text search function. The content is deleted entirely from the PDF file.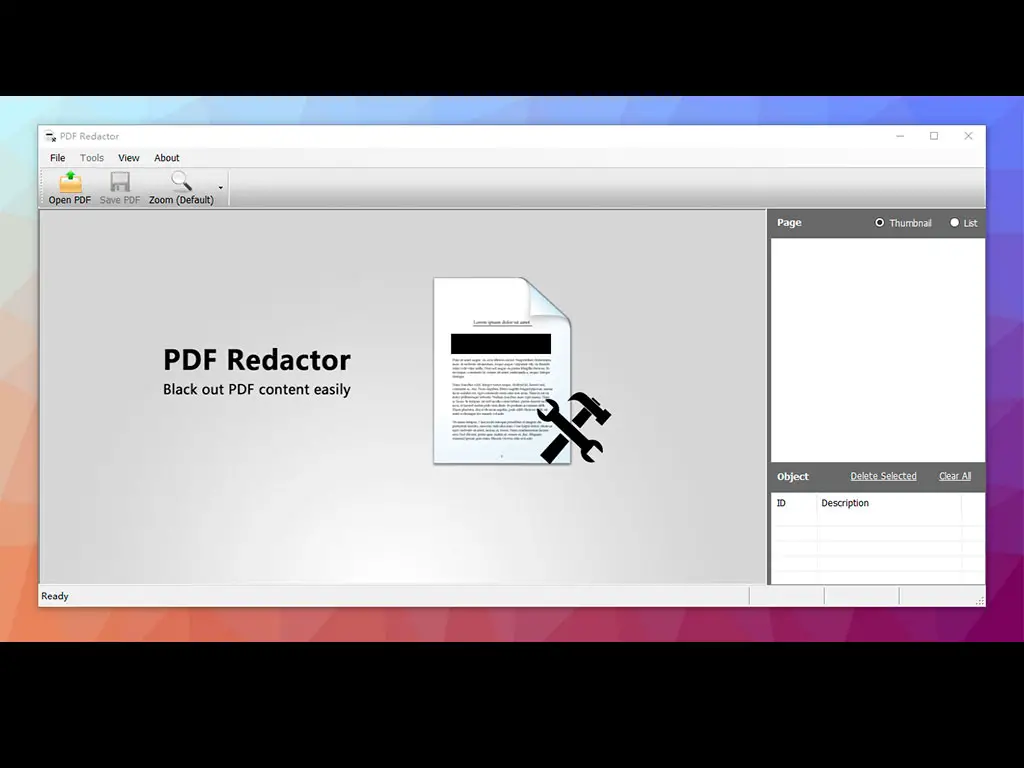 How to Redact Text on a PDF?
The interface of this app is very straightforward, so users won't take long to figure out how to start. Upon launching PDF Redactor, you will be prompted to open a PDF document, and then you can use the program's features.
Before choosing to redact text, the tool will instruct users on how to do so. Click on the Redact button, highlight the text they wish to block, and save the PDF. After that, the highlighted text will be redacted immediately, removing any possibility of it being somehow revealed through reverse engineering. As such, users can rest easy knowing that the information they hide here will stay redacted.
There's also a Delete button, enabling users to delete the highlighted writing completely.
Add Text and Images to a PDF
PDF Redactor also enables people to add new text and images over a PDF file, and the process is intuitive and easy. One can move and resize anything they add and customize the text font, size, and color.
Features of PDF Redactor
Black Out and Redact PDF Text,
Remove Sensitive PDF Content,
Redaction Area Color Customization,
Automatically Unlock Secured PDF Files,
Rotate PDF Page Orientation,
Write Text and Add Images to a PDF.
Price and Availability
PDF Redactor is free for PDF documents containing less than 100 pages and home/personal use, with no file number limit.
The PDF Redactor Pro version costs USD 29.95, and it could redact PDF files containing more than 100 pages.
Giveaway
The PDF Redactor Pro version is still in the giveaway promotion. Users can get the PDF Redactor Pro serial key (PV5833275XNRCUL) and upgrade to the Pro version before Feb 15, 2022, for free.
About
Founded in 2021, PDFRedactor comprises a small team of fantastic programmers that previously created a wide variety of document tools such as PDF Maker, PDF Converter, PDF Protection utilities, etc.
Downloading
This program is compatible with all versions of Windows, including Win XP, Vista, 7, 8, 10, and 11. Go ahead and opt for PDF Redactor.
Conclusion
PDF Redactor is a newly released Windows program that aims to protect user privacy by redacting or deleting sensitive text and images from PDF files. Its intuitive interface makes it easy to use, with features that include blacking out and redacting PDF text, removing sensitive content, customizing the color of redaction areas, automatically unlocking secured PDF files, rotating PDF page orientation, and adding text and images to a PDF. PDF Redactor is free for PDF documents with fewer than 100 pages and is available for all versions of Windows. The Pro version is available for a price of USD 29.95 and is currently being offered in a giveaway promotion. With its strong features and ease of use, PDF Redactor is a great tool for protecting sensitive information in PDF files.