To keep your PC performance at the highest quality, you will have to perform several tasks, such as cleaning the registry, residual files, etc. No one can perform these tasks manually, and here Advanced System Optimizer plays a handy role.
Advanced System Optimizer Reviews
Advanced System Optimizer is a freeware tool that takes care of your Windows PC. Once you download, install and run it for the first time on your computer, it automatically creates a backup of system files and even creates a system restore point without your intervention.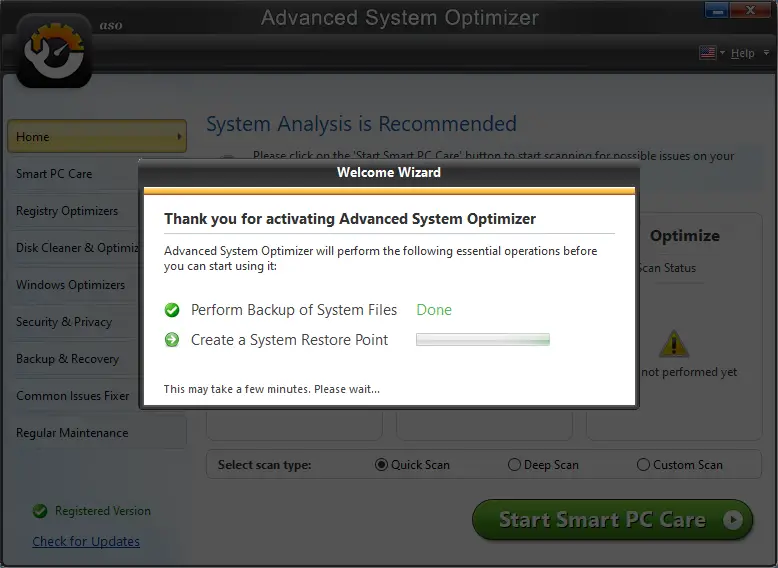 It is divided into several modules so that a novice can also operate it efficiently. There is a button labeled with "Start Smart PC Care" on the Home interface of this software. A single click on this option will perform cleaning and optimizing of your PC. You can also schedule automatic Smart PC Care to make your PC healthy.
Smart PC Care
Smart PC Care module of Systweak Advanced System Optimizer lets you clean unwanted data and free up disk space. It also addresses hidden privacy, exposes traces, fixes registry issues, and then optimizes the registry to boost the performance of Windows machines. Its Smart Defrag feature detects SSD automatically and denies to defrag. Since SSD does not get fragmented; hence defragmentation is not required.
Registry Optimizers
It includes two sub-modules: Registry Cleaner and Registry Optimizer. Using the Registry Cleaner, you can clean the Windows Registry to fix registry issues, resulting in no unwanted application crashes.
Once you clean the Windows Registry, we recommend running the "Registry Optimizer" tool to compact the registry for smooth PC performance and reduce its size.
Disk Cleaner & Optimizers
Disk Cleaner & Optimizers is divided into four parts:-
Disk Optimizer – Removes fragments from HDD (Hard Disk Drive) and improves turnaround time.
System Cleaner – It removes unwanted clutter from your PC and saves system resources for optimum utilization.
Disk Tools – This option checks HDD at startup and fixes errors.
Disk Explorer – Displays disk usage by files and folders. It also checks and manages disk statistics.
Windows Optimizers
Windows Optimizers lets you optimize your PC for better gaming performance by freeing up memory.
Security & Privacy
For privacy concerned Windows users, "Security & Privacy" is an important feature. Privacy Protector lets you delete internet browsing history and other hidden traces. While Secure Delete functionality enables you to remove the files or folders from your PC's hard drive entirely and then wipes the free space so that data is unrecoverable using any Data Recovery app. Next, Secure Encryptor allows you to protect a file or folder with a password.
Backup & Recovery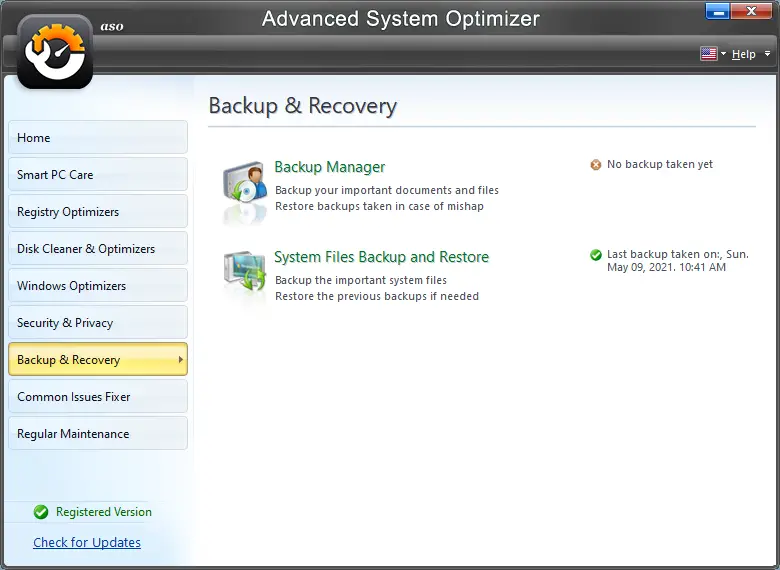 We should always keep a backup of essential data. The "Backup Manager" helps you to save your necessary files and folders in a separate location. Further, the System Files Backup and Restore feature allows you to backup and restore the system files.
Custom Issues Fixer
The "Custom Issues Fixer" option of this software searches your PC for common issues related to windows and quickly fixes them all. It also includes a module, "Duplicate Files Remover," that scans duplicate files and removes them to free up hard disk space.
Regular Maintenance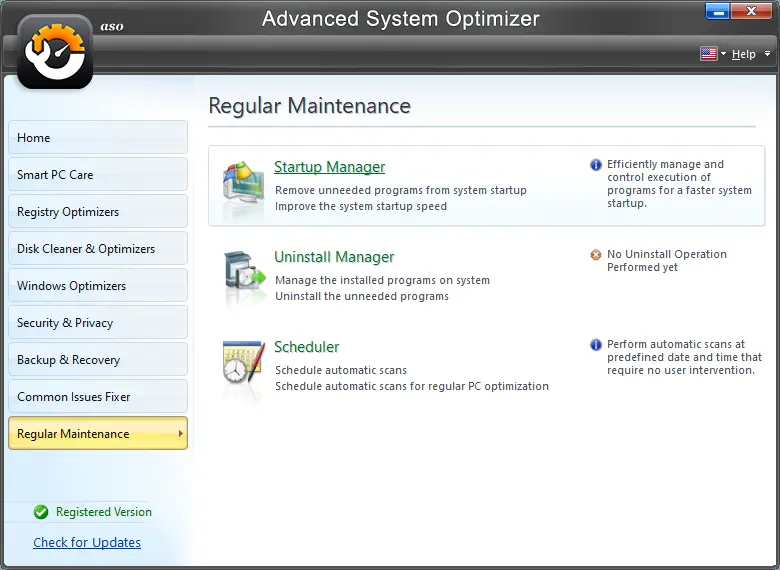 This category allows you to manage Startup programs, uninstall an app safely and schedule automatic maintenance of your PC.
Final Opinion on Advanced System Optimizer
The Advanced System Optimizer is a free PC cleaning utility and comes with several optimization features to improve the overall performance of Windows 11/10 PC. It is also compatible with Windows 8, 7, Vista, and Win XP.
Download Advanced System Optimizer
You can download Advanced System Optimizer from its official website.
Compared to Glary Utilities, Advanced System Optimizer does not support many features, such as Context Menu Manager, Process Manager, Software Update, Malware Remover, Driver Manager, etc.
Before deciding which is a perfect PC Cleaner, you should read both software reviews and compare the features.