As the name suggests, Uninstaller Free is a free program from Ashampoo. It is a powerful Windows application uninstaller software. Despite being 100% free to use, this software has many great core features, including real-time installation monitoring and logging of any newly installed software, amongst other things!
Usually, when you uninstall a program from your PC, many unwanted files, folders, and registry keys pile behind, eventually leading to clutter and harming your system's performance. Fortunately, a few good freeware available over the internet helps Windows users uninstall the software, followed by a powerful scan that removes residual files.
Key Features of Ashampoo Uninstaller Free
100% free to use but requires registration.
Clean, modern, and easy-to-use interface.
Real-time installation monitoring.
Includes some additional PC cleaning tools.
Allows to filter applications (Installed from Microsoft Store, large in size, etc.)
Option to manage Windows Apps.
Start up tuning tool for faster boot-up.
Secure file wiping tools.
Internet cleaning tools for privacy.
Remove software with in-depth cleaning.
Log file-based software removal.
System maintenance and optimization tools.
Compatible with Windows 10, 8, and 7 (Works with Windows 11).
Ashampoo Uninstaller Free for Windows 11 and 10
In order to use Uninstall Free, you need to download this application from the Ashampoo webpage, and after that, install it on your PC. It is about 12MB in size.
The software installation will ask you to register the product and obtain a free license key. Upon entering your email address, the installer will immediately generate the license. However, if you already have a free Ashampoo account, simply logging in at this prompt will activate the free copy of Uninstaller.
Installing Applications
One of the core functions of this application is that it allows users to remove unwanted software from their PCs completely. To make this accurate, the uninstaller creates a log when you install new software to your PC and ensures every change can be undone when you uninstall the application in the future.
This automatic logging functionality is enabled by default when the software is installed. However, if you notice that the application is not logged automatically, you can set the software to monitor the installation by manually dragging and dropping the installer file onto the Install tab within the application itself.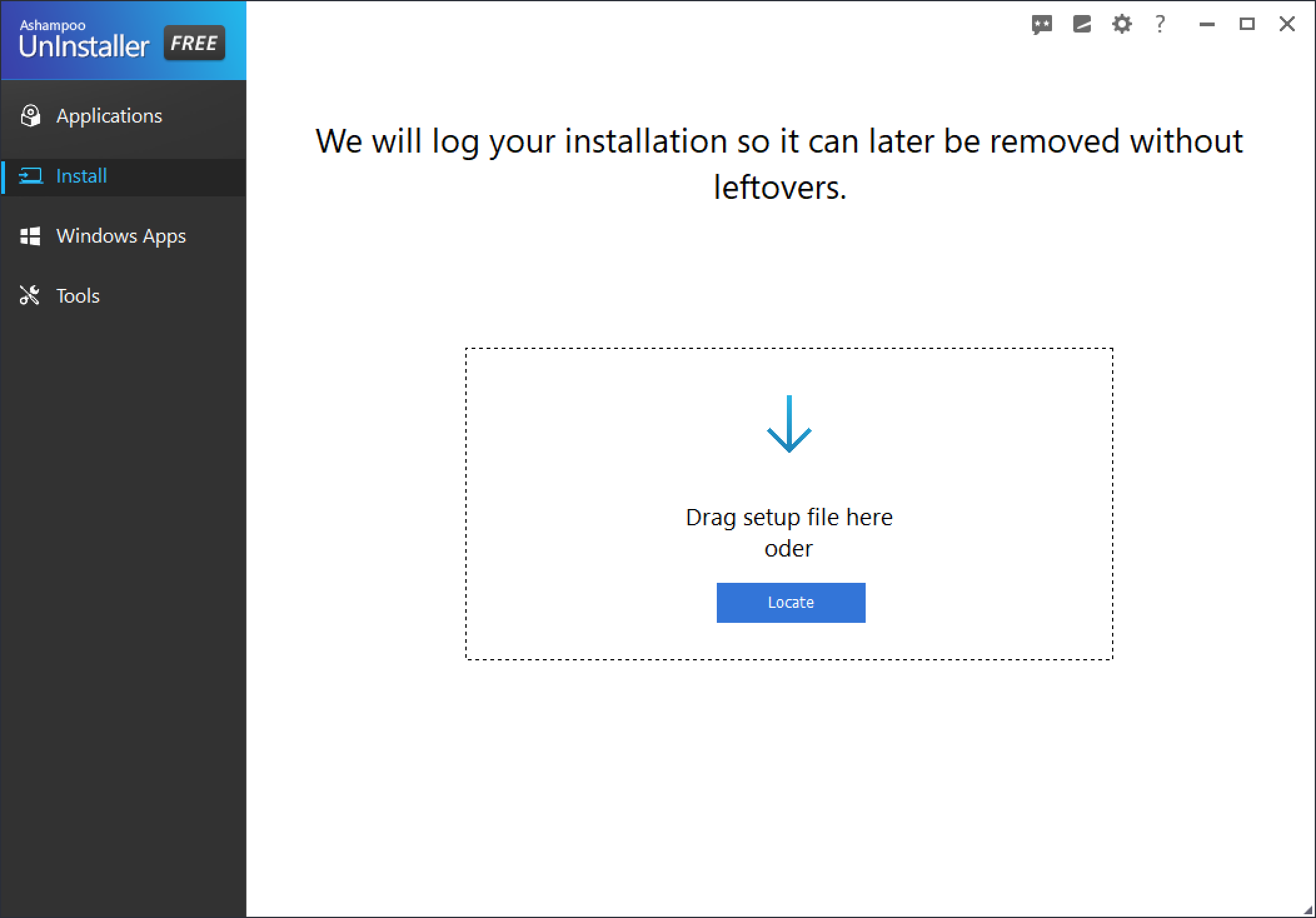 Once the application is installed, it will appear in the Applications tab. Besides the software, you will see "Status" as a "Log file" that was installed under the monitoring of Ashampoo Uninstaller. This indicates that the install has been fully logged.
Here, you can find a lot of information about your installed software, such as community ratings, the date on which the application was installed, and the space occupied on your disk. Ratings are helpful to know about the software, whether it is useful, potentially unwanted, or potentially dangerous, and whether it should be uninstalled or not.
Uninstalling Applications
Ashampoo Uninstaller has powerful deep-cleaning functionality that lets you uninstall the software and completely remove them from your PC. To remove any software from your computer, select it and click on the Uninstall button.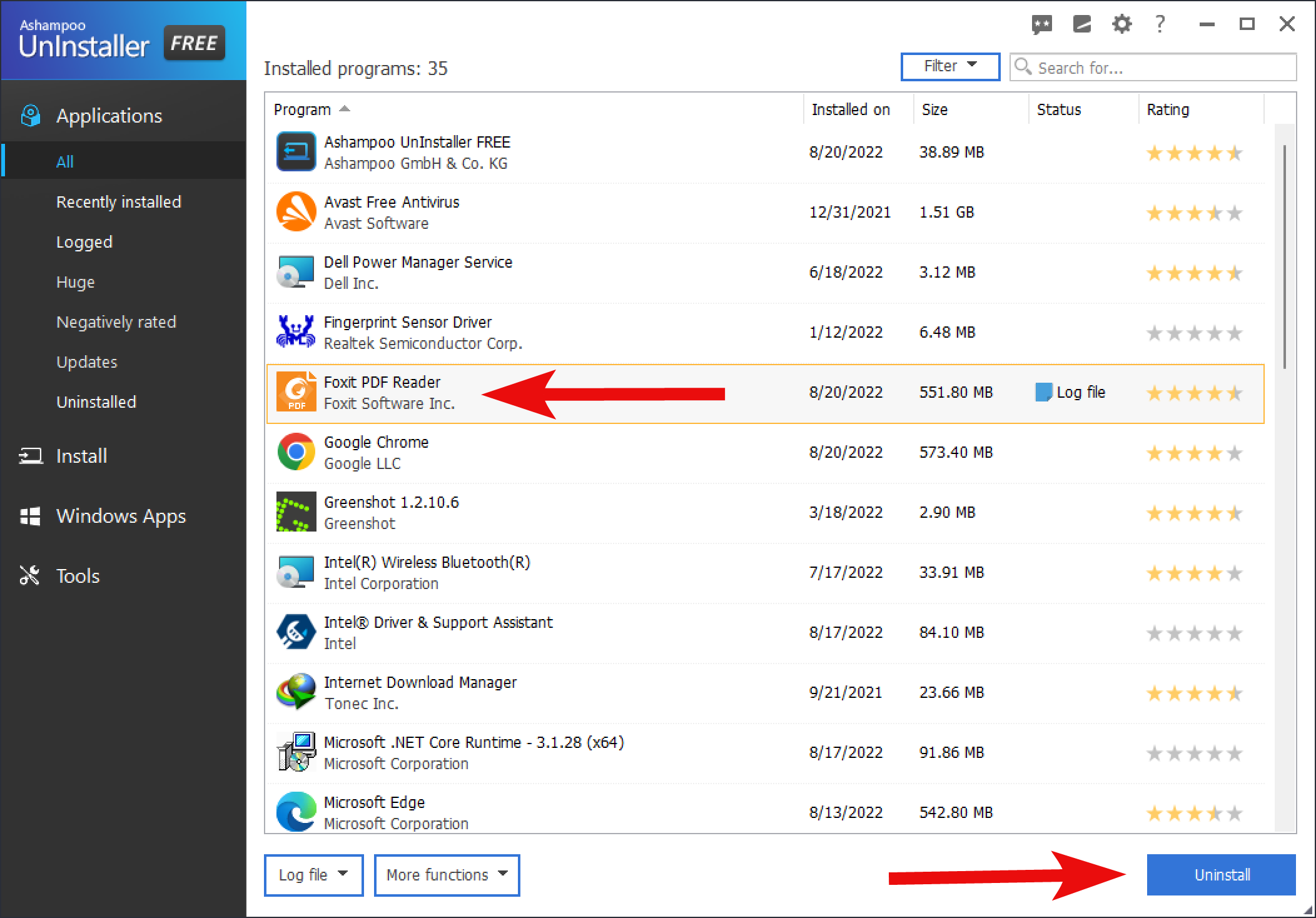 Once the uninstallation is completed, it will display a list of the leftover registry and other files. You can review those files and registry entries. To clean these leftover, click the Select all button and check the option Wipe leftover files. Finally, click the Perform in-depth cleaning button to start erasing these.
Once done, it will clean your PC from unwanted files and registry entries. Due to some reason, if a file or registry could not be cleaned, the application will remove them in the next reboot.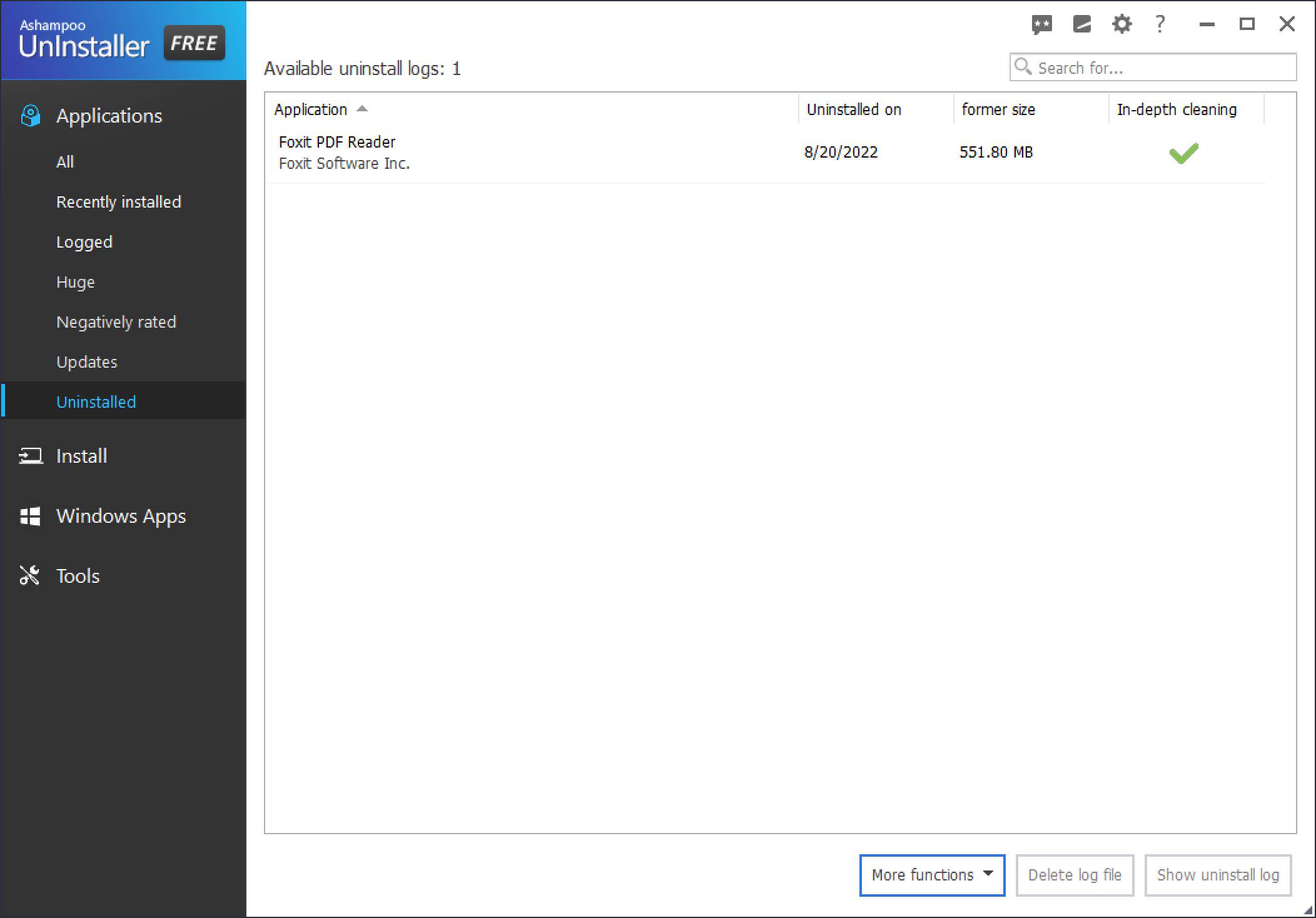 Ashampoo Uninstaller keeps a log of uninstalled applications that you can find in the "Uninstalled" sub-menu.
Cleaning and Optimisation
Uninstaller Free also includes additional cleaning and maintenance tools besides monitoring installs, uninstalls, and deep cleaning. Some useful cleaning tools included here are Internet Cleaner, StartUp Tuner, and File Wiper.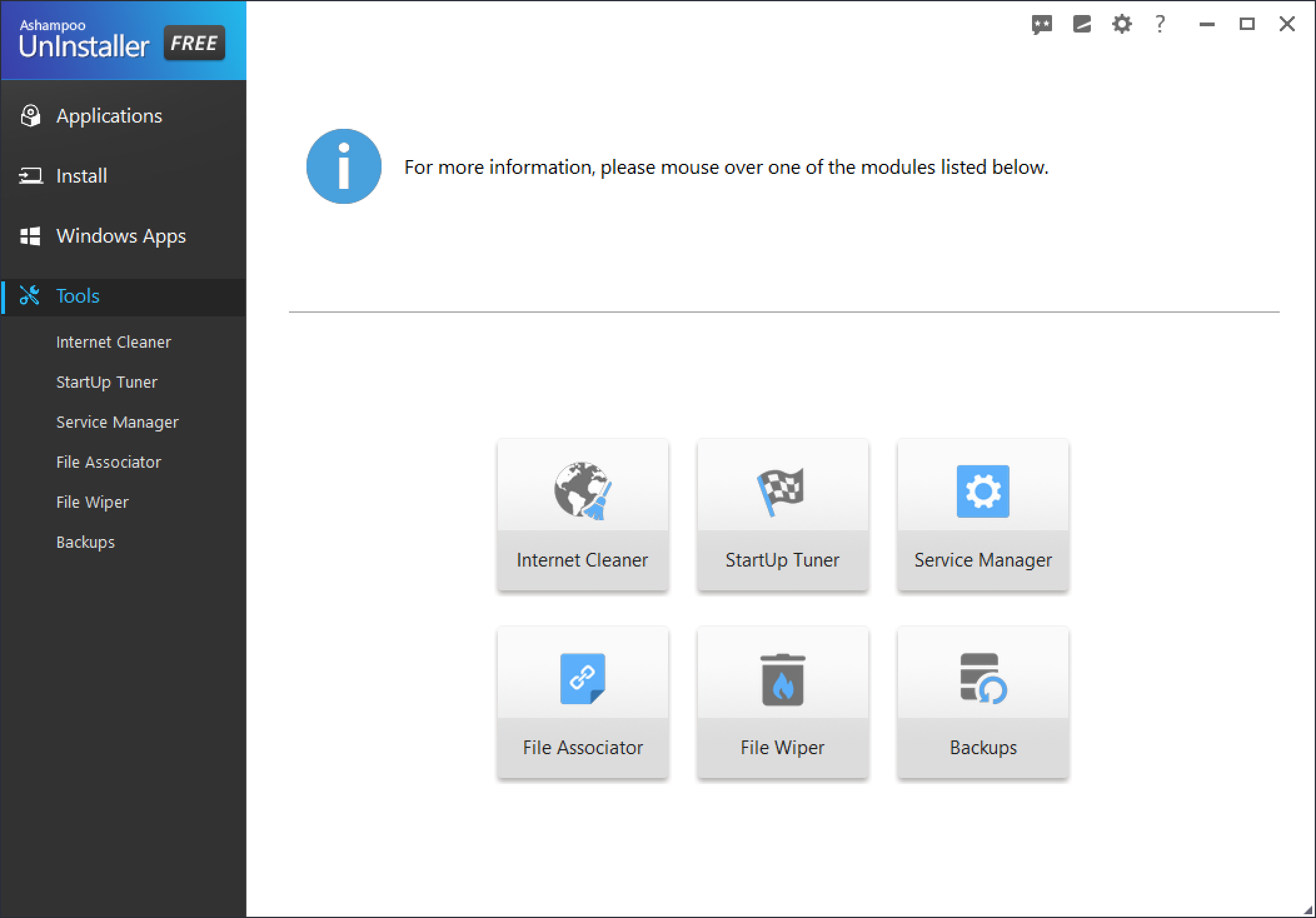 Internet Cleaner removes the internet traces of all installed browsers on your PC. When you select this tab, it will automatically detect all browsers of your computer and show the number of web browsing traces and space acquired by them.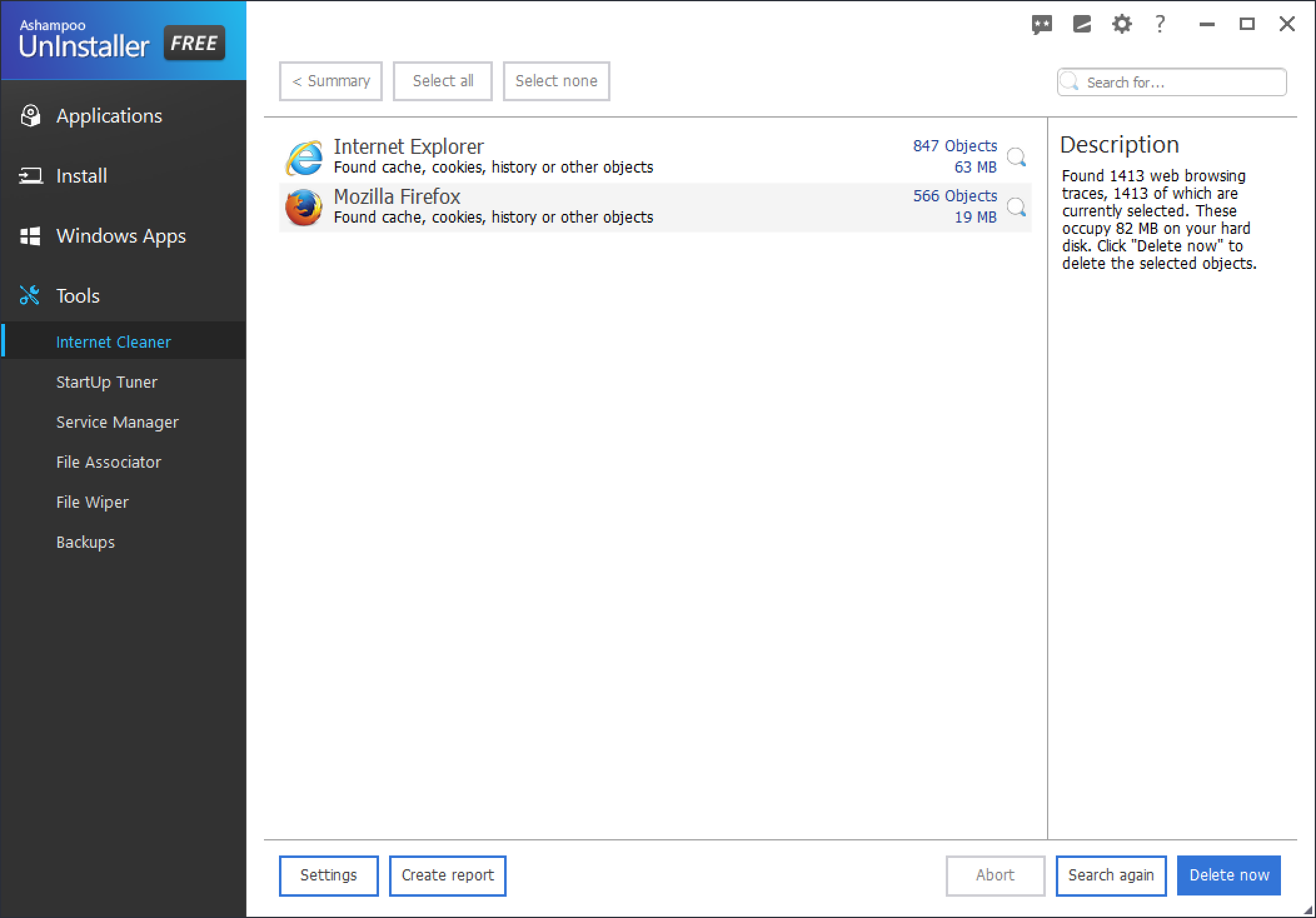 Just click the Delete now button to clean these traces from your PC.
Please note that if a browser is already opened on your computer, it will not clean the traces for that particular web browser. In order to work this function, your browser should be closed.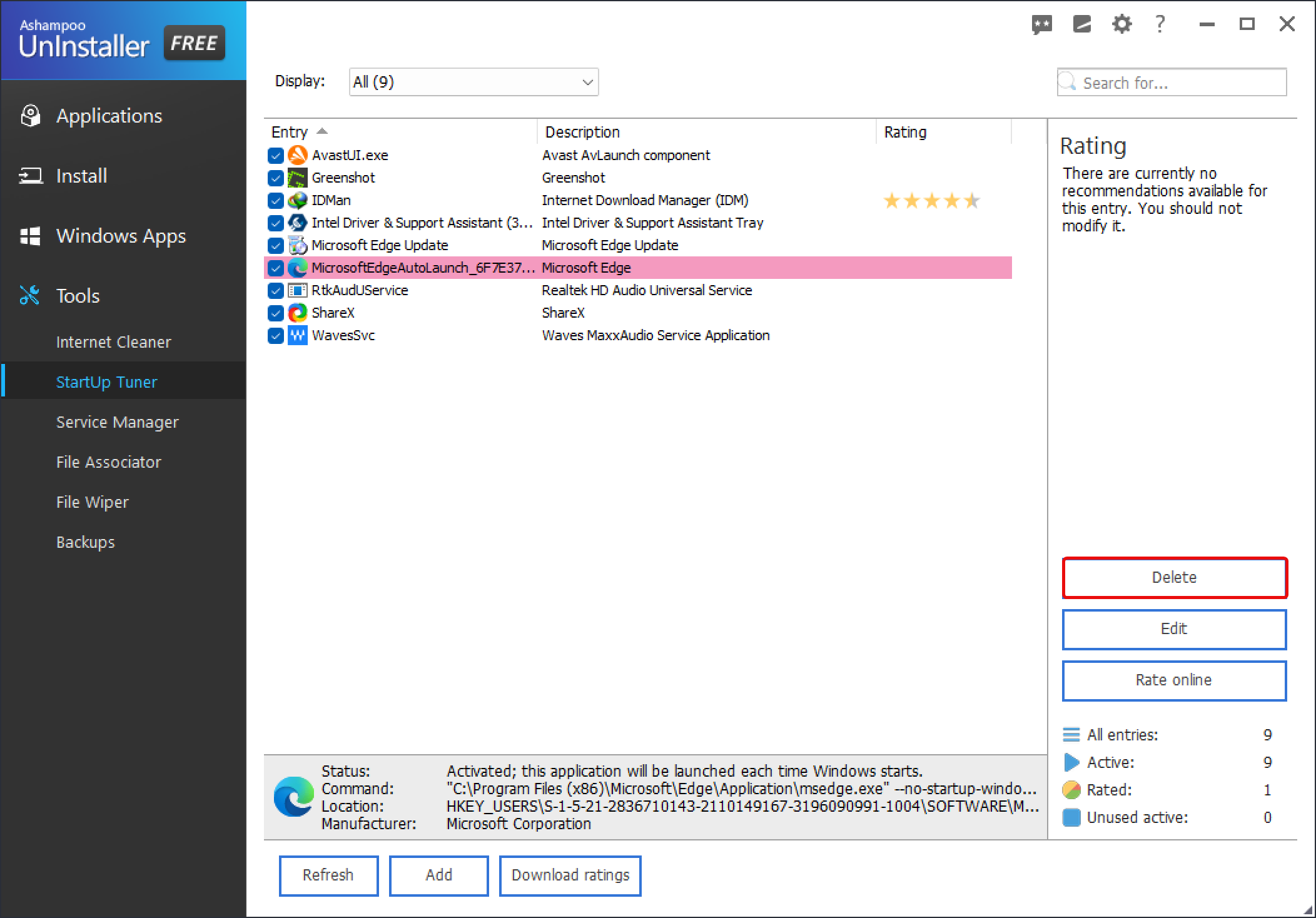 The StartUp Tuner tool lists down the application that automatically starts each time your Windows starts. In order to remove an application from the startup entry, just select the software and click the Delete button. The next time you start your computer, the app will not start with your machine.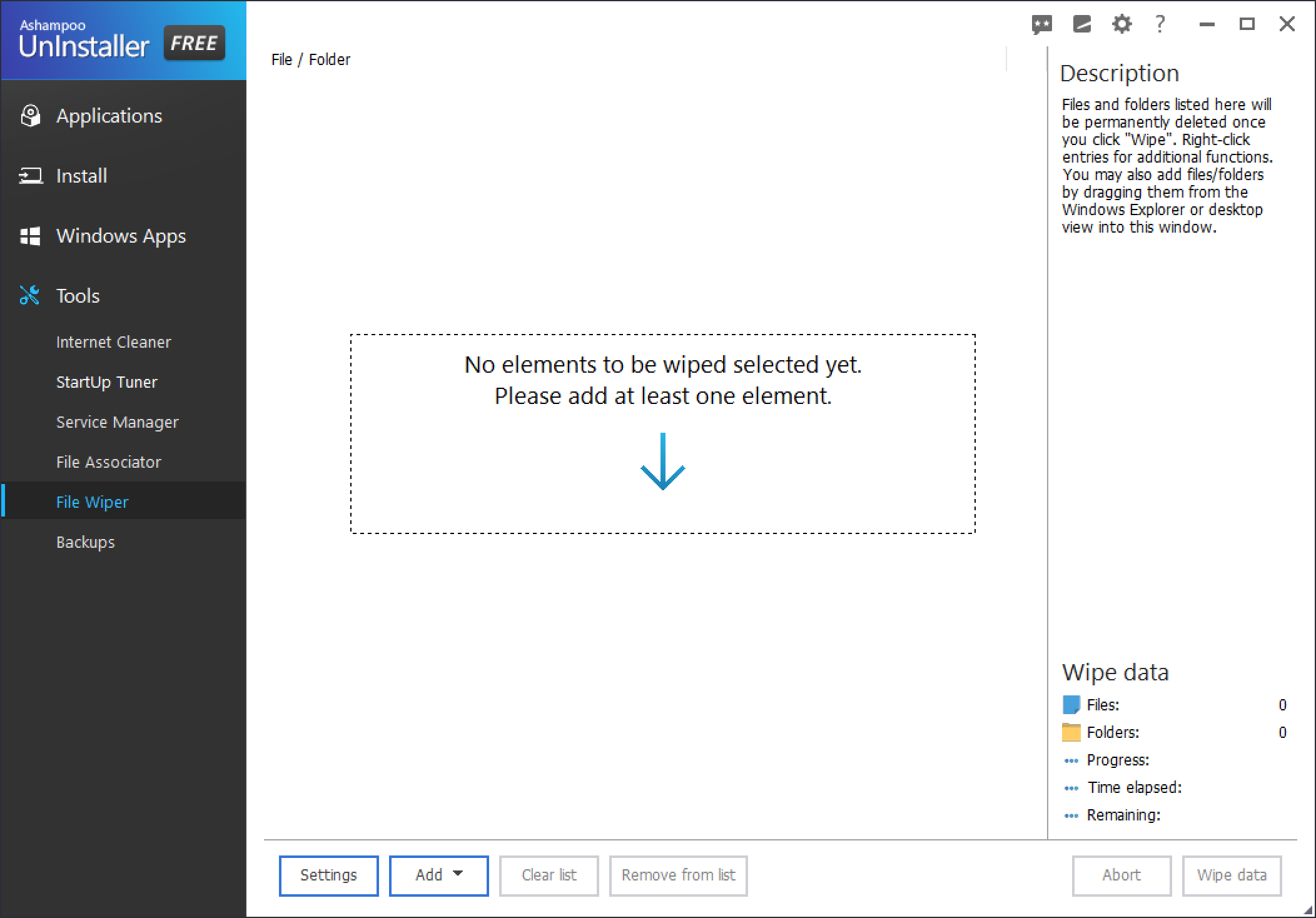 File Wiper is another handy tool that should be used by every user who keeps secret or private information on their PCs. Whenever you need to destroy important data, use this File Wiper tool. Just drag the file(s) or folder(s) to the application interface and click the Wipe data button. This will safely erase them without leaving any traces so that no data recovery software can recover those files.
Conclusion
Ashampoo Uninstaller Free is impressive software that monitors new software installation and helps to clean our PCs after uninstalling software. It is only 12 MB in size but includes all the necessary functions that average users require. You should try this application if you are searching for a freeware tool to uninstall the program from your PC completely.
This application is developed for Windows 10, 8, and 7, but it works even in Windows 11.
Download Ashampoo Uninstaller Free
You can download the Ashampoo Uninstaller Free here.
Update: You can now grab Ashampoo Uninstaller 10 free license for a limited period.