Despite Windows' basic optimization tools, such as Disk Cleanup, Disk Defragment, etc., if you want to juice up your Windows machine, you need third-party software. Ashampoo WinOptimizer 19 is such software that would normally cost you $49.99, but you can grab it free in this giveaway.
Ashampoo WinOptimizer 19 for Windows 11 and 10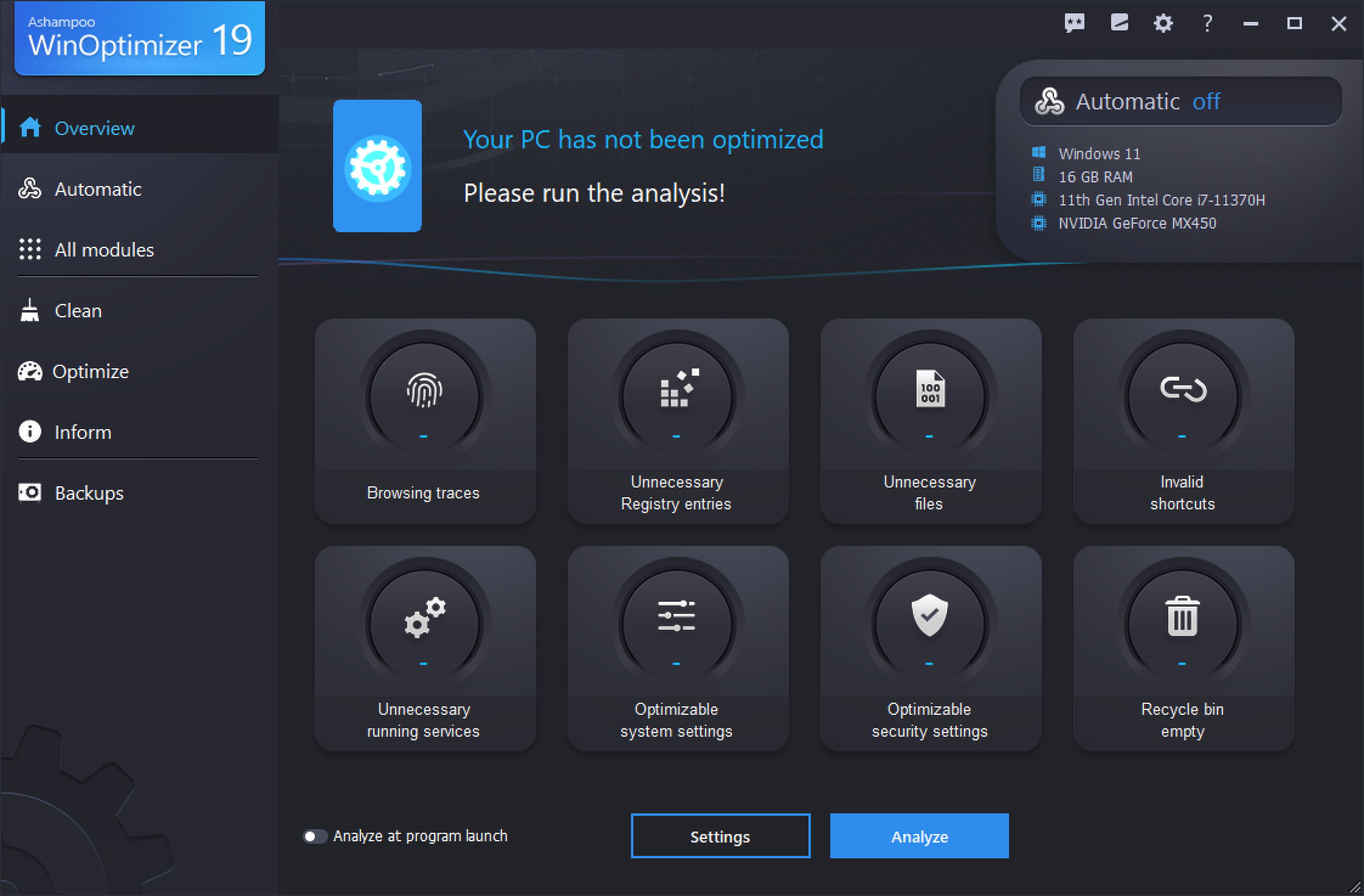 Windows operating systems are prone to slowdowns, instability, and clutter, which is where WinOptimizer comes in. It is a powerful PC auto-cleaner and tune-up solution from Ashampoo. Important settings are often hidden or buried deep in the system. Additionally, Windows has ramped up telemetry activities with Windows, gathering more data about you and your family than ever before, presenting a privacy threat. Using WinOptimizer, you can put a stop in a flash! This application cleans, optimizes, and protects your machine, and lets you enjoy a fast, lean, and secure Windows PC with intact privacy, forever. It is fully compatible with Windows 7, 8, 8.1, 10, and 11.
The application includes seven tabs, and these are located on the left sidebar. These are overview, automatic, all modules, clean, optimize, inform, and backups.
Overview: This tab displays the basic information about your PC, such as operating system, RAM, CPU, and GPU, in the top right side corner. Here, you can clean browsing traces, unnecessary registry entries, unnecessary files, invalid shortcuts, unnecessary running services, optimizable system settings, optimizable security settings, and empty recycle bin.
Automatic: Here, you can turn on auto-clean, live-tuner, and game booster. Auto-Clean clears all session traces once associated applications or browsers are closed. This also cleans temporary files. The Live-Tuner feature accelerates application launches and can automatically terminate the newly started processes or adjust their priorities. The Game-Booster feature helps you to terminate background services and applications non-essential for gaming. Once games are closed, the program automatically restarts the terminated processes and applications.
All modules: This tab includes a bunch of applications that let you improve overall system performance. Here, you can clean your system, free up space, clean the registry, eliminate web browsing traces, defragment drives, manage Windows services, optimize the boot process, and a lot more.
Clean: This allows you to clean the registry, web browsing traces, and unnecessary files on your computer.
Main Features of WinOptimizer 19
Reduces memory consumption in several modules.
Automatically empty the Recycle Bin.
Duplicate Finder.
Faster drive analysis in Disk Doctor.
Process Manager with in-depth information for professionals.
Extended system analysis for fast all-round optimization.
1-Click Optimizer.
Powerful Privacy Manager module to disable Windows telemetry.
Manage and disable Windows tasks individually.
Autorun module with startup times for individual programs and system apps.
Analyze and accelerate boot times with Boot Center.
Find and remove unwanted browser extensions.
Ashampoo WinOptimizer 19 Free License
To get the free license of Ashampoo WinOptimizer 19 in this giveaway, you need to download a pre-activated copy of this tool from its official webpage. Then, install it on your PC as regular software.