The screensaver is a computer program that fills your display screen with patterns, photos, or a video when your computer is idle for a specific time. It is an old technology but still valid. It can make your computer screen colorful when kept inactive and protect privacy by hiding your desktop screen when you are away. You can also password protect your screensaver if you want, so no unauthorized user can enter into your PC when you are away.
Windows allows you to set different images and patterns as a screensaver by default. But what if you want to keep a clock as your screensaver? In this gearupwindows article, we will share some of the best free clock screensavers for your Windows 11/10 PC. By default, screensavers are turned off on Windows PC, so you need to enable screensavers on your Windows 11 PC before proceeding with the free clock screensavers.
Free Clock Screen Savers for Windows 11 and 10
When you are away from your computer and want to display a clock on your screen, you need to download one of the free clock screensavers:-
Fliqlo
Digital Clock-7
Free Clock
Full screen clock
Pong Clock
Fliqlo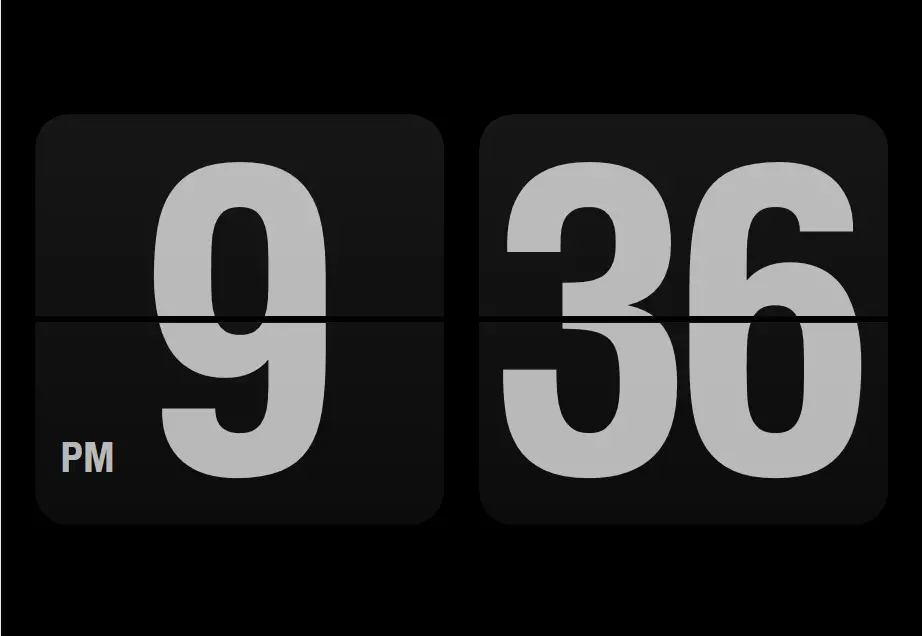 The Fliqlo is an elegant and straightforward program that turns your desktop screen into a flip clock. It allows you to switch to a 12-hours or a 24-hours clock format and provides accurate time. It has a single black-and-white color palette, which might not be your choice, but this may suit you if you like simple things.
To make Fliqlo your default screensaver, download it on your PC, extract the contents and open the extracted folder. Right-click on the Fliqlo.scr file and select Install option.
Once you install and activate the Fiqlo screensaver on your PC, a classic black-and-white clock will display on your desktop when you leave your computer idle for the set time.
Although it took less than a minute to download the program, unfortunately, it comes bundled with a few more programs like Opera web browser, Facebook app, and the Web companion program from Lavasoft. While installing, you can skip that crapware.
Download Fliqlo
You can download the Fliqlo screensaver from here.
Digital Clock-7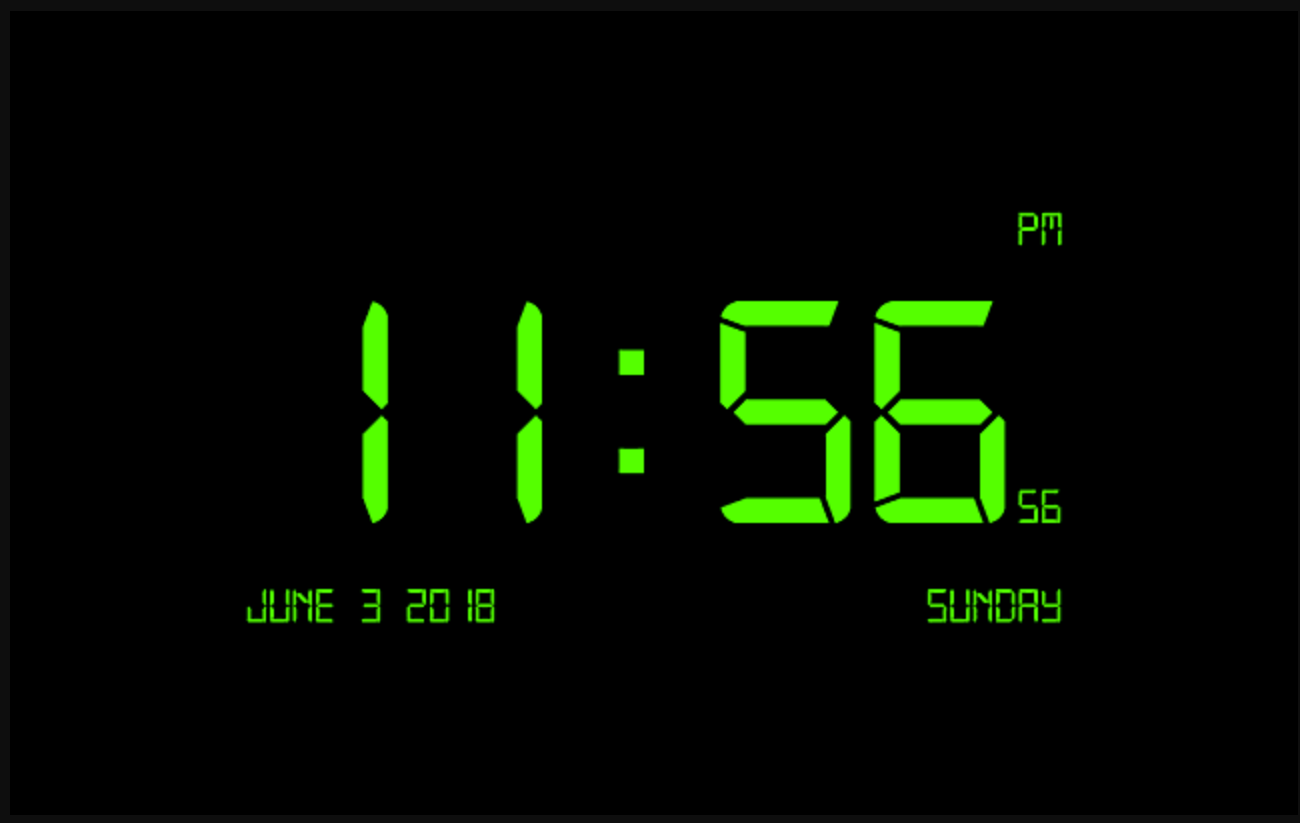 The Digital Clock-7 is another simple, pleasant, and free clock screensaver for Windows 11 and 10 PC that displays time in beautiful Neon color. To use this screen saver, just download the program and install it on your computer. Once the Screensaver settings window appears, select Digital Clock-7 from the dropdown menu. Unlike Fliqlo, Digital Clock-7 also displays the Date, Year, and Day along with the time (with seconds). Also, this program is immaculate, and no other crapware or extra programs try to download with this one.
Download Digital Clock-7
You can download the Digital Clock-7 screen saver from here.
Free Clock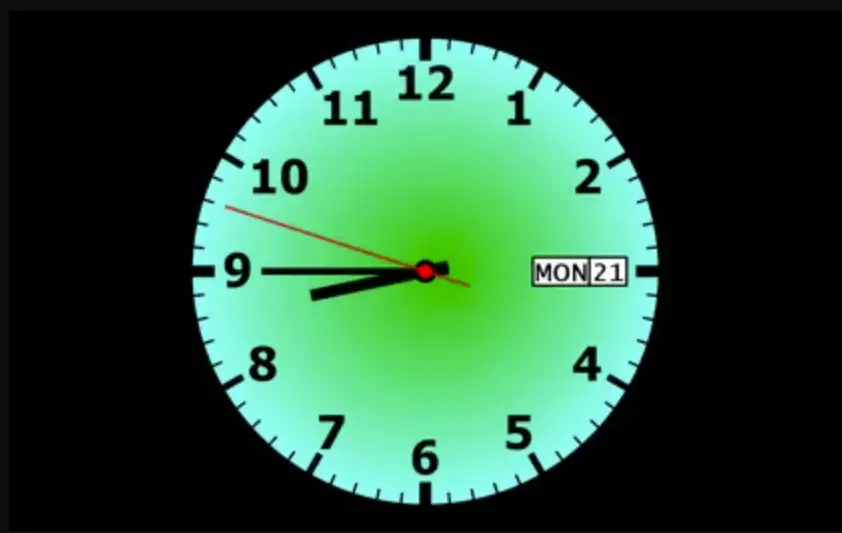 The Free Clock screensaver displays an analog clock on your Windows 11 or 10 screen when you're away from your computer. This is a simple program and free from adware. You need to download and install it on your PC to use it. Then set it as your screensaver, and you're done. It shows the date and day along with the analog clock with moving hours, minutes, and second hands.
Download Free Clock
You can download the Free Clock screensaver here.
Full screen clock
The Full screen clock is actually not a screensaver, but it covers your screen completely when you want to leave your PC and display a digital clock on your computer. Once you install and launch this software on your computer, you can select a time zone independent of your PC time zone, and accordingly, it will display a digital clock on your PC screen. You have the option to show/hide seconds and date. You can activate this digital clock by clicking the Full screen button. Furthermore, if you don't want to lock your computer, you can use the Prevent locking button.
Download Full screen clock
You can download and install Full screen clock from Microsoft Store.
Pong Clock
Pong Clock is a cool clock screensaver for your PC. It is a retro-type screensaver that plays a video game in the background and, on the top of the screen, a digital clock. All you need to do is download this screen saver on your PC, extract the zip file and run the run PongClock.scr file to apply the screen saver.
Download Pong Clock
You can download Pong Clock from here.
Here are more screensavers for Windows 11 and 10 that you might want to use.