One can create a bootable USB / DVD for Windows 10 operating system from ISO using Windows USB/DVD Download Tool. ISO2Disc is also a free tool to create a bootable USB drive and create Windows To Go Drive. You can also back up the drivers of Windows 10 PC using DriverBackup portable software.
If you hosted some important data on your Windows PC and want to keep a backup, AOMEI Backupper is the right choice. AOMEI Backupper is one of the best backup and restoration software for any Windows PC, available on the internet for free. Even this software lets you clone software for desktop computers and laptops running Windows 11, 10, 8.1, 8, 7, Vista, and Win XP (both editions, 32-bit & 64-bit). It is free to use, but it also comes with a simple and elegant interface.
How to use AOMEI Backupper?
Step 1. Download, install and open the latest version of AOMEI Backupper Standard Edition.
Step 2. During installation, skip the offer for the Pro version and continue with the rest of the options.
Step 3. Once the installation is completed, launch the AOMEI Backupper from the desktop shortcut.
Step 4. It offers New Backup and New Sync.
If you have not taken any backup of files and folders from your Windows using AOMEI Backupper, select the first option, New Backup.
It offers various options here like System Backup, AOMEI OneKey Recovery, Disk Backup, Partition Backup, and File Backup.
System Backup – This option lets you back up the system files. Once you select this option, it will automatically select and show the system files. It let you create a backup of system files in the internal hard disk / external hard disk and even on the network drive.
AOMEI OneKey Recovery – This option allows you to create a factory recovery partition that lets you restore the system with a single keypress. It also allows us to customize UI. Unfortunately, this option is not applicable for the free edition.
Disk Backup – This option lets you back up the whole disk data in any internal/external / network drive.
Partition Backup – Unlike the previous option, it lets you select any particular drive/volume you want to backup.
File Backup – This is the most useful option if you want to backup selected files/folders. This option allows one to choose the files and folders which one want to backup.
Step 5. Once you have created a backup and later you have changed the files/folders, simply use the Sync option. It will check the modified files and sync with the destination. Even it allows you to schedule the sync task, and notification can be received through email.
Step 6. Once you have created a backup file and in the future you want to restore, launch the AOMEI Backupper tool, select the restore option, locate the image file, and you can easily restore the files/folders to their original location.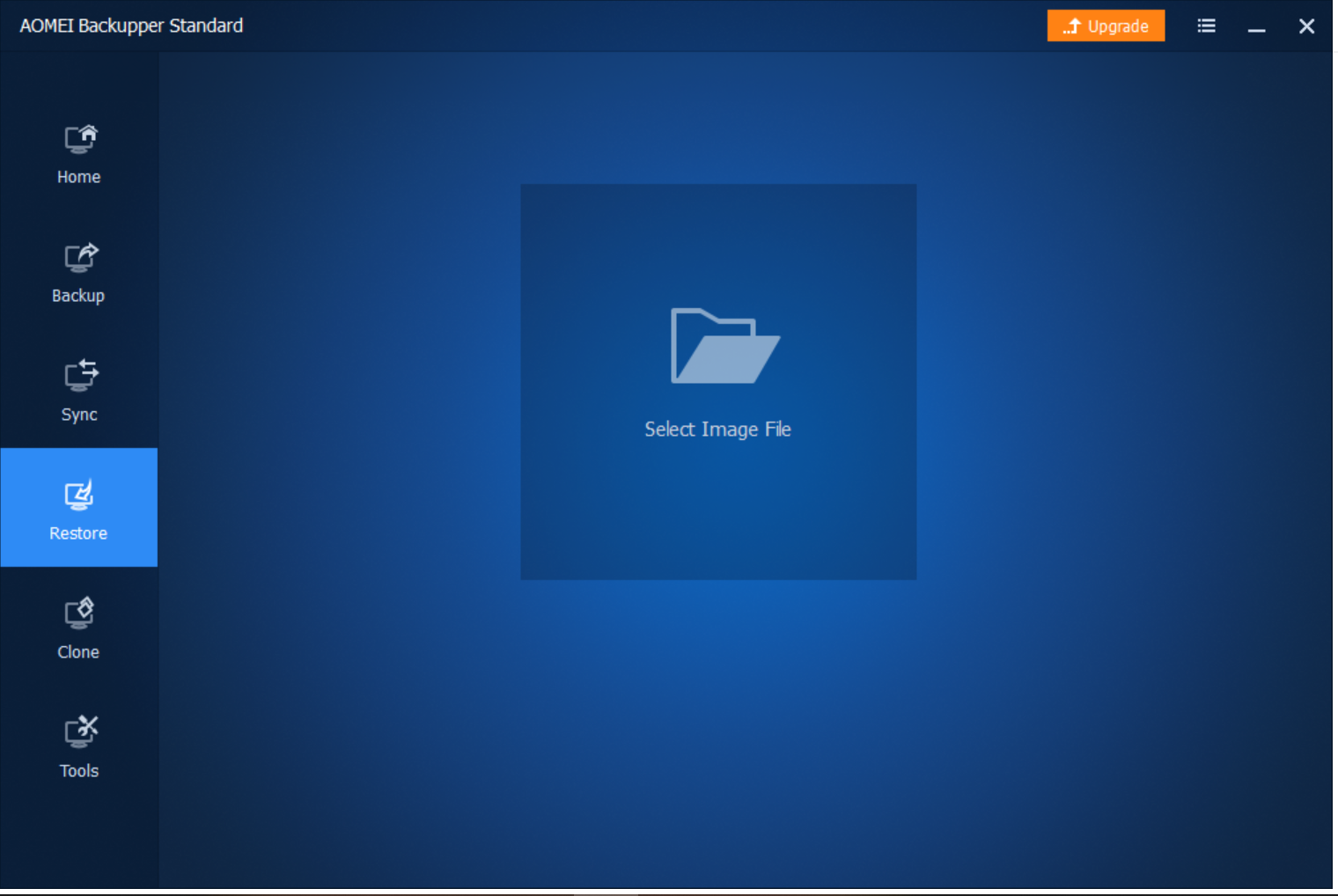 Step 7. The next useful option is Clone. The Clone option offers two types of cloning: Disk Clone and Partition Clone. The other two options are for paid users only.
The Disk Clone option copies the entire disk (including hidden files and folders) to a new location, while Partition Clone allows cloning the selected partition only.
As you can see above, there are various options available to use for free in AOMEI Backupper software. However, advanced features and available in only the professional version of this tool. It is useful for basic users to create backups and restore Windows files.
Download AOMEI Backupper
You can download the AOMEI Backupper from
here
.
Update: The firm has hosted a giveaway for a limited period and offering a free license key for AOMEI Backupper Pro 7.