We all love high-quality, beautiful wallpapers, and for that, the Bing search engine is the most known place. Bing search engine daily refreshes its background image. We can decorate our Windows 11/10 Desktop with Bing search engine background images.
In this gearupwindows post, we will share some of the freeware software that helps you to download and set Bing Wallpaper automatically on your Windows 10 computer. These are the following:-
Bing Wallpaper
Bing Wallpaper Download
Daily Picture
Bing Wallpaper for Windows 11/10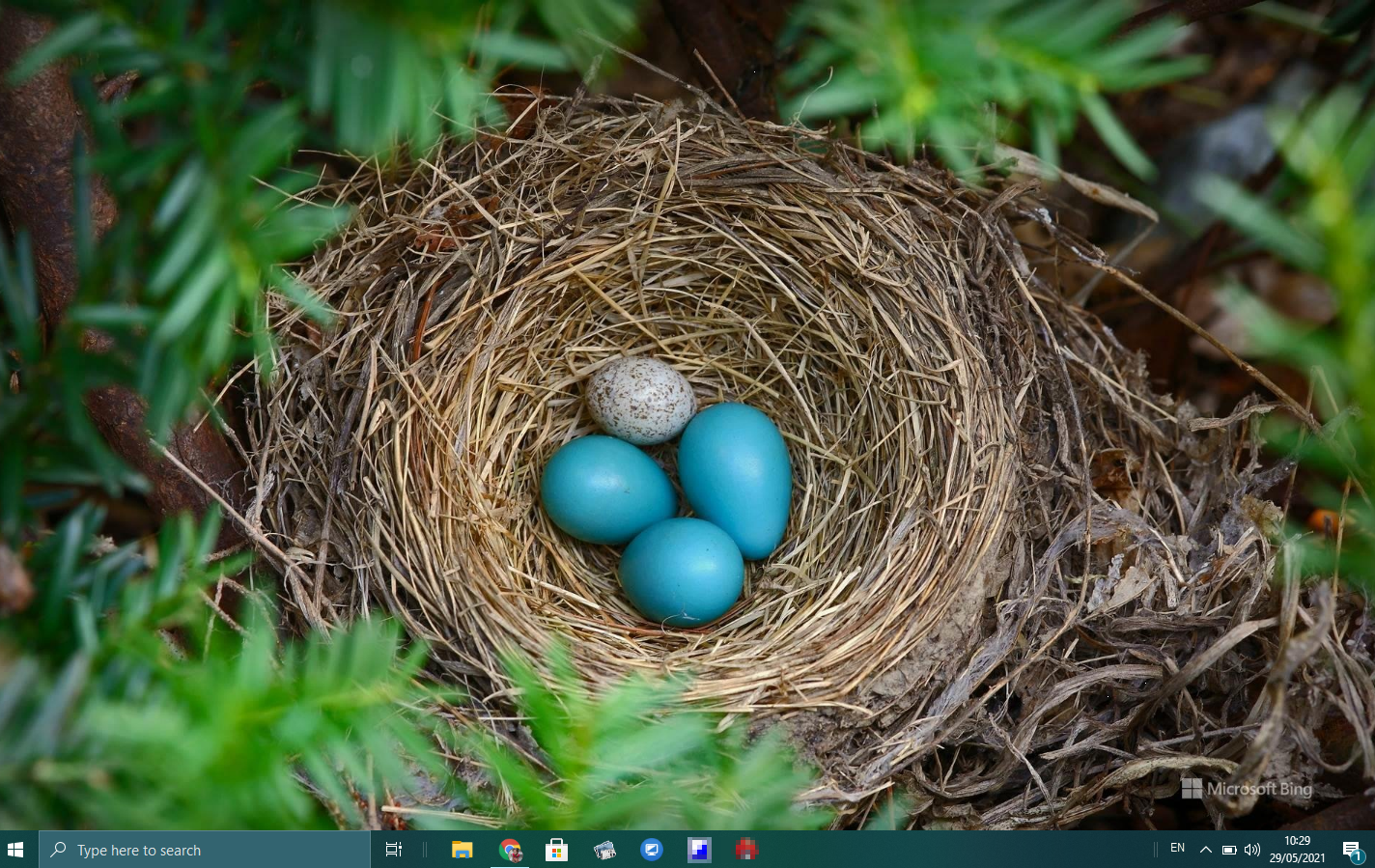 Microsoft has officially released a new utility to change the Windows 11/10 desktop background automatically. Once you install the Bing Wallpaper tool on your Windows 11/10 PC, Desktop Wallpaper will get a new look daily without your intervention. In other words, after installing the Bing Wallpaper software, your Windows 11/10 desktop background will obtain a fresh picture.
How to Get a Bing Wallpaper Automatically on Windows 11/10?
If you want a new stunning wallpaper each day to apply on Windows 11/10 automatically, perform the following steps:-
Step 1. Navigate to this link to download the Bing Wallpaper software from the official website.
Step 2. Click on the Install now button to download the BingWallpaper.exe file.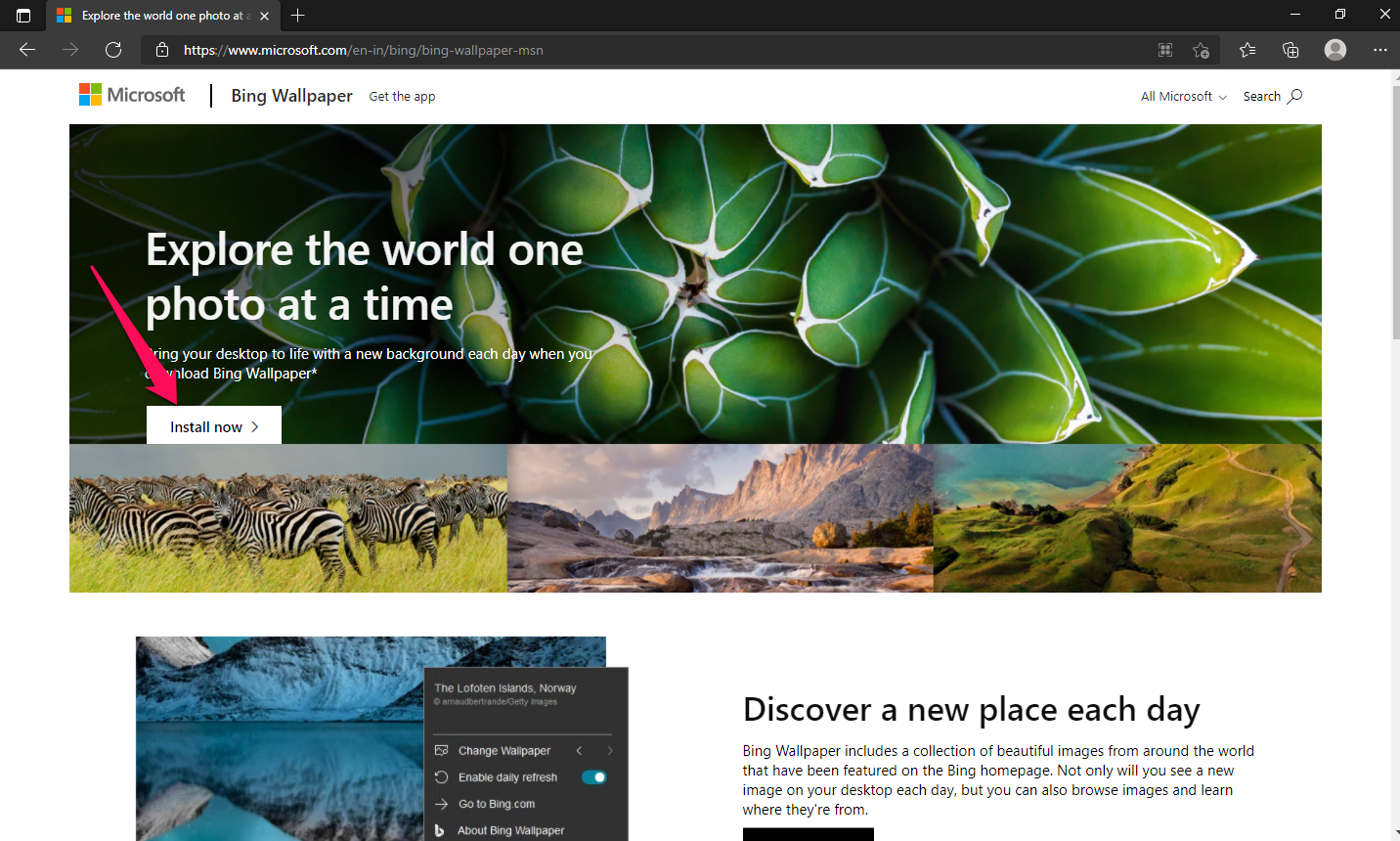 Step 3. Double-click on the downloaded file and install it on your computer.
Step 4. The Bing Wallpaper tool will automatically pull the current background picture from the Bing search engine and apply it to the desktop background.
Step 5. After installation, the Bing Wallpaper utility sits on the system tray of Windows, which you can access by clicking on its icon.
The default configuration of Bing Wallpaper will automatically change the desktop background every day. If you get a stunning image and don't want to change the wallpaper automatically, turn the toggle off next to the "Enable a daily refresh" option.
Anytime you change your mind and want to see or apply a different wallpaper from Bing, access the app by clicking on its icon on the system tray and then click the < or > sign next to "Change wallpaper." By doing this, you can immediately apply a new desktop background wallpaper from Bing. You can learn more about an image by clicking on the link above the "Change wallpaper" option.
Bing Wallpaper Download
Bing Wallpaper Download is a UWP app listed on Microsoft Store. This is especially useful if you want to download and store daily Bing wallpapers in a specific folder. This application will download the image and automatically set it as a desktop background on your Windows 10 PC.
How to Download a Bing Wallpaper on a Specific Folder?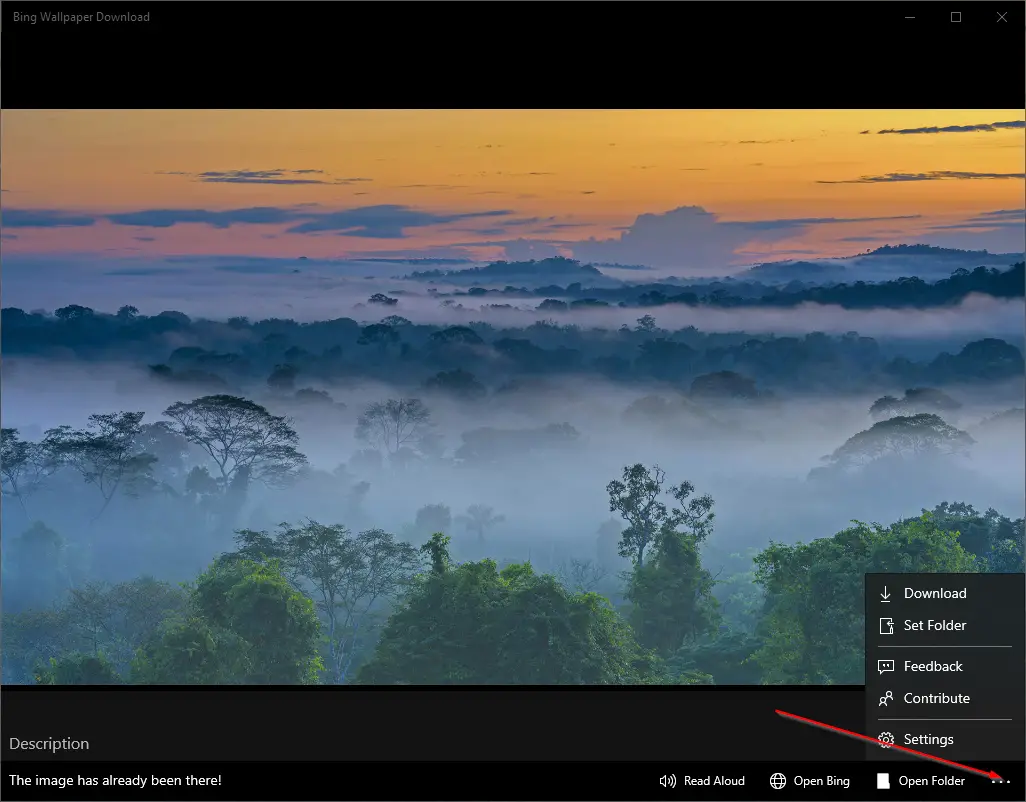 Follow these steps to download a Bing Wallpaper on a specific folder:-
Step 1. Navigate to this link and download & install this free application on your PC.
Step 2. Launch the software after installing it on your computer.
Step 3. Click on the three dots (…) and select the Set Folder option.
Step 4. Choose a folder from your PC where you want to download Bing wallpapers automatically.
That's all. From now, this freeware utility will download the Bing wallpapers on your PC in your specified folder and apply them as a background image automatically.
Daily Picture
Daily Picture is a freeware UWP app that is listed in the Microsoft Store. It is different from others that are listed in this article. Other listed apps can download and apply the wallpaper from the Bing search engine, but Daily Picture can also change your Lock Screen, Login Screen, and Background.
How to Use Daily Picture Software?
Step 1. Browse to this link and download this free tool from Microsoft Store.
Step 2. Once installed, launch the app. It will download last week's images from Bing. To configure it, hit the gear icon.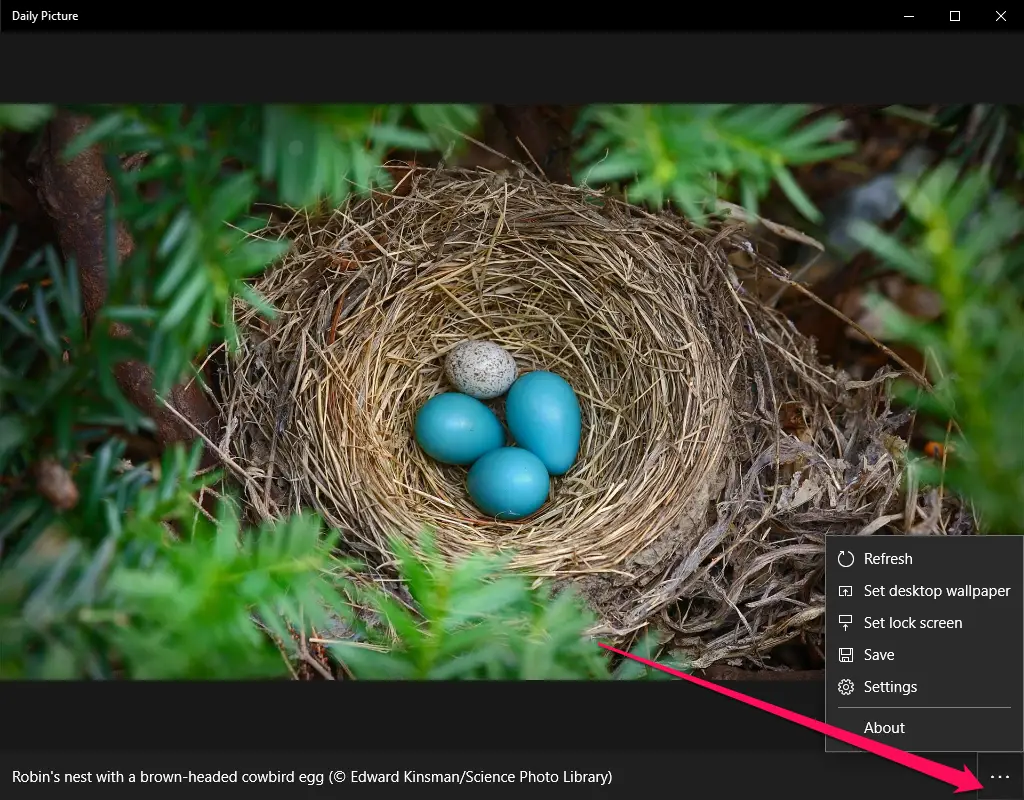 Step 3. Using < and > signs, choose the desired picture that you want to set as desktop wallpaper. Click the three dots (…) and select the Set desktop wallpaper option. The selected image will be set as a desktop background immediately.
To set the same image or a different image as a lock screen, click the Set lock screen option after choosing the picture.
If you see a lovely image and want to save it on your HDD to share with others, you can do your job by clicking on the Save option.
Finally, if you want to access the Settings of Daily Picture, select the Settings option after clicking on the three dots (…).
From here, toggle on both options or the single option you want to use, "Use Bing image as lock screen" and "Use Bing image as desktop wallpaper."
If you wish to sync the image with the most recent picture from Bing, click on the Refresh button.
Conclusion
In conclusion, there are various ways to automatically download and set Bing search engine background images as your desktop wallpaper on Windows 11/10. The Bing Wallpaper tool is an official Microsoft utility that changes your desktop background every day without your intervention. Other third-party applications, such as Bing Wallpaper Download and Daily Picture, are also available to download and store Bing wallpapers in a specific folder, change your lock screen and login screen, and more. With these freewares, you can easily obtain high-quality, stunning wallpapers for your Windows 11/10 desktop background.
You might also be interested in transforming your Windows 10 machine into a macOS.
Update: Starting with Windows 11 build 22518, Microsoft allows users to configure Windows 11 to use desktop backgrounds from the Windows Spotlight collection.