One can download and install Boot Camp Drivers from Apple's official website, but we could not find the latest version listed on Apple's official website. In such a case, we need to use a third-party tool to update Boot Camp drivers. Another reason to use a third-party tool is to update the drivers; for instance, you might want to install Boot Camp drivers on a Mac machine where Windows 10 is the only operating system.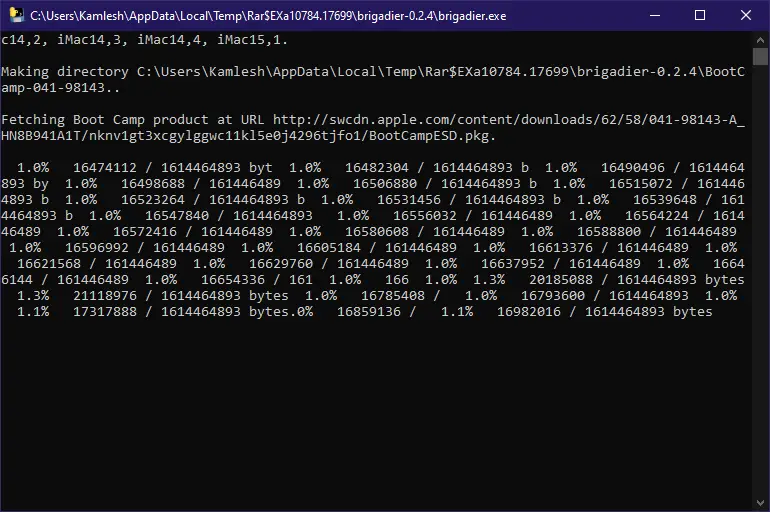 Download Boot Camp Drivers using Brigadier
Brigadier is a freeware tool available for download that enables you to download Boot Camp drivers or support software without Boot Camp Assistant. In other words, with the Brigadier tool, one can download all Boot Camp drivers on Windows 11/10 running on a Mac.
There is no need to worry if you use the Brigadier tool because it downloads all Apple servers' drivers. So, ever after using the Brigadier tool, you will get original Boot Camp drivers from Apple. The Boot Camp drivers pack includes device drivers for all the hardware, including the camera, trackpad, wireless trackpad, graphics, keyboard, card reader, wireless mouse, etc.
According to the developer of the Brigadier tool, it downloads and unpacks ESD that applies to the Mac model on which you run this tool. It uses 7-Zip software to extract the ESD, and if the 7-Zip is not found on your Windows 10 PC, it will automatically download the same and remove the same after extracting the ESD.
To use the Brigadier freeware tool, just visit the official page of Brigadier and download the latest version. Unzip it using WinRAR or any other achiever. Run the Brigadier tool by double-clicking on its executable file. You will see a Command Prompt window that runs and displays information about the Boot Camp support software download, including the download progress.
The tool runs in the background and downloads all the necessary Boot Camp drivers on your Windows 10 PC in the same location where the Brigadier executable folder is located.
The beauty of the Brigadier tool is that it automatically detects your Mac model and downloads the right Boot Camp drivers for Windows 11/10 running on your Mac, just like the Boot Camp Assistant software.
Download Brigadier
You can download the latest version of Brigadier from GitHub.