Have you ever forgotten a password and found yourself locked out of your own account? If you're a Google Chrome user, ChromePass can be a lifesaver. ChromePass is a user-friendly tool designed to help you recover saved passwords from your Chrome browser. In this article, we'll explore the features and benefits of ChromePass, and guide you through the simple process of recovering your passwords with ease.
What is ChromePass?
ChromePass is a lightweight and efficient password recovery tool developed specifically for Google Chrome users. It scans your Chrome browser and extracts the stored passwords, allowing you to regain access to your accounts even if you've forgotten the passwords.
Key Features of ChromePass
1. Password Recovery: ChromePass scans your Chrome browser and retrieves all the saved passwords, including website URLs, usernames, and passwords.
2. User-Friendly Interface: The tool features a simple and intuitive interface, making it accessible to users of all levels of technical expertise. You don't need any advanced technical knowledge to use ChromePass effectively.
3. Portable and Lightweight: ChromePass is a portable application that doesn't require installation. You can run it directly from a USB drive or any desired location on your computer without leaving any traces behind.
4. Export Options: Once the password recovery process is complete, ChromePass allows you to export the retrieved passwords to various formats, including text, HTML, CSV, or XML. This enables you to save or share the recovered passwords for future reference easily.
How to Use ChromePass?
Follow these simple steps to recover your saved passwords using ChromePass:-
Step 1. Visit the official website to download the latest version of ChromePass.
Step 2. After downloading, locate the ChromePass executable file and run it. Since ChromePass is a portable application, you don't need to install it on your computer.
Note: The password of the zip file is chpass9126*.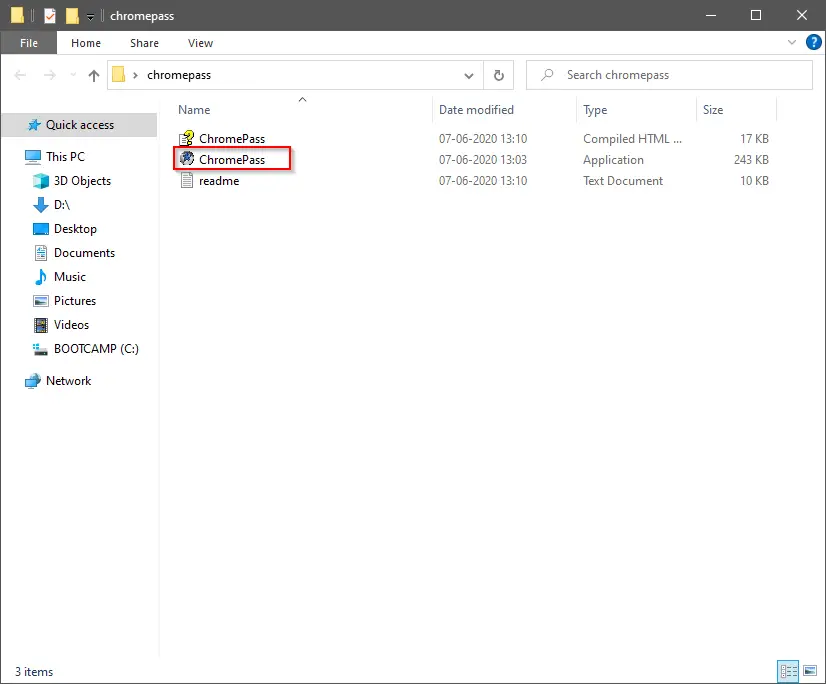 Step 3. Once you launch ChromePass, it will automatically scan your Chrome browser and display a list of websites along with their corresponding usernames and passwords. You can browse through the list or use the search function to find specific entries.
Step 4. If you want to save or share the recovered passwords, ChromePass provides export options. Choose the desired format (text, HTML, CSV, or XML) and specify the location where you want to save the exported file.
Remember to keep the exported password file in a secure location. Treat it with the same level of care and confidentiality as you would your login credentials.
Download ChromePass
You can download ChromePass from its official website.
Conclusion
ChromePass is an invaluable tool for Google Chrome users who need to recover their saved passwords. With its user-friendly interface, lightweight nature, and export options, ChromePass simplifies the process of regaining access to your accounts, even if you've forgotten the passwords. Just a few clicks, and you'll have your passwords back in no time. However, it's important to use ChromePass responsibly and ensure the security of your recovered passwords by keeping them in a secure location.
You might also be interested in recovering passwords from the Mozilla Firefox browser.