Losing important files and documents due to system failures or hard drive crashes can be a nightmare. That's why having a dependable backup plan is crucial to safeguard your data from unforeseen disasters. Donemax Disk Clone is a powerful and reliable disk cloning program that provides an advanced solution for data backup and recovery. With its robust features, you can trust this program to protect your precious data.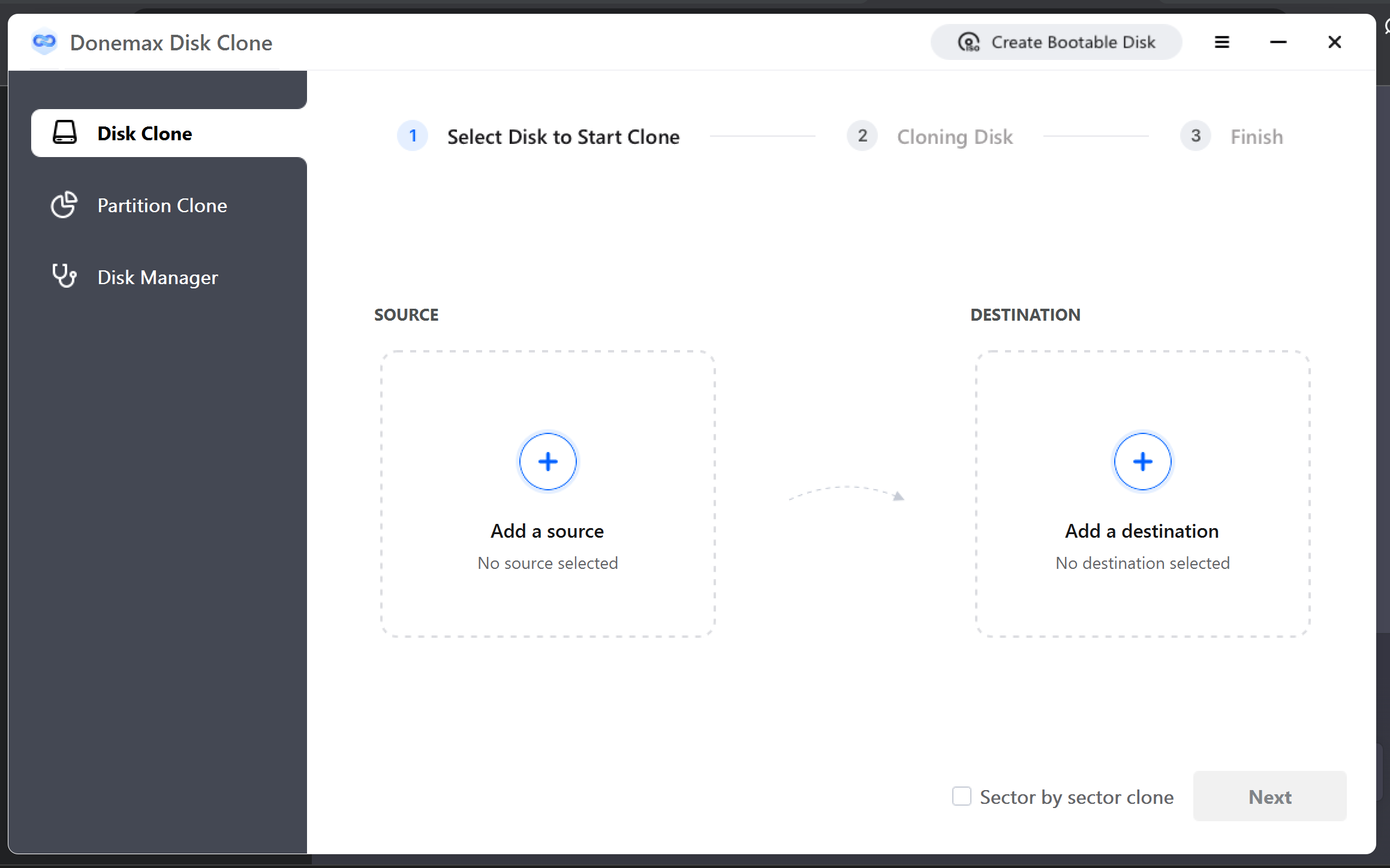 Why Do You Need to Back Up Your Data?
Nobody is immune to data loss, and its consequences can be catastrophic. That's why it's crucial to have a backup plan that can shield your data in the event of a system failure or computer breakdown. A trustworthy backup solution can alleviate your worries and provide reassurance that your data is secure and can be recovered if an emergency arises.
Donemax Disk Clone for Windows 11 and 10
Donemax Disk Clone is a top-notch disk cloning software for Windows that ensures zero data loss when you clone your hard drive, SSD, USB flash drive, or memory card. It offers the convenience of transferring your entire Windows installation, including all programs and data, to a new hard drive without the need for reinstallation. The software supports both full disk and partition cloning, allowing you to choose the mode that best suits your cloning requirements. Donemax Disk Clone boasts a user-friendly interface, making it easy for even non-technical users to clone their disks. It supports various file systems, including NTFS, FAT 16/32, exFAT, and many more, and is compatible with Windows 11, 10, 8, and 7.
Key Features of Donemax Disk Clone
Data backup and disk cloning are essential tools for creating a reliable failsafe backup to recover your data in the event of a system failure. With flexible cloning options, you can clone your entire hard disk drive (HDD) or solid-state drive (SSD), individual partitions, or even single files, to another storage device, such as an external HDD or SSD, or a network drive.
Donemax Disk Clone also makes it effortless to transfer your entire system, including the operating system, software, and documents, to a new device or hard drive without having to reinstall anything. Using sector-by-sector cloning technology, you can be sure that all data is cloned and recovered.
Donemax Disk Clone also offers bootable media that allows you to boot your computer and recover your data in case of a system failure. With this powerful disk cloning program, you can rest easy knowing that your data is protected and easily recoverable.
Get Donemax Disk Clone for Free
For a limited time, you can get Donemax Disk Clone for free by following these simple steps:-
Go to the Donemax website and download Donemax Disk Clone v2.0.
Install and run the program.
Click on the "Activation" button located in the bottom left corner of the main screen.
Enter the following license code into the activation box and hit Activate:-
LF6VP-ILZWL-YNACL-YNS1C-471RD
Conclusion
Donemax Disk Clone is an exceptional disk cloning program that offers numerous features and benefits. Its intuitive and user-friendly interface allows even non-technical users to clone entire disks or individual partitions, backup data, and migrate Windows OS without reinstalling anything.
The program utilizes sector-by-sector cloning technology to guarantee that all data is cloned and recovered. Additionally, it enables users to create bootable media, making it easier to recover data in case of system failure. Furthermore, it is compatible with Windows 11, 10, 8, and 7 and supports a wide range of file systems.
The one-year free access offer makes Donemax Disk Clone an even more valuable tool to have, enabling users to benefit from all its features and benefits without any cost. Therefore, if you need a reliable and easy-to-use disk cloning program, Donemax Disk Clone is definitely worth trying out.