All the hardware which is attached to your PC or notebook needs proper drivers to work properly. Similarly, to run the graphics or video, it needs the correct drivers for your Windows operating system. If you are facing the BSOD (Blue Screen of Death) errors, most probably, your PC has outdated or incompatible graphics drivers installed. Although updating graphic card drivers (also known as video or GPU drivers) doesn't gear up system speed, installing the most recent graphics or video drivers on your PC will definitely make graphics-intensive jobs much quicker.
NVIDIA, Intel, and AMD are the most popular manufacturer of Graphics or video cards. These firms are not only producing graphics cards, but they also keep releasing the latest update to their graphics drivers. Noticeably, it releases the graphics drivers update multiple times a year. With Windows Update, Windows 10 automatically download the drivers and install them on your computer or laptop. Manufacturers of graphics cards also provide the tool to download and install drivers automatically; however, it is difficult to find an official uninstall tool for these drivers if you face an error.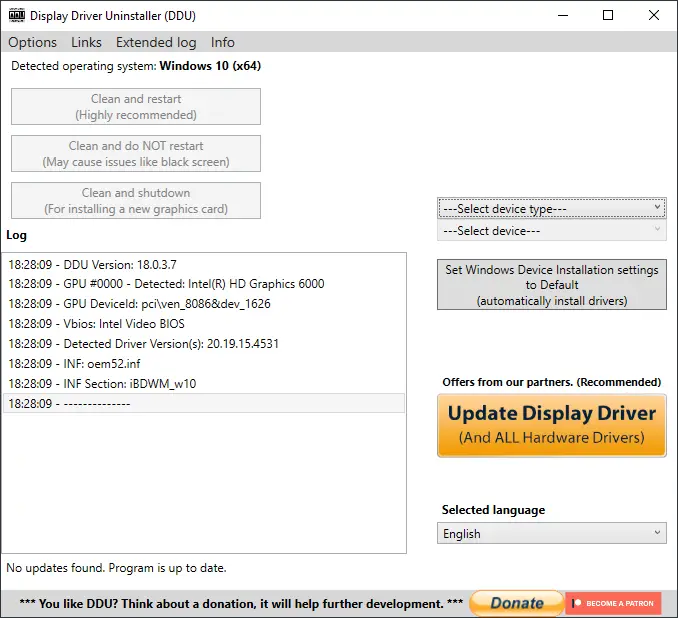 Display Driver Uninstaller is a lightweight and free software to uninstall and remove AMD, Intel, and NVIDIA drivers files completely from the Windows operating system. With the help of this tool, removing these drivers is just a matter of a few clicks. The driver removal utility action is immediate, and you don't have to wait long. The software developer recommends booting into safe mode to uninstall NVIDIA, Intel, and AMD drivers from your PC. The interface of this application is straightforward, and there is no technical knowledge required. This freeware could be pretty helpful if you want to uninstall a driver completely from your PC.
Display Driver Uninstaller for Windows 10
For the best results, you need to boot your PC in safe mode. Before proceeding with the uninstallation process of the graphics driver, we recommend
creating a system restore point
. In case something goes wrong during the graphics card driver's uninstallation, you can revert your PC to a previous working state.
Completely uninstall AMD, Intel, and NVIDIA drivers.
Once you run your PC in safe mode, run the DDU (Display Driver Uninstaller). You can opt for any three options: Clean and restart, Clean and do not restart, Clean and shutdown. It is recommended by the developer of the software to opt for the first option, clean and shut down. If you select the second option, which means "Clean and do not restart," you may face black screen issues. Once you uninstall the graphics card drivers and restart your PC, Windows will automatically download the correct drivers and install them on your PC. However, if you want to
install the drivers manually on Windows 10
, you can
stop drivers update automatically
.
Why is Display Driver Uninstaller required to Uninstall Graphics drivers?
You can use the standard uninstaller of Windows 10 from Control Panel or uninstall drivers through the Device Manager of the Windows operating system. Still, it is handy if the standard uninstaller fails to uninstall the graphics driver from your PC.
Download Display Driver Uninstaller
Driver Uninstaller is compatible with Windows XP, Win Vista, Win 7, Win 8, Win 8.1, and Windows 10 (32-bit and 64-bit). You can download the Display Driver Uninstaller free software from its official website.