Ashampoo Burning Studio is a well-known CD/DVD burning tool that has gained immense popularity over the years. It is a widely recognized program that requires no introduction. The company behind this powerful tool, Ashampoo, is known for its exceptional software products, and Ashampoo Burning Studio is one of its most popular offerings.
Ashampoo Burning Studio FREE for Windows 11 and 10
Burning Studio offers a swift and uncomplicated solution for disc burning. The software comes packed with numerous features to cater to the user's needs, such as burning and backing up data, ripping music discs, creating audio discs, and burning videos like MP4 files and photos to CD/DVD/Blu-ray discs. Additionally, the user-friendly interface of the program makes it a perfect fit for beginners who can effortlessly achieve excellent results.
To access the full range of features of Ashampoo Burning Studio, you'll need to activate the software with an email. Once activated, the Burning Studio becomes fully functional.
Upon launching Ashampoo Burning Studio, the software's menus can be found on the left-hand side. You can easily create a CD/DVD, update an existing CD/DVD using the multisession mode, create an Audio CD, create an MP3 or WMA Disc, copy music files to a disc, and rip an Audio CD.
The Video menu in Ashampoo Burning Studio allows you to create a Video DVD from a folder, Video CD (VCD), and Super Video CD (SVCD).
The Copy Disc function in Ashampoo Burning Studio allows you to duplicate an entire CD/DVD, regardless of the disc type.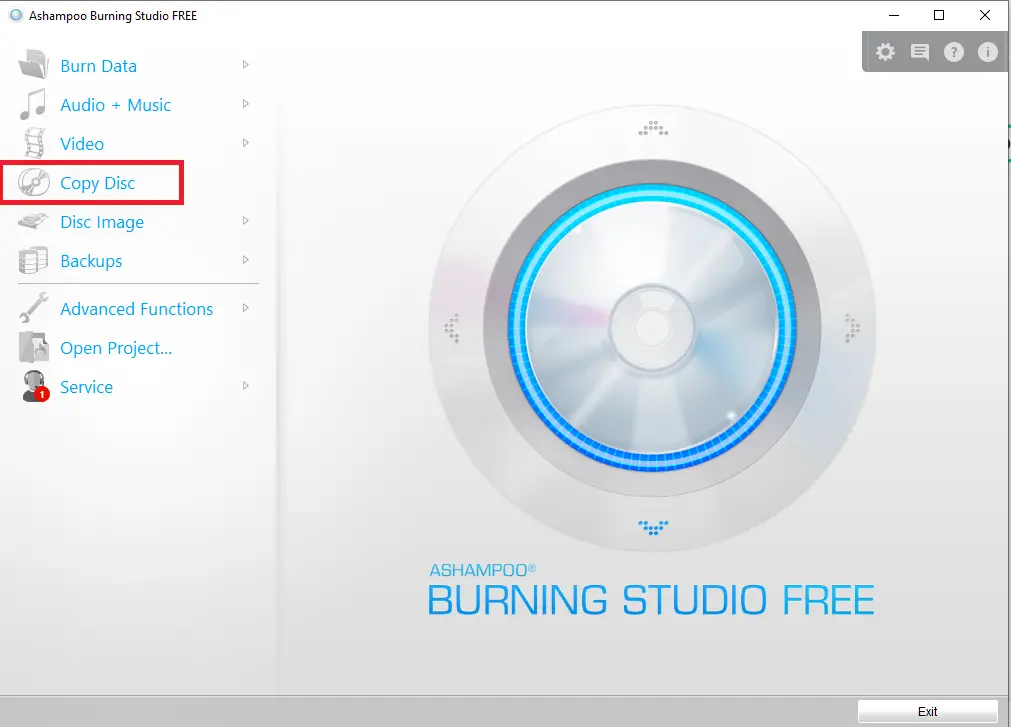 In addition to the aforementioned features, the Burning Studio also offers the ability to create ISO files from existing CDs/DVDs or folders. These ISO files can be burned to any CD/DVD or even mounted in a virtual CD/DVD ROM.
Ashampoo Burning Studio FREE is a versatile disc burning program that offers a range of features to cater to your burning needs. In addition to burning data, audio, and video discs, the program also lets you erase rewritable CD/DVDs and create ISO files from existing CDs/DVDs or folders.
The program's functionality can be accessed from the menus on the left side of the software's interface. You can create different types of CDs/DVDs, such as Audio CDs, MP3 or WMA Discs, and Video CDs (VCD) or Super Video CDs (SVCD). Additionally, the program allows you to copy entire disks using the Copy Disc function.
Ashampoo Burning Studio FREE also offers powerful backup functionality to store and burn your data on discs or external drives for safekeeping. The program's in-built compression tool keeps file sizes small and can even password-protect your data to ensure it remains secure. If your backup is too large to fit onto a single disc, the inbuilt disc spanning tool will automatically split it into smaller segments across multiple discs.
One of the standout features of Ashampoo Burning Studio FREE is its ability to burn HD and Full HD movies (720p and 1080p) from a prepared folder. The program also offers an intuitive interface that is easy to use, making it ideal for beginners who want to achieve great results quickly.
Overall, Ashampoo Burning Studio FREE is a fast and hassle-free disc burner that comes packed with a range of features to cater to your burning needs. Whether you want to burn data, audio, or video discs or create backups of your important files, this program has got you covered.
Download Ashampoo Burning Studio FREE
The free version of Ashampoo  Burning Studio is compatible with Windows 11/10/8/7 and can be downloaded from its official website.