Microsoft automatically pushes driver updates with every Windows update as and when the manufacturer releases them to their hardware. But suppose you are experiencing audio, video, keyboard, mouse, camera, or microphone problems while running Windows 11/10 PC. In that case, you can use a third-party tool to update specific or all hardware components.
Best Drivers Update Tools for Windows 11 and 10
In this gearupwindows article, we have compiled seven free and best drivers software for Windows PC. These are the following:-
IObit Driver Booster Free
DriverMax
Driver Easy
Snappy Driver Installer
Intel Driver & Support Assistant
AMD Driver Autodetect
Brigadier
IObit Driver Booster Free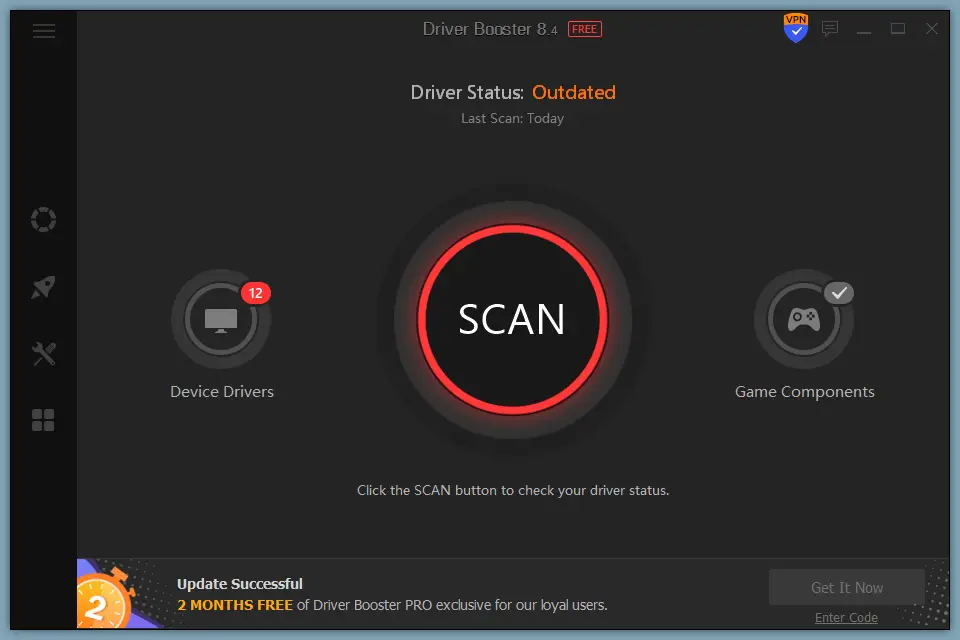 The name suggests that IObit Driver Booster Free is a freeware application that lets you boost your PC speed by updating the drivers. It supports all versions of Windows, from Windows XP to 11. Furthermore, it is compatible with both 32-bit and 64-bit architecture.
Maybe you are suffering from bad resolutions or poor sound quality on your PC; a driver's update is the perfect solution. Display resolution and lousy sound quality are the main reason for old display adapters and missing sound card drivers.
The IObit Driver Booster stores a database for more than 3,500,000 device drivers and game components to speed up PC performance. All the stored drivers on the IObit database come from the official manufacturers' websites and have passed both the Microsoft WHQL (Windows Hardware Quality Labs) test and the IObit test to ensure authority and security.
A one-click SCAN button is available on the IObit Driver Booster home screen that lets you can scan your PC for outdated drivers. It checks each component driver's version and then matches it with its own database and further represents a list of the device that needs an update or is up-to-date. Update all the outdated drivers or selected device drivers at once.
Depending on the selection, this free tool downloads the required drivers and installs them on your PC. If you have too many hardware drivers to update, you can select the option "Automatically reboot PC" or "Automatically shut down PC" to restart or shut down your computer after completing the updates, resulting in saving you time and effort.
Download IObit Driver Booster Free
You can download and read more about IObit Driver Booster Free here.
DriverMax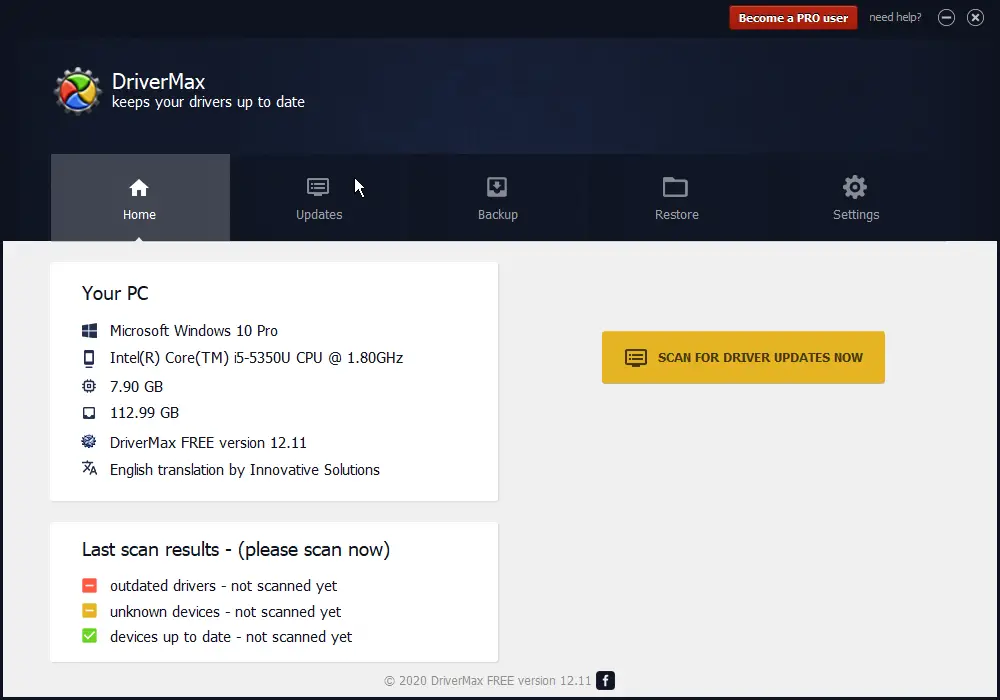 DriverMax is a famous free application that lets you backup and restores drivers easily. Even DriverMax keeps your hardware drivers updated. It comes with a simple and attractive user interface so that a novice can also perform the basic task, for instance, backup, restore, and update the drivers.
On the home of DriverMax utility, you can get some basic information about your PC like the Name of the Operating System, Processor makes and models, installed memory (RAM), and capacity of the hard drive.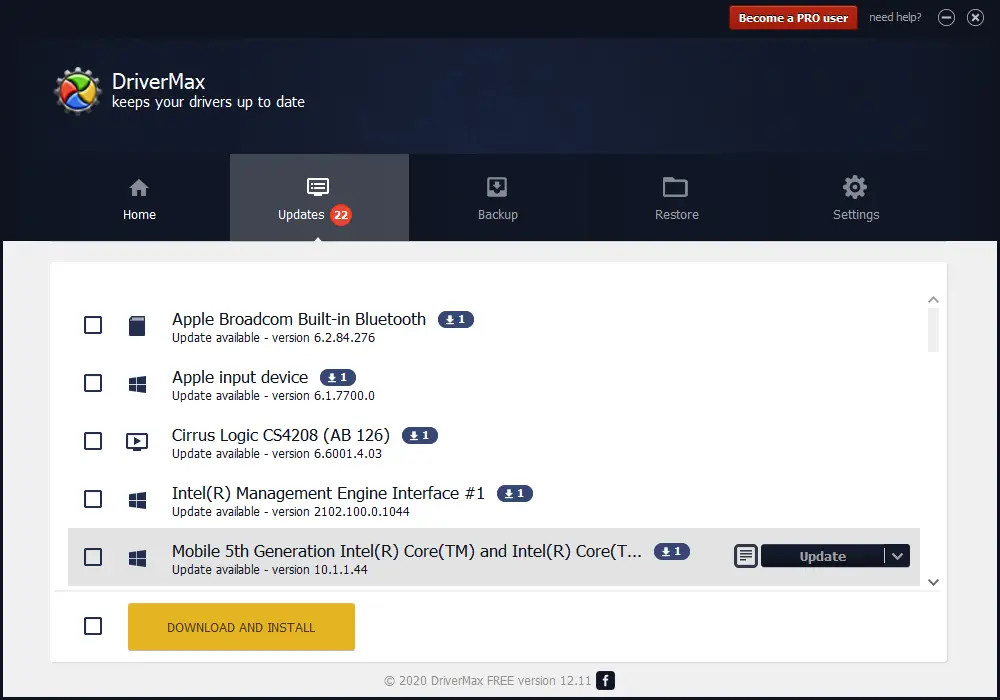 Clicking on the Updates tab, this tool will analyze your PC components and represents a list of outdated drivers with the latest version details. Select all or specific components and then click the button "DOWNLOAD AND INSTALL" to update all or selected hardware drivers of your PC. Rest all will be done automatically by this tool for you. There is also an option to update the individual hardware. Move the cursor on any hardware entry, and the Update button appears. Clicking on the Update button, the software downloads and installs the correct drivers for your PC. Before updating any hardware drives, this program also creates a system restore point. From my point of view, it should be part of every quality driver update tool.
Download DriverMax
You can download and read more about DriverMax from here.
Driver Easy
Driver Easy is a free application built for Windows PC. Clicking on its Scan Now button at the home interface, the app will investigate your PC for outdated drivers. It will examine each hardware component of your computer or laptop and represent a list of outdated drivers.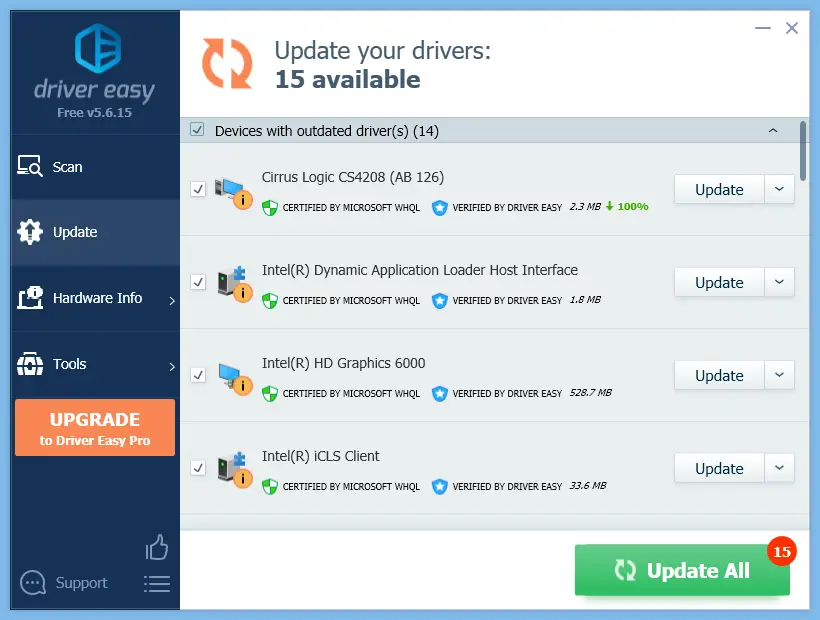 After getting the list of outdated drivers, you can update individual hardware drivers by clicking on the Update button next to its entry. It will download the latest version of the driver from the manufacturer's websites; further, you can update your PC manually through the Device Manager. There is also an "Update All" button available on this tool, but you need to purchase the full version license.
Download Driver Easy
You can read more about Driver Easy and download it here.
Snappy Driver Installer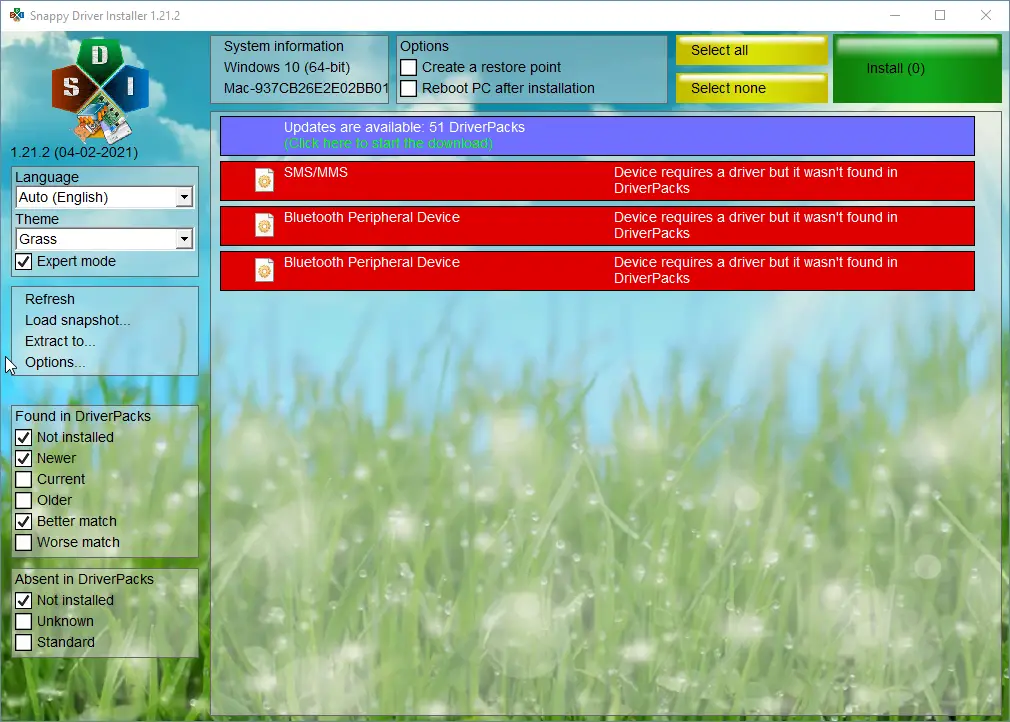 Snappy Driver Installer is another free application that allows you to install and update drivers on your Windows PC with ease. It is a suitable tool for your PC driver administration. This software allows updating those PCs also that have no internet connection. This freeware lets you operate offline with an offline driver's pack. You can download all the drivers at once and move to another PC that has no internet connection. It also provides an option for automatic updates whenever an update is available.
Snappy Driver Installer also provides an option to create a system restore point; if something goes wrong, you can revert your PC to its previous working state. If you have recently upgraded the operating system or installed fresh Windows on your computer or laptop, you will have a lot of work to perform. With the help of this tool, you can install the drivers easily without searching a driver file manually on the manufacturer's website.
Download Snappy Driver Installer
It is a great piece of software, and no professional version of this tool is available. You can download the Snappy Driver Installer from here.
Intel Driver & Support Assistant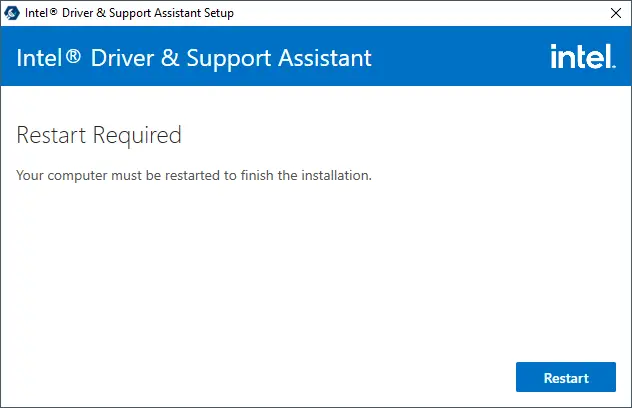 Intel is also offering a free tool Intel Driver & Support Assistant, to automatically identify, find, and install the latest drivers for your computer. It was earlier known as Intel Driver Update Utility. It is a great option to update the drivers on Windows PC if you use Intel Chipset or Processor. This utility helps you to keep your system up-to-date. It automatically identifies which driver updates are relevant to your computer and then installs them quickly and easily.
Download Intel Driver & Support Assistant
You can download the Intel Driver & Support Assistant from here.
AMD Driver Autodetect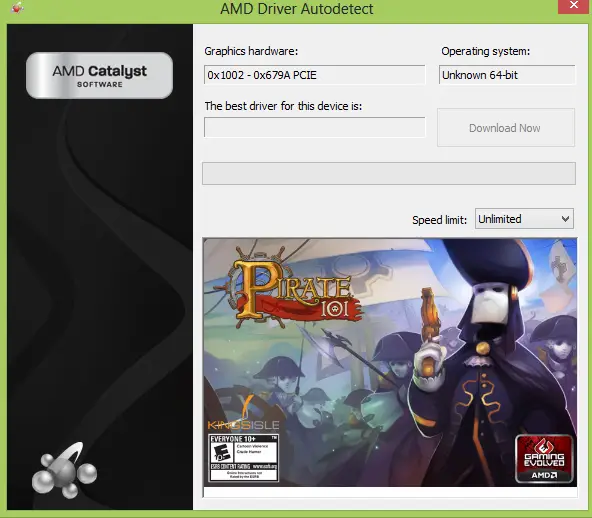 Like Intel Driver & Support Assistant, AMD has also launched its own AMD Driver Autodetect to automatically recognize the computer or laptop's graphics card and Windows operating system. If a new driver is available for your PC, this tool will download it with a single click and install it on your PC. The auto-detect tool allows you to download and install the latest official driver directly from the AMD website.
Download AMD Driver Autodetect
You can download AMD Driver Autodetect here.
Brigadier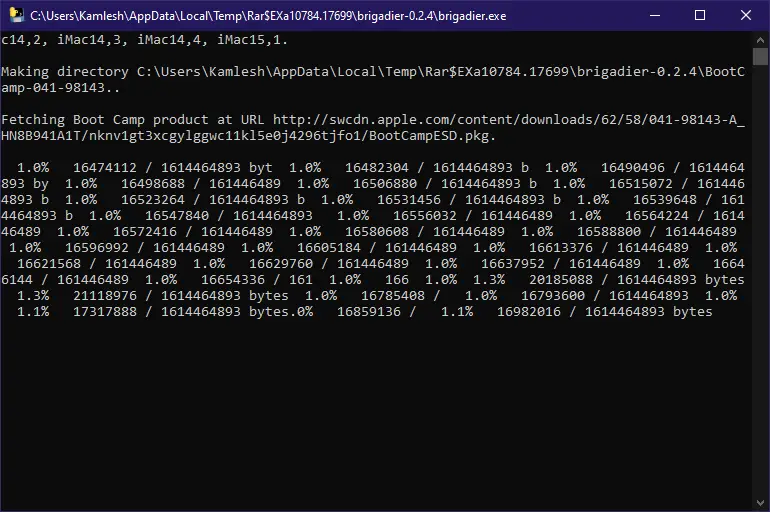 Brigadier is a freeware tool to install Boot Camp drivers on a Mac machine, where Windows 10 is the only operating system. It downloads the drivers directly from the Apple servers, which means it does not store anything on its own database. The Boot Camp drivers pack includes device drivers for all the hardware, including a camera, trackpad, wireless trackpad, graphics, keyboard, card reader, wireless mouse, etc.
According to the developer of the Brigadier tool, it downloads and unpacks ESD that applies to the Mac model on which you run this tool. Further, it uses 7-Zip software to extract the ESD, and if the 7-Zip is not found on your Windows 10 PC, it will automatically download the same and remove the same after extracting the ESD.
The beauty of the Brigadier tool is that it automatically detects your Mac model and downloads the right Boot Camp drivers for Windows 10 running on your Mac, just like the Boot Camp Assistant software.
Download Brigadier
You can download the Brigadier from here.
Conclusion
In conclusion, there are several free and reliable driver update tools available for Windows 11 and 10 that can help users resolve audio, video, keyboard, mouse, camera, or microphone problems. These tools, such as IObit Driver Booster Free, DriverMax, Driver Easy, Snappy Driver Installer, Intel Driver & Support Assistant, AMD Driver Autodetect, and Brigadier, offer features like scanning for outdated drivers, downloading and installing the latest versions, creating a system restore points, and ensuring compatibility and security. Users can choose the tool that suits their specific needs and easily update their hardware components for optimal performance.