Numerous download managers are available in the market, and EagleGet is one such tool. This software, which is available for free, leverages multi-threaded technology to hasten downloads by dividing files into multiple sections and transferring them concurrently. This method of operation is grounded in scientific principles and leads to a significant increase in download speed.
EagleGet for Windows 11/10
EagleGet is a robust download accelerator that offers an extensive set of features, available for free. It is specifically designed for the Windows operating system and smoothly integrates with web browsers, serving as their default download manager. This software empowers users to download files from any website, extract links from various media pages, and safeguard their downloads with an integrated virus scanner. If you frequently face sluggish internet speeds and need to download large files, it's recommended to install a reliable download manager like EagleGet.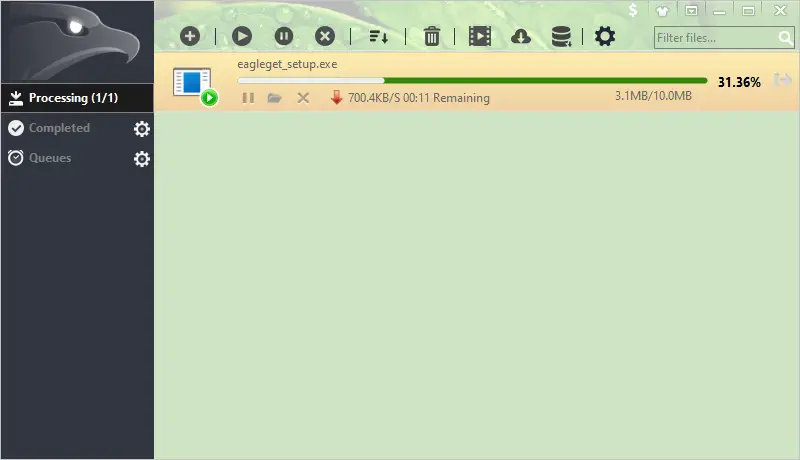 By utilizing a reliable download manager, you can enjoy fast and efficient downloads, granting you easy access to your files. EagleGet is an all-encompassing download manager that accelerates downloads while managing all of your file and media downloads. In addition to downloading regular programs and files, EagleGet includes integrated browser support for downloading videos from many popular video sites, including Vimeo and several others.
Furthermore, this program automatically organizes your downloads into predefined categories such as Software, Media, Documents, Compressed, and more. Alongside downloading and organizing files, it also provides features such as batch downloads, download scheduling, automatic categorization, clipboard monitoring, checksum validation, and other useful tools.
According to the developers, EagleGet can increase the download speed of all files, boosting overall speed by up to 6 times compared to browser downloads, which is more than adequate for most Windows users. When downloading a file from any website, this software divides the file into smaller segments and simultaneously downloads each of them, enhancing the download speed. Once all parts are downloaded, it automatically recombines them and saves the completed file to your PC.
Conclusion
In conclusion, EagleGet is an outstanding download manager that offers numerous features for Windows users. It is specially designed to increase the download speed of files by splitting them into smaller segments and downloading them simultaneously. With EagleGet, users can download files from any website, sort them into categories, and safeguard their downloads with a built-in virus scanner. Additionally, the software offers browser integration to download videos from popular video-sharing websites.
EagleGet includes advanced features like automatic categorization, batch downloads, scheduling downloads, clipboard monitoring, checksum validation, and more. Overall, EagleGet is an excellent option for Windows users who regularly download large files and need a reliable and efficient download manager.
Download EagleGet
This program is compatible with Windows XP, Vista, 7, 8, 10, and Windows 11 (both 32-bit and 64-bit editions). You can download EagleGet for free from here.
You might also be interested in a few more free download managers:-