There are a lot of download managers exists in the market, and EagleGet is one of them. This freeware program uses multi-threaded technology to accelerate downloads by splitting files into several parts and then transferring them simultaneously, thus increase download speed scientifically.
EagleGet for Windows 11/10
EagleGet is a free but yet powerful download accelerator that provides users with a wide range of functions. It is specially designed for Windows operating systems that seamlessly integrate with web browsers and acts as their primary download manager. The application allows users to download files from any website, grab links from different media pages, and stay protected with its in-built virus scanner. If you struggle with a slow internet connection and have to download a large file, it is high time to download and install a good download manager.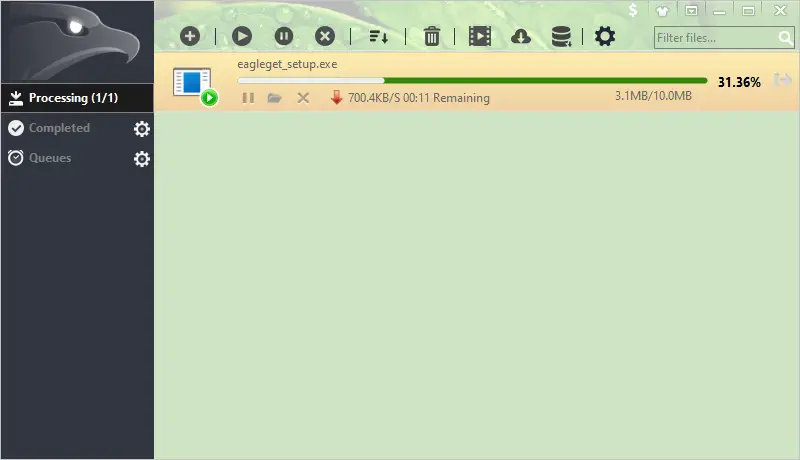 Using a good download manager, you can enjoy the high-speed download and get access to those files quickly and easily. EagleGet is an all-in-one download manager that speeds up the download and even manages all your file and media downloads. In addition to downloading standard programs and files, EagleGet offers integrated browser support for downloading videos from many popular video sites, including Vimeo and many others.
Further, this program automatically sorts your downloads into predefined categories such as Software, Media, Documents, Compressed, etc. Apart from downloading and sorting the file, it includes features like batch downloads, scheduling downloads, automatic sorting into custom categories, clipboard monitoring, checksum validation, and more.
According to the developer of EagleGet, it helps you in increasing the download speed of all files. Compared with browser downloads, this utility increases the overall speed by up to 6 times, which is good enough for most Windows users. When you try to download a file from any website, this software splits the file into several smaller parts and then starts downloading each of them simultaneously to increase the download speed. Once all parts are downloaded, it automatically joins all parts into one and saves the file on your PC.
Download EagleGet
This program is compatible with Windows XP, Vista, 7, 8, 10, and Windows 11 (both, 32-bit and 64-bit editions). You can download EagleGet for free from here.
You might also be interested in few more free download managers:-