Corrupted or damaged AVI files can be a headache, preventing you from enjoying your favorite videos. Luckily, there's a user-friendly solution available: DivFix++. In this article, we'll explore DivFix++, a dedicated video repair tool that specializes in fixing AVI files. With its straightforward interface and efficient repair process, DivFix++ allows you to salvage and restore your AVI files with ease.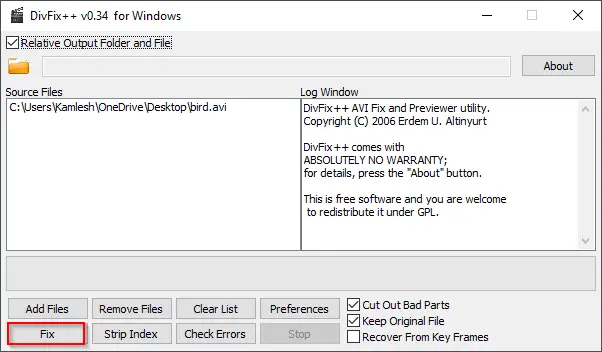 What is DivFix++?
DivFix++ is a popular and reliable open-source software designed to repair AVI video files. Whether your AVI file is unplayable due to corruption, audio-video desync, image freezing, or other issues, DivFix++ can help you recover and restore the file to its normal state.
Simple and Intuitive Interface
One of the standout features of DivFix++ is its user-friendly interface. The software provides a straightforward layout, making it accessible to users of all levels of technical expertise. You don't need to be a video editing expert to navigate and utilize DivFix++ effectively.
How to Repair Corrupted AVI Files?
Repairing your corrupted AVI files with DivFix++ is a breeze. Follow these simple steps:-
Step 1. Begin by downloading DivFix++ from a trusted source. The software is available for Windows, Mac OSX, and Linux operating systems. Extract the downloaded zip file to access the application.
Step 2. Double-click on the setup file to launch DivFix++ on your computer.
Step 3. Once DivFix++ is open, you can add the corrupted AVI file(s) in two ways:-
Drag and Drop: Simply drag and drop the file(s) onto the DivFix++ interface.
Add Files Option: Click on the "Add Files" button within the interface and select the AVI file(s) from your computer.
Step 4. After adding the file(s), click the "Fix" button to begin the repair process. DivFix++ will analyze the file and fix any issues detected.
Step 5. Once the repair process is complete, DivFix++ will provide a report on the fixed file(s). By default, the repaired AVI files are saved in the same location as the original files. However, you have the option to choose a different folder for saving the repaired files.
Compatibility and Free of Charge
DivFix++ is compatible with major operating systems, including Windows, Mac OSX, and Linux. Moreover, it is an open-source software, available free of charge. This means you can download, install, and use DivFix++ without any cost involved.
Download DivFix++
You can download DivFix++ from its official website.
Conclusion
Don't let corrupted AVI files ruin your video playback experience. DivFix++ offers a user-friendly solution to repair and restore your AVI files effortlessly. With its intuitive interface and efficient repair process, DivFix++ is accessible to users of all skill levels. Download DivFix++ today and regain access to your favorite AVI videos in no time.