Have you tried to delete, rename, or move a file or folder on Windows 11/10, and you get a message that another process is using this file or folder? The message suggests that some process on your Windows PC has locked the file/folder as they require it. Sometimes a simple restart computer or booting into safe mode may help. But what will you do if you are still unable to delete, rename or move the file/folder after booting in safe mode?
Although rebooting in safe mode is a time-consuming process, there is no guarantee file will be unlocked after a restart; and later, you can delete or rename it. In such a case, you might want to download and install a 3rd-party tool. UnLock IT is one such file unlocker freeware that lets you delete, rename or move such locked files.
EMCO UnLock IT for Windows 11/10
If you are struggling with the Windows message that accesses to the resource is denied, or it's in use by another program when you try to modify, rename, move or delete a file or folder, EMCO UnLock IT will help you. Although Windows says that a file or folder is locked, it's not really clear what to do? This free software provides you assistance and helps you to unlock files or folders.
It detects different types of locks that block resources management. If a resource is blocked by running processes and services, the program detects open files and library handles that block the resource and the processes that hold the locks. The resource is unlocked by closing the handles and terminating the processes that hold locks if handles closing doesn't help to unlock the resource. The same unlocking procedure is used to delete a locked file or folder. If this program cannot unlock it in normal mode, then it schedules to delete on the next boot. Further, if insufficient permissions cause the problem, the program grants the required permissions, resulting in you will able to delete, move or rename the file.
UnLock IT supports drag and drop. If a file refuses to delete or move, simply launch UnLock IT and drag the locked resource to it. Using this program, you can move or delete undeletable and locked files.
This free program even integrates into right-click context menu. That means when a file/folder refuses to delete or move, simply right-click on them and choose "Unlock IT" from the context menu and select the desired option to handle it with care.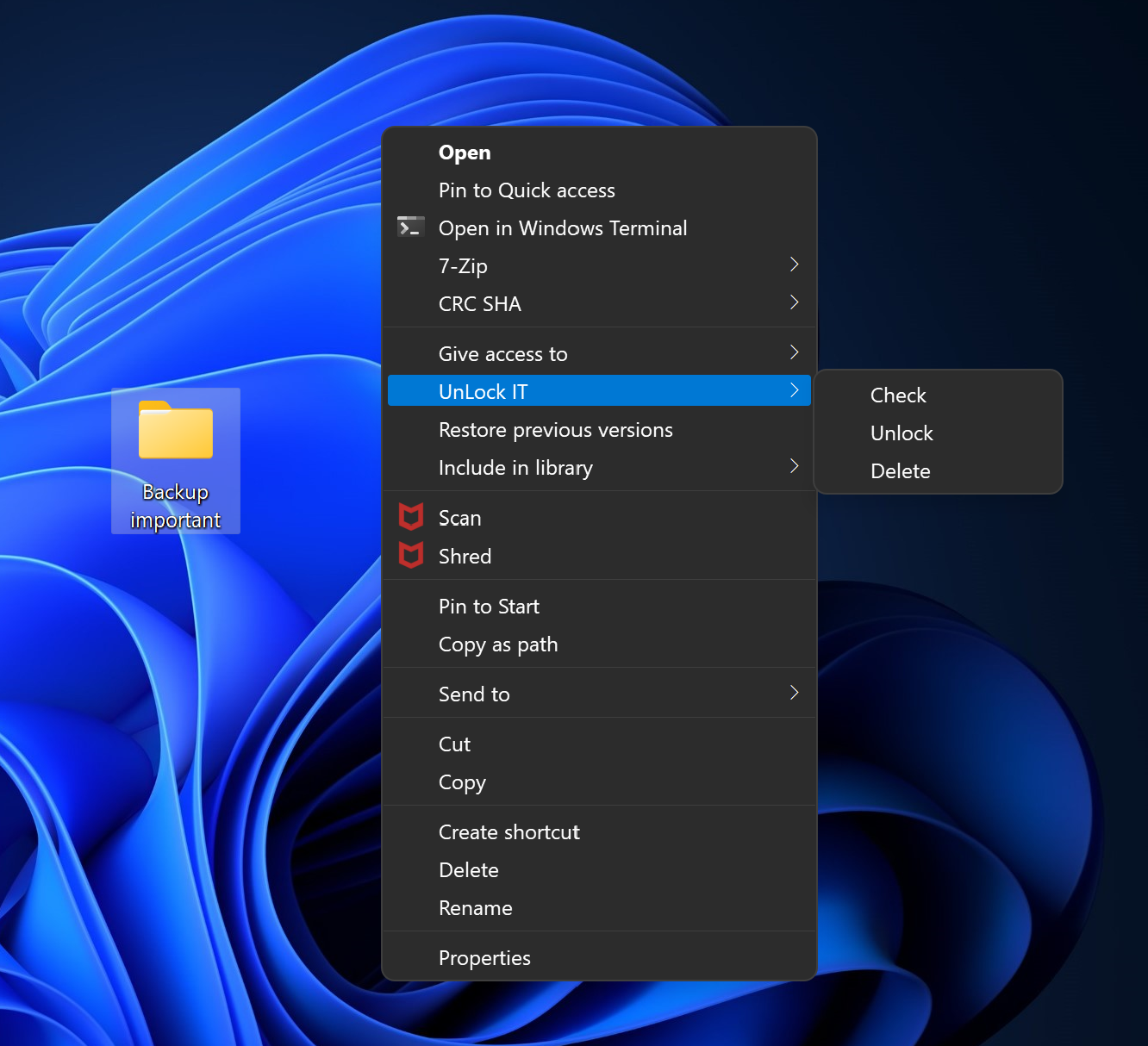 The freeware also lets you change skins. A lot of themes are available on this program, including dark & black skins and some funny styles, too.
Download UnLock IT
UnLock IT is a freeware application and supports all versions of Windows, including Windows 11, 10, 8.1/8,7, Vista, and XP. You can download it from its official website.
Also Read:
8 Freeware Tools to Unlock and Delete Stubborn Files or Folders on Windows 11/10