AntiBrowserSpy is an acclaimed software that empowers you to take back control over your online privacy and avert the misuse of your data. It has already been downloaded 92,344 times and has earned the trust of numerous users worldwide.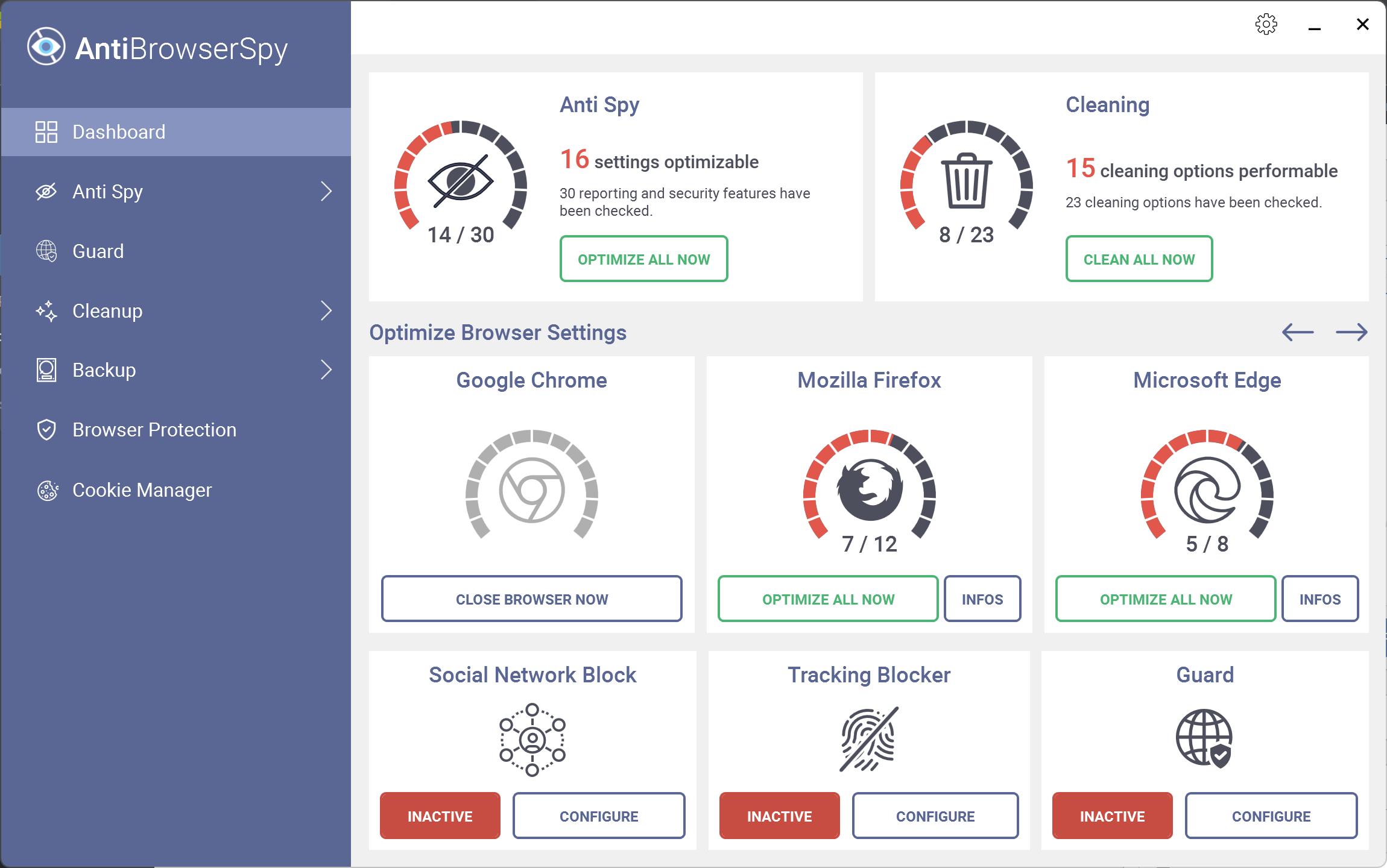 AntiBrowserSpy for Windows 11 and 10
The program educates you about the advertisers trying to create an advertising profile based on browsing habits and helps you prevent it. AntiBrowserSpy identifies any surveillance activities on your device and enables you to stop them.
The software features cutting-edge camouflage technology that frequently changes your digital fingerprint, keeping your true identity hidden. Its unique combination of mechanisms, including the Browser invisibility cloak, ensures maximum protection of your identity.
AntiBrowserSpy offers personalized protection for each browser, with a background guard that monitors any attempts to modify your settings and stops them. By managing your privacy, online identity, and erasing your browsing history, it significantly enhances your security.
The program provides a Safety Score that promptly informs you about your privacy and any unwanted surveillance. Regular optimization is typically required, as the advertising industry can gain insight into your private life and answer personal questions about you. AntiBrowserSpy comes equipped with an array of advanced mechanisms that give you complete control over your privacy and prevent browser spying.
The newly developed dashboard offers real-time information on your browser's security status. With just one click, AntiBrowserSpy sets optimal security settings for all your browsers, and you can also adjust them manually without needing technical expertise. With these robust settings, you can rest assured while monitoring the list of services attempting to install ad trackers on your device.
AntiBrowserSpy is compatible with Windows 11, 10, 8.1, 8, and Win 7, and can be used immediately after purchase. It also provides free support and is Made in Germany, ensuring its high quality. Download the trial version or purchase the full version for €29.90 and enjoy safe browsing while safeguarding your privacy.
AntiBrowserSpy Giveaway License
As said above, the AntiBrowserSpy costs €29.90; however, in this giveaway period, you can download it for free. Simply download the pre-activated program and install it on your PC and start using it for free. There is no need to enter the license key.