If you save sensitive data on your computer, you should use a good sanitization tool so that your deleted data can not be recovered from your hard disk. Many free applications are available to permanently delete files from your PC so that they can not be recovered using any third-party software.
Eraser for Windows 11/10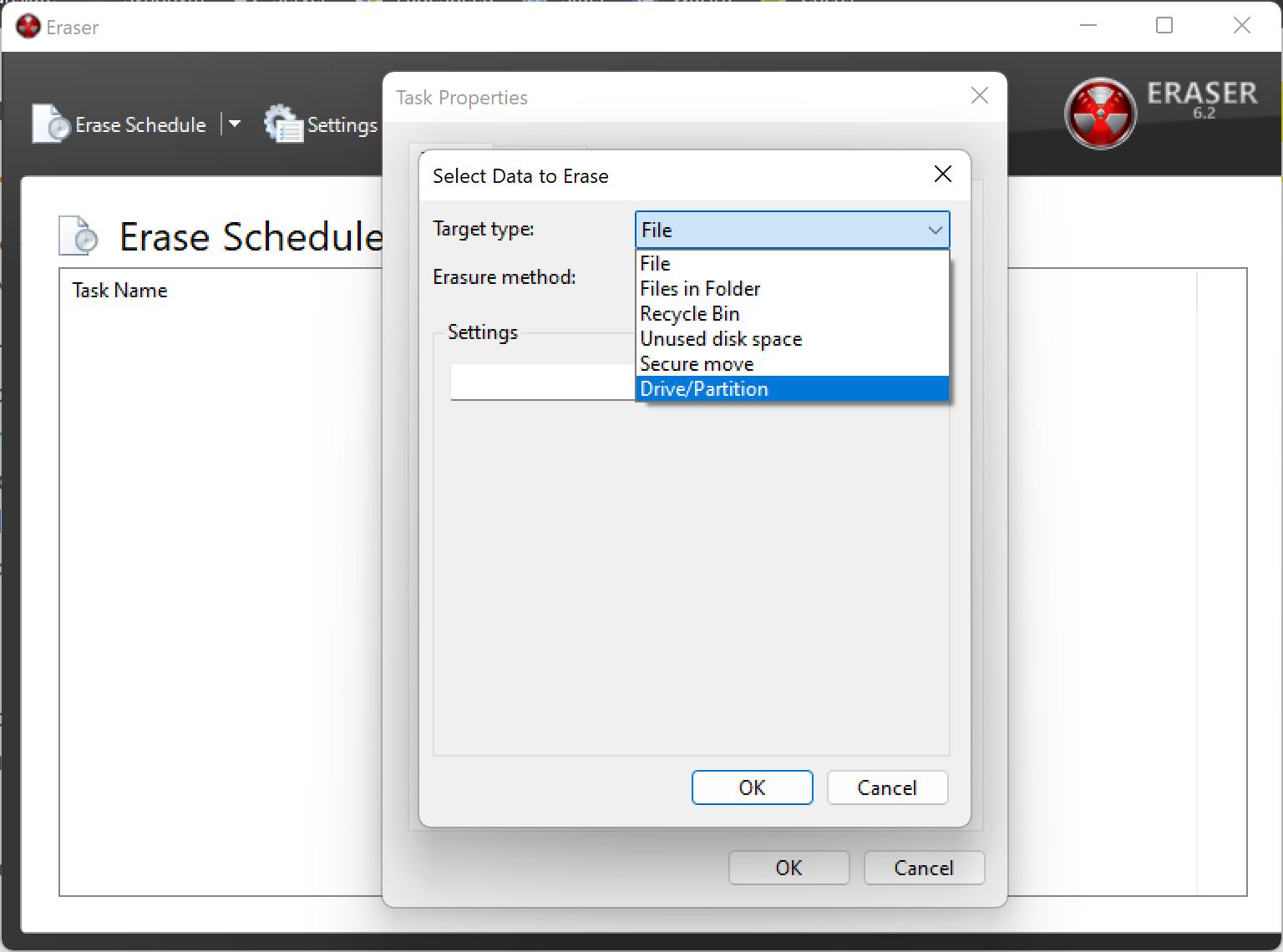 Eraser is one of the best software that deletes a file and then overwrites them with modern technology so that it can't be recovered using any data recovery tool. This free data-destruction program wipes all the data and makes them non-recoverable.
Eraser can be used to schedule data-wipe tasks and supports lots of sanitization methods, making it a great way to evade file-recovery programs. It allows you to erase specific files, files on a folder, Recycle Bin, unused disk space, drive, and partition on a schedule. Once you set up the scheduled task, you can run it immediately, manually, on every restart, or on a recurring daily, weekly, or monthly schedule, according to your needs.
The Eraser program uses the following data-sanitization methods to remove data from a drive securely:-
DoD 5220.22-M​
AFSSI-5020
AR 380-19
RCMP TSSIT OPS-II
HMG IS5
VSITR
GOST R 50739-95
Gutmann
Schneier
Random Data
First/Last 16KB Erasure
The Eraser supports all versions of Windows, including Windows 11, 10, 8, 7, Vista, XP, and Windows Server 2003-2012.
Using Eraser, you can remove sensitive data one by one or wipe the whole disk at once. Since it needs to be installed on your computer to use it, you can't erase your primary hard drive or partition on which Windows is installed (usually "C" drive). To completely erase any hard disk, you need to connect an external drive to your PC.
When you install Eraser on your PC, it integrates with right-click menu so that you can quickly delete a file or folder.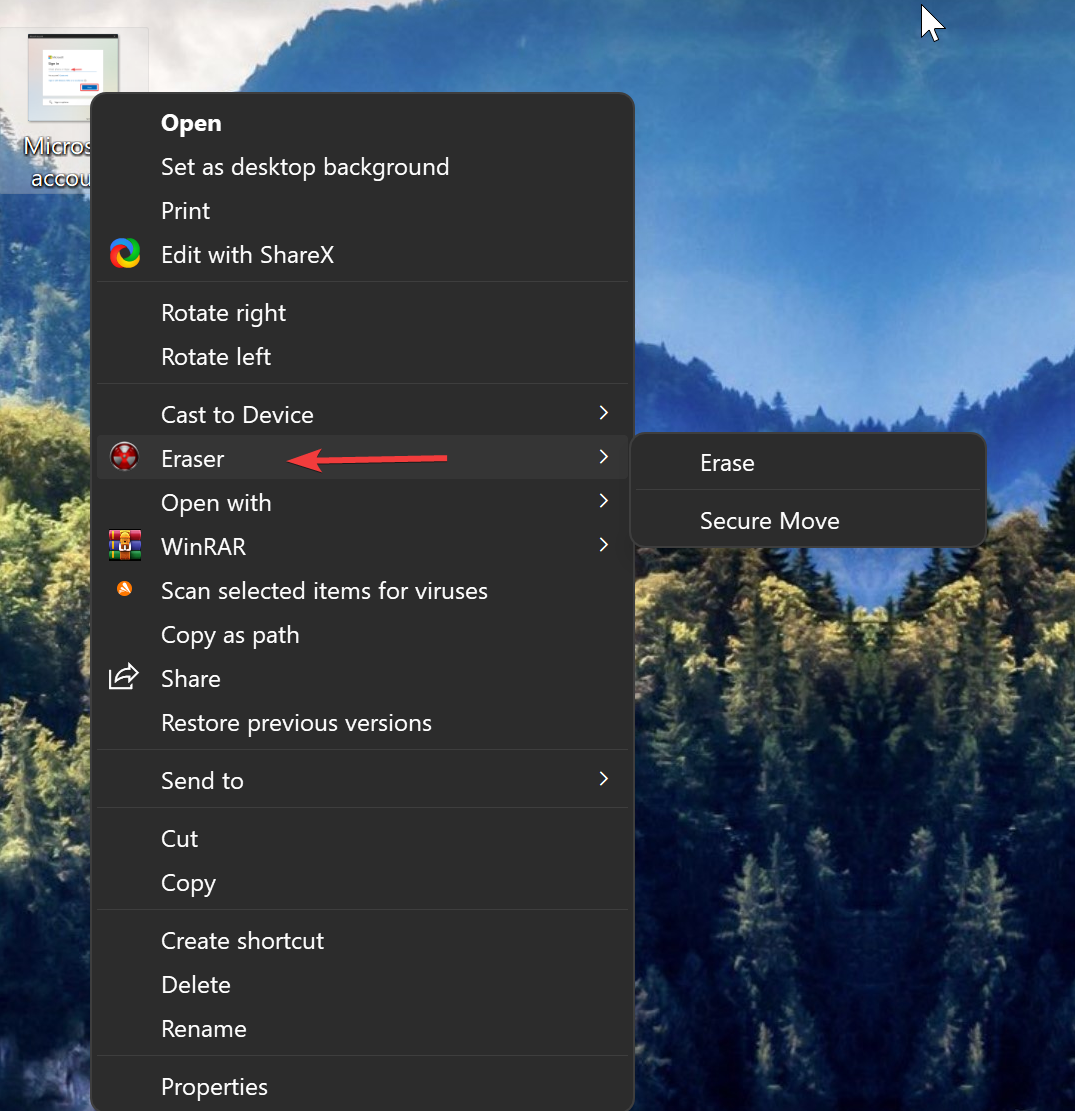 Main Features of Eraser
There are several reasons to like this program. It has the following main features:-
Easy to use.
Compatible with all versions of Windows, including Win 11 and 10.
Supports deleting files, folders, partitions, and whole disks.
Erase data on a schedule.
Integrates itself into right-click menu.
Replaces removed files with custom ones.
Supports most common sanitization methods.
Erases SSDs and mechanical drives.
The Eraser has a simple design so that a novice can also use it. This program can even erase files or folders from Recycle Bin which means you can securely empty the Recycle Bin every day.
You can schedule multiple data sets, such as wiping the free space, deleting folders, and wiping a drive. All these will run at once on a designated schedule. That means if you forget to delete the files, it will work on your behalf.
Overall, Eraser has more valuable features and supports more data sanitization methods than most other data destruction programs. If you are hunting for a suitable file shredder, you should try it.
Download Eraser
You can download the Eraser program from Sourceforge.
Conclusion
In conclusion, it's crucial to use a good sanitization tool to delete sensitive data from your computer permanently. Free applications like Eraser are available to help you securely delete files so that they can't be recovered using any third-party software. Eraser is an excellent data-destruction program that supports many sanitization methods and wipes all data from your hard drive, making it non-recoverable. It's easy to use and integrates with the right-click menu. Eraser supports all versions of Windows, including Windows 11, and can securely delete files, folders, partitions, and whole disks on a schedule. If you're looking for a reliable file shredder, Eraser is definitely worth trying. Download Eraser today and keep your sensitive data safe and secure.