If you use a Windows operating system for a while, you might have dealt with folders or files that don't delete. It doesn't matter how many efforts you make to delete that file; it simply refuses and does not leave your computer. There may be several reasons for not getting deleted a file /folder from your PC. For example, your PC may be infected with malware, spyware, adware, etc., and you cannot eliminate a file/folder from your computer. Sometimes, a corrupt file due to improper shutdown may also stop you from deleting a file from your PC.
You may get different types of errors while deleting files or folders like:
Cannot Delete File: Access is denied, there has been a sharing violation.
The source or destination file is in use.
To combat a corrupt or broken file, one should install a good deleter or eraser program. Earlier, we have introduced IObit Unlocker, Unlocker, and Wise Force Deleter program that efficiently and effectively handles defective files on Windows PC. FileAssasin is another beautiful program that battles a stubborn file that refuses to leave your PC.
FileAssasin for Windows 10/11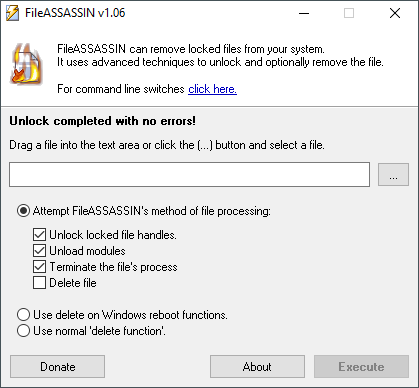 FileAssasin is a free utility that helps you terminate the process, unload modules, and close remote handles. It is also helpful to remove suspected malware files from your PC that you can't. Its straightforward user interface allows you to delete any files or folders with a click.
To delete a stubborn file from your PC, download, install and launch this application. Next, click on three dots (…) on the program to select a file or folder that you want to delete, and then click on the Execute button.
Alternatively, once you encounter an error while deleting a file or folder on your PC, simply drag them to the program text area and then click the Execute button. The app will terminate all processes which are locking the file/folder, and the selected file or folder is completely removed from your PC.
Download FileAssassin
The FileAssassin is compatible with Windows XP to Windows 10, and you can download this freeware app from Cnet.