Wise Disk Cleaner is an all-in-one tool that cleans the Hard Disk Drive and then defrags the HDD to speed you your computer or laptop. Once you download, install and run this application, it securely cleans up all useless files and, as a result, makes your computer run faster.
What are unnecessary files, and how it comes to my PC? Whenever you use your Windows machine, it creates some temporary files that are automatically generated when you open any application. You can't stop this behavior of your Windows, and it gets accumulated. After a certain use of your PC, it will occupy huge space on your hard disk, and these are unnecessary junk or temporary files. In other words, over time, junk files, temporary files, and all kinds of system files you do not need at all accumulate on your Windows Computer. Those useless files take up invaluable hard disk space and even slow down the computer.
Wise Disk Cleaner: Free Disk Cleaner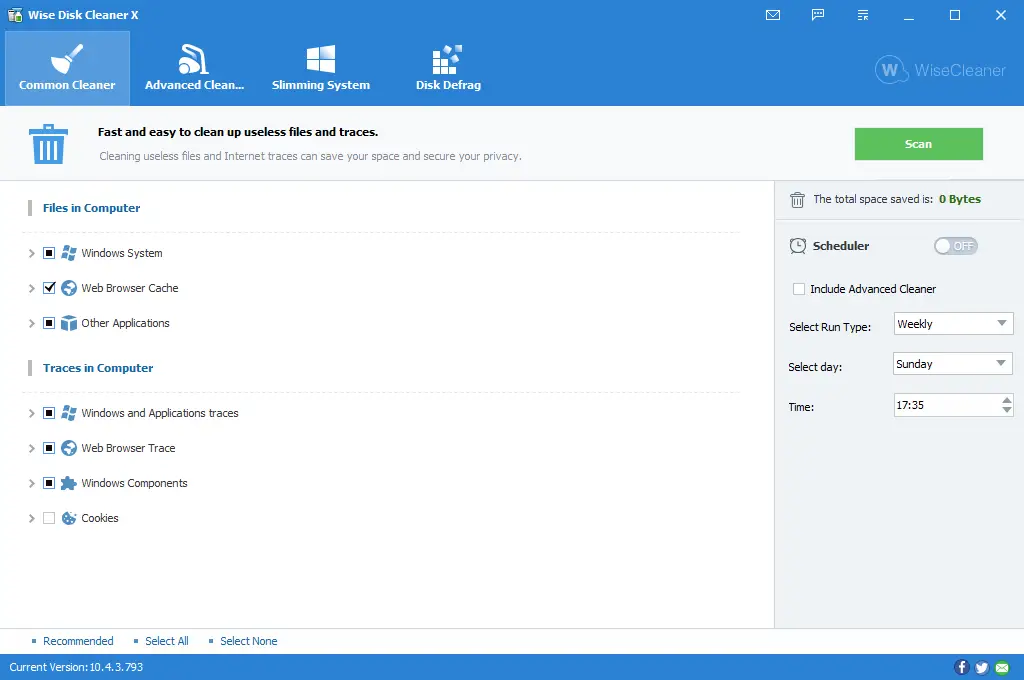 Wise Disk Cleaner is a freeware application that lets you delete these unnecessary files on your hard disk to free up disk space, making your computer run faster. It comes with several custom options to allow advanced users to clean up more files they don't actually need. Equipped with advanced algorithms, the Wise Disk Cleaner free tool scans the computer and removes them within seconds, making it one of the most efficient disk cleaners out there.
This free utility cleans browsing history and other traces on your computer to protect privacy.  Wise Disk Cleaner can clean the internet history from all the major browsers, including Microsoft Internet Explorer, MS Edge, Opera, Mozilla Firefox, etc. It can easily and safely clean internet histories, cache files, and cookies of Internet Explorer, Chrome, Firefox, Opera, and Safari browsers. Furthermore, it detects and cleans all other traces caused by Windows systems, components, and other applications. By removing all these traces thoroughly, your privacy remains protected from prying eyes while you surf the internet.
Wise Disk Cleaner: Free Disk Defragmenter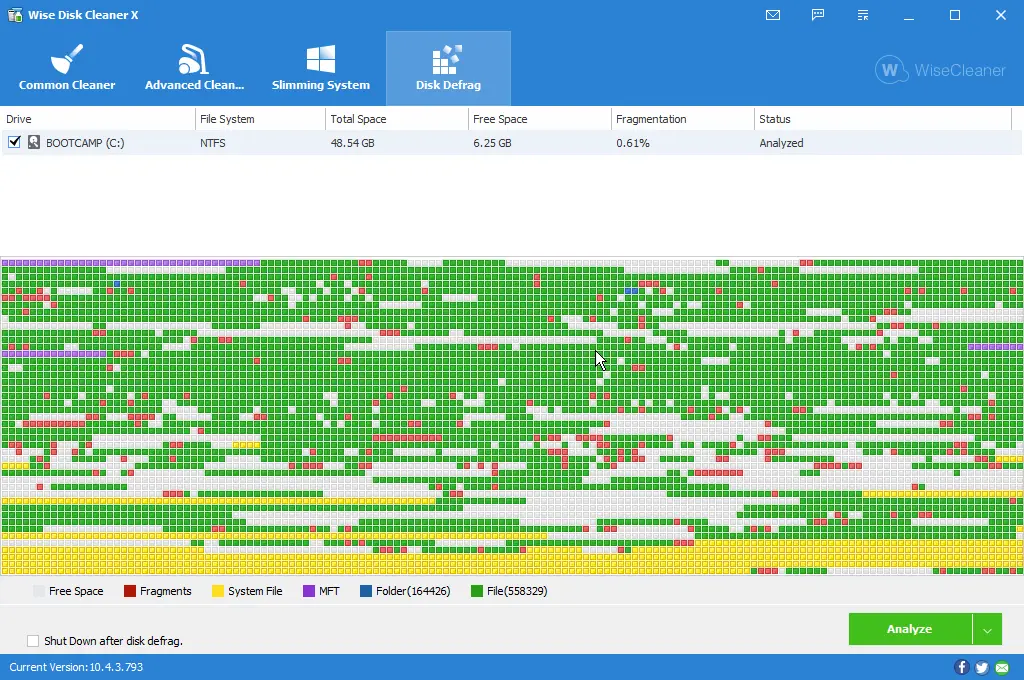 Apart from the cleaning of the hard disk and browser temporary files, it also defrags HDD. It improves overall PC performance by defragging and re-arranging files on your disk that get fragmented over time. The fragmentation process makes your hard disk do extra work that slows down your computer. The 'Disk Defrag' feature of Wise Disk Cleaner rearrange fragmented data so that your Hard Disk and drives can work more efficiently. It offers a clear graphic chart of the selected drive, letting you understand the drive usage at a glance. You can even utilize this feature to analyze and defragment any external storage devices.
Wise Disk Cleaner: Scheduled Automatic Disk Cleaning
You can configure the Wise Disk Cleaner to clean the disk daily, weekly, or monthly according to your own need. The tool will automatically open up the background and clean up the useless files when the scheduled time is up.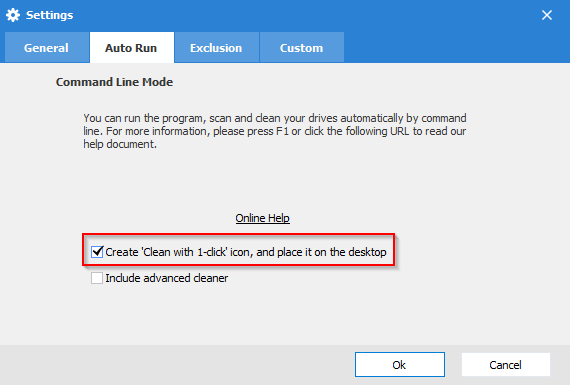 You can also create a 'Clean with 1-click' icon and place it on the desktop from its settings. You can clean up the junk files by just clicking the icon without opening Wise Disk Cleaner with this feature.
Final Opinion on Wise Disk Cleaner
Wise Disk Cleaner is a completely free app and does not comes with any advertisement. Anyone can download it for free and enjoy the free automatic update and technical support by email. Using this software, you can clean your PC as well as defragment the HDD. The other beauty of this software is that it creates a system restore point automatically before cleaning the unnecessary files from your PC.
Download Wise Disk Cleaner
You can download the Wise Disk Cleaner from the official website.
You might also be interested in free disk defragmentation tools such as Puran Defrag, IObit Smart Defrag, DiskTuna, UltraDefrag, etc.