In the world of digital entertainment, DVDs still hold a special place for many users. Whether you have a collection of cherished movies, educational content, or personal videos, having a reliable DVD copy software is essential. Leawo DVD Copy emerges as a powerful solution, and the best part is – you can get it for free through an exclusive giveaway! Let's delve into the details of this exciting offer and explore the features that make Leawo DVD Copy a must-have tool for DVD enthusiasts.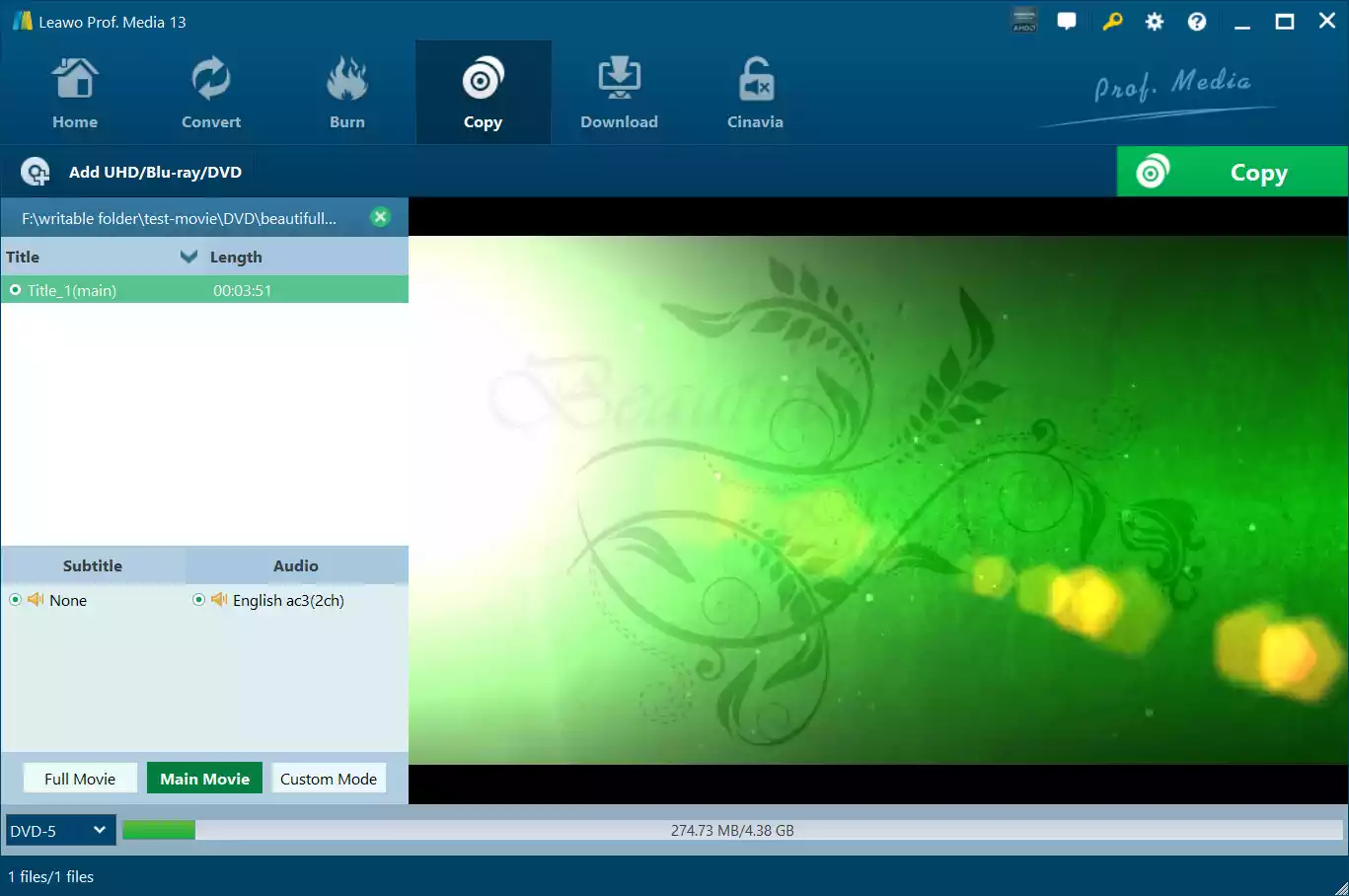 Unlocking the Power of Leawo DVD Copy
1. Versatile Copy Modes: Leawo DVD Copy caters to different user needs with its three distinct copy modes. The Full Movie mode allows you to copy the entire DVD, while Main Movie mode focuses on movie-only backup. Custom Mode provides the flexibility to choose specific parts of the DVD for copying.
2. CSS Protection Removal: Say goodbye to DVD restrictions! Leawo DVD Copy can remove CSS protection and region codes applied to the DVD, allowing you to copy protected DVDs without limitations.
3. 1:1 Quality Copy: Quality matters, and Leawo DVD Copy ensures a 1:1 lossless copy, whether you're backing up DVD-9 to DVD-9, DVD-5 to DVD-5, or even different DVD types. The output is as pristine as the original.
4. Lightning-Fast Copy Speed: Efficiency is key, and Leawo DVD Copy doesn't disappoint. With 6X faster speed, thanks to Intel Quick Sync GPU acceleration technology, copying DVDs to the hard drive or a new DVD is a breeze.
5. Additional Smart Functions:
– Copy ISO Image to DVD: Leawo DVD Copy goes beyond standard DVD-to-DVD and DVD-to-hard drive copies. It allows you to back up ISO images to DVDs effortlessly.
– Subtitles and Audio Tracks Selection: Customize your DVD copy by choosing preferred subtitles and audio tracks before initiating the copying process.
– High-Quality DVD-9 to DVD-5 Compression: Optimize storage without compromising quality through efficient DVD-9 to DVD-5 compression.
– Dual DVD Video Standards Support: Leawo DVD Copy accommodates both NTSC and PAL analog TV standards, facilitating seamless DVD copying between different regions.
6. Built-in DVD Player: Preview your content within the program using the built-in DVD player. Switch between subtitles and soundtracks while enjoying a sneak peek of your copied movie.
7. Multilanguage Support: Language should never be a barrier. Leawo DVD Copy provides multilanguage support, ensuring a user-friendly experience for a diverse audience.
How to Get Your Free License Key?
Follow these simple steps to secure your free license key for Leawo DVD Copy:-
Step 1. Visit the official giveaway page.
Step 2. Depending on your operating system, click on "Get Win Now" or "Get Mac Now."
Step 3. Check your email for the license key and download URL.
Step 4. Click the link in your email to download the software.
Step 5. Install the software on your computer.
Step 6. Activate it using the provided license key.
Enjoy the powerful features of Leawo DVD Copy for free!
Conclusion
Don't miss out on this fantastic opportunity to enhance your DVD copying experience with Leawo DVD Copy. Seize your free license key today and unlock a world of versatile, high-speed, and quality DVD copying. Embrace the convenience and flexibility offered by Leawo DVD Copy, making your DVD collection more accessible and secure.