An Apple iPad, several Amazon gift cards, and six must-have Windows utilities are up for grabs in IObit's giveaway. This giveaway consists of Advanced SystemCare 15, Driver Booster 9, IObit Uninstaller 12, iTop VPN, iTop Screen Recorder Pro V3, and iTop PDF. The total value of the package is $150,000.
By using the applications mentioned above, one can edit class notes and document files quickly and give the Windows PC a smooth and safe running environment.
IObit's 2022 back-to-school giveaway is open to everyone and closes on September 19 at 24:00 PST.
To participate in this giveaway, navigate this link and click the GO button.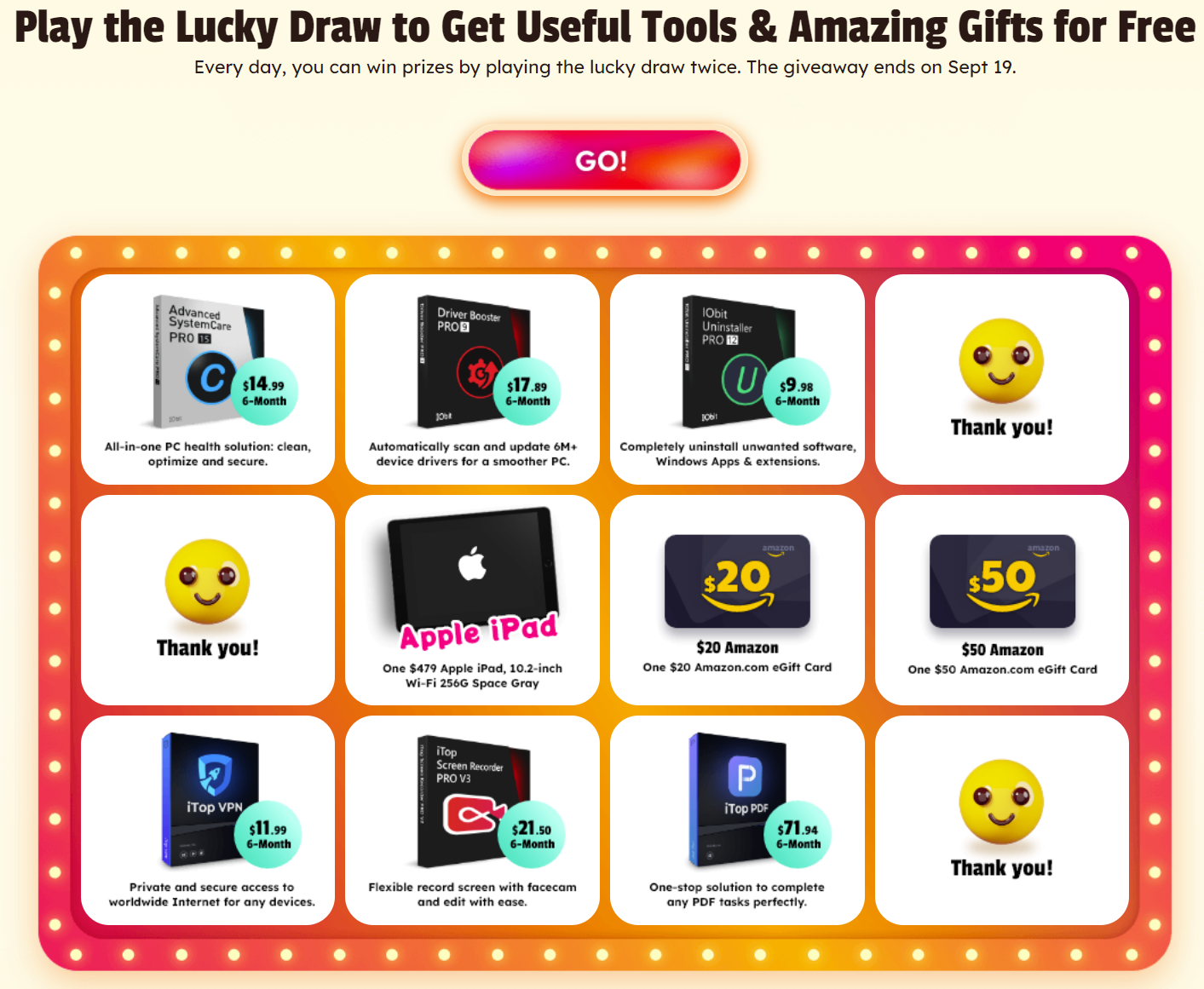 Then enter your email and name in the provided boxes. Next, click the Grab the Gift Now button. Once done, you will get one of the applications, iPad, or Amazon gift card details in your email with further instructions.
Users can enter IObit's daily lucky draw twice, so if they don't win on the first day, they can try again on the next.
Also, you need to send the IObit team your delivery email address if you win the Amazon Gift Card or Apple iPad.
If a winner does not receive notices due to spam, junk e-mail, or other security settings or if their contact information is inaccurate or non-functioning, IObit is not responsible.
If the original winner cannot be reached, is ineligible, fails to claim the Amazon.com eGift Card or iPad within 10 days of being contacted by IObit employees, or does not return the required declaration and release on time, IObit may select an alternate winner.
In order to take advantage of this deal, the post should be shared as widely as possible.
Please let us know which application or item you received in the comments below.
Conclusion
In conclusion, IObit's 2022 back-to-school giveaway is an excellent opportunity for students and professionals alike to get their hands on some valuable Windows utilities and other prizes. By participating in this giveaway, users can access powerful tools such as Advanced SystemCare 15, Driver Booster 9, and IObit Uninstaller 12, among others. Additionally, lucky winners can also receive an Apple iPad or Amazon gift card, making this a great opportunity for anyone in need of a new device or some extra spending money.
To participate in this giveaway, users need to follow the simple steps provided and enter their email and name. Although the daily lucky draw entries are limited to two per person, users can increase their chances of winning by sharing this giveaway with others. It's important to note that winners must provide accurate contact information and claim their prizes within ten days of being notified by IObit.
Overall, IObit's back-to-school giveaway is an excellent opportunity for anyone looking to upgrade their Windows experience or win a valuable prize. So be sure to enter before September 19th, 2022, and don't forget to share the news with your friends and colleagues. Good luck!