Although it is possible to edit a PDF file, it is a complicated process, so everybody wants to edit a PDF in a familiar format, such as Word or Text.
To make the changes in PDF files, you can look for a program that can edit the document directly, or you will try to convert the PDF to another file format. There are a lot of online and offline applications available to convert PDFs.
In this gearupwindows article, we will cover the most popular and easy PDF-to-Word free converters.
Free PDF to Word Converters For Windows 11 and 10
Free PDF to Word Doc Converter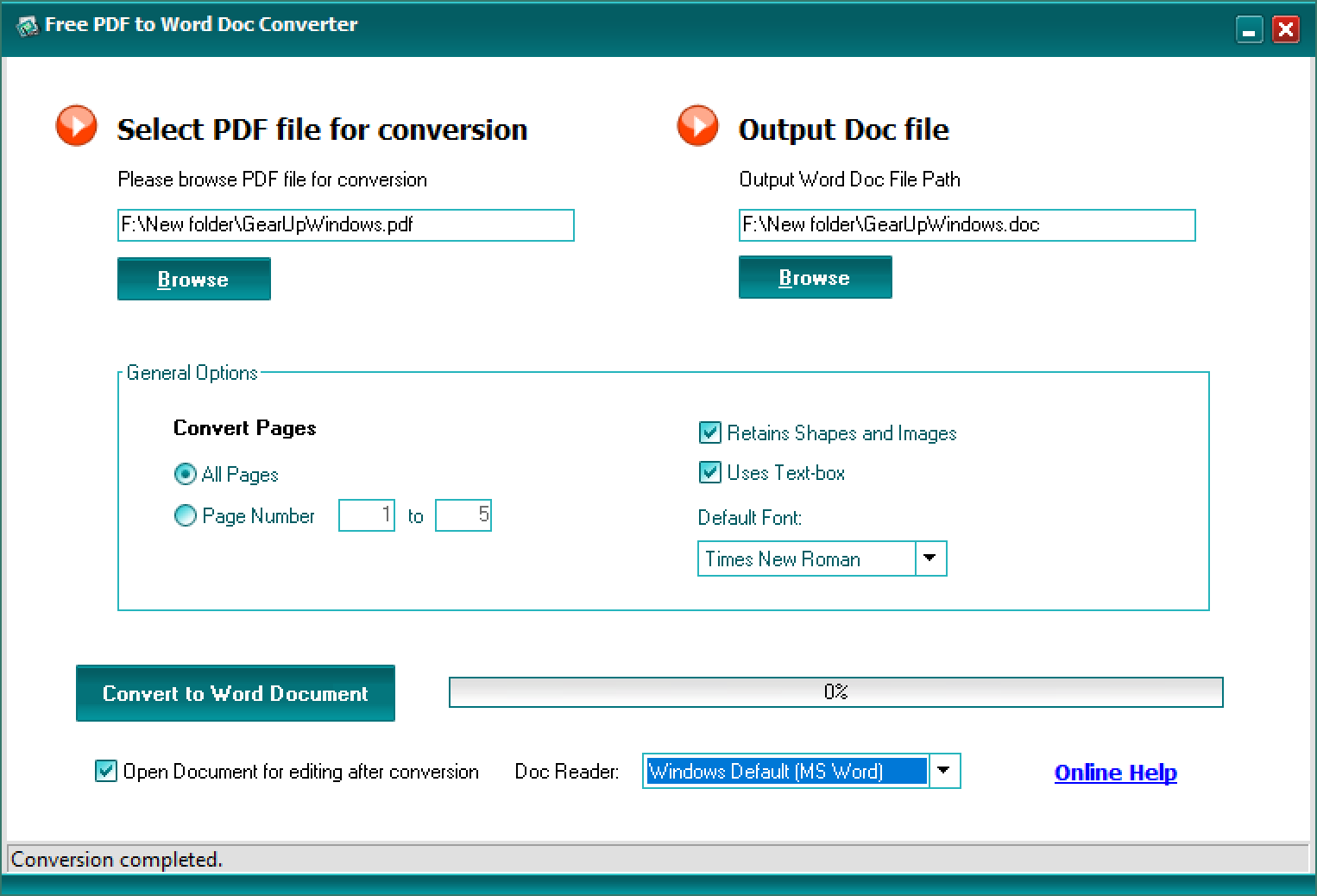 The "Free PDF to Word Doc Converter" is a freeware tool that lets you easily convert PDF to Word. Using this tool, you can extract texts from a PDF file as well as it also enables you to extract images from a PDF file.
The application allows you to configure a few options, such as you can select all pages or specific pages you want to convert. You can check or uncheck the options "retains shapes and images" and "use text-box." From the drop-down menu of "Default Font," you can select "Times New Roman" or "Arial."
The "Free PDF to Word Doc Converter" application is compatible with Windows 11, 10, 8, and 7.
PDF to Doc
PDF to DOC is a free online converter that lets you save a PDF file as an editable document in Microsoft Word DOC format. The tool effectively converts a PDF to Word without compromising the quality.
Converting PDF to Word is quite easy. First, navigate the pdf2word website and click the UPLOAD FILES button. Here, you can upload up to 20 PDF files you wish to convert. Wait for the conversion process to finish.
Once the conversion is completed, you can download the Word file one by one or all of them simultaneously in a ZIP file using the DOWNLOAD ALL option.
Small PDF
Small PDF is another converter that quickly converts PDFs to Word docs. The tool allows you to convert PDF to Word with just a few clicks effortlessly. For uploading PDFs, it even supports drag and drop.
The beauty of the tool is that it allows you to upload any PDF file size without restriction. There is no need to register on this website to use the service. However, the free trial version is limited to daily conversions of up to two files. For privacy reasons, all the files will be deleted forever from their servers after one hour.
Conversion of PDFs to Word docs is quite easy using Small PDFs. Drag your PDF to the upload area or upload it by clicking CHOOSE FILES. Select the PDF file from your computer you want to convert and click the Open button.
When you're done, a new page will open and show you two options: Convert to Word and Convert to Editable Word (OCR). Select the first option as it is free. In a few minutes, your PDF file will be converted into a Word doc. Clicking the Download button, you can save the converted Word doc to your computer.
You can access the Small PDF website here.
Microsoft Word
A few people know that Microsoft Word has a free PDF conversion feature that lets you save your documents in PDF format. Using the Word application, you can also open a PDF to make the necessary changes when required. Text-based PDFs can be easily converted into Word docs for editing. Word programs can not format PDFs of book chapters or documents that appear to be copies of manuscripts.
To edit PDF using the Microsoft Word application, use these steps:-
Step 1. Open Microsoft Word and click on the File menu.
Step 2. Next, click on Open.
Step 3. Then, click Browse.
Step 4. Select a PDF document from your PC that you want to edit and click the Open button.
Step 5. Click OK to edit the file into a Word document.
Step 6. Make the required changes in the document and click on the File menu.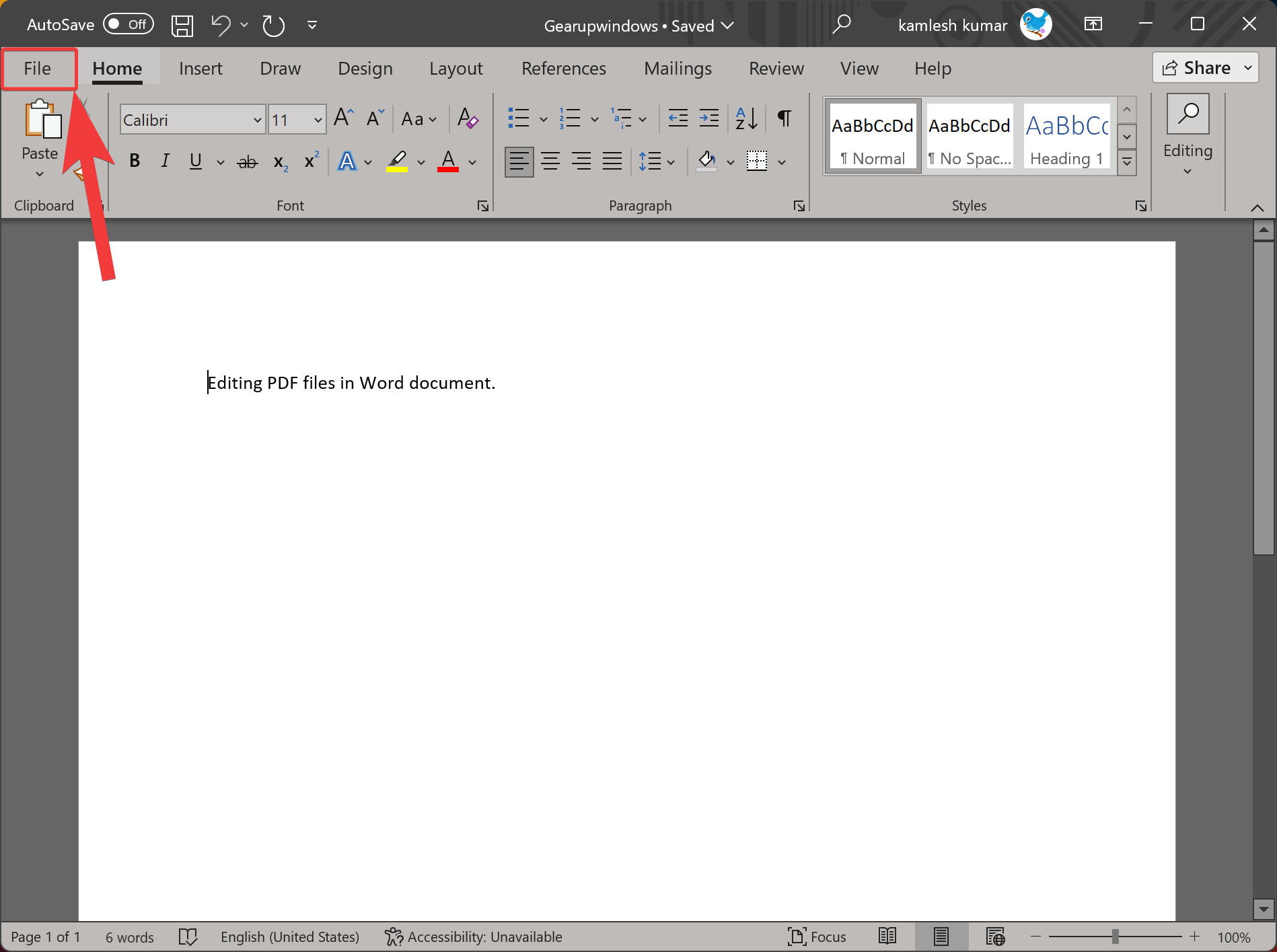 Step 7. Click Save.
Step 8. Select the folder you want to save the edited PDF file. Click on the drop-down box Save as type and pick PDF in the list.
Step 9. Finally, click the Save button to save the edited PDF.