Using remote access software, users can connect to a computer at a different location than their own. Using an internal network, the user can access the desktop of their client from anywhere. By using free remote access software, users can work as if they were sitting in front of the computer.
The IT industry can benefit from free remote access software to adapt to a distributed workforce, improve collaboration, etc. This small piece of software gives users easy access to everything they need to accomplish their tasks. It is possible to accomplish your task remotely, even if you are not in the office.
Why Free Remote Access Software?
It is always a difficult task for IT teams to resolve computer issues, including resources, networking, and storage, regardless of the type of industry. End-user computers impact the organization when they resolve issues or investigate problems. It is, therefore, very stressful to fix or investigate problems.
Another important task is identifying the barriers faced by the IT teams. If the end-user contacts you with a problem, you want to help them back without wasting working hours, so you need remote access software in this case. In addition, if you are physically unable to assist someone whose branch office is located in another building. You will also need remote access software to solve this problem or provide assistance.
The IT professionals must fix the problems before they become a significant loss for the company, but they need to do it as if they were there themselves. You can easily accomplish this task with the free remote access software. Users can still solve problems even if they are not physically present at the location to solve them.
The remote access software allows you to access other computers even if you are on the other side of the world, allowing you to perform all these tasks. With remote access software, users can connect to computers on the other side if they have permission to do so. Everything on the computer is being taken over, including the keyboard, mouse, and everything else.
All your IT needs can be met with free remote access software. Identify the best solution and software for your team within your budget. It is important to learn well about the products you are going to use, whether they are free, commercial, or Freemium.
Free Remote Access Software for Windows 11/10
For Windows 11/10, the following remote access programs are available:-
TeamViewer
AnyDesk
ConnectWise Control
Goverlan Reach
NinjaOne
Atera
FixMe.IT
Chrome Remote Desktop
Microsoft Remote Desktop
RemotePC
UltraVNC
Remote Utilities
TeamViewer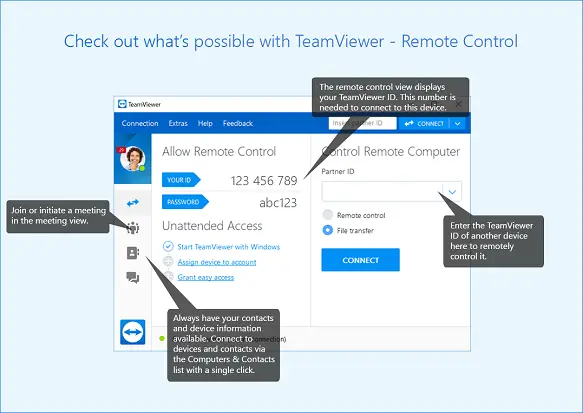 TeamViewer is the leading global provider of remote connectivity solutions. With TeamViewer, users can connect anywhere, anytime, and with anything. The company offers secure remote access software, control, support, and collaboration capabilities. However, TeamViewer allows businesses of all types to fully utilize their digital potential.
TeamViewer is open on over 2 billion devices, with 45 million active online users. Over 800 people work for this software company in the United States, Europe, and the Asia Pacific, founded in 2005 in Goppingen, Germany.
It is free for private (non-commercial) use; however, you need to purchase a license for professional use.
You can download a free copy of TeamViewer for Windows and macOS from its official website.
AnyDesk
AnyDesk is a free unique remote access software founded in Germany in 2014. Over 300 million users download this software worldwide, and 14 million more join monthly. This software is based on the proprietary DeskRT Codec, which allows virtual latency-free collaboration. Using this app, you can collaborate virtually, even if you're down the hall or on the other side of the world.
AnyDesk free remote access software allows users to share data, screens, etc. This app works fast even if you don't install it. This software is free, and you can use it for as long as you like. You don't have to pay anything to use this product. By using this app, you can perform your office work even when you are at home.
ConnectWise Control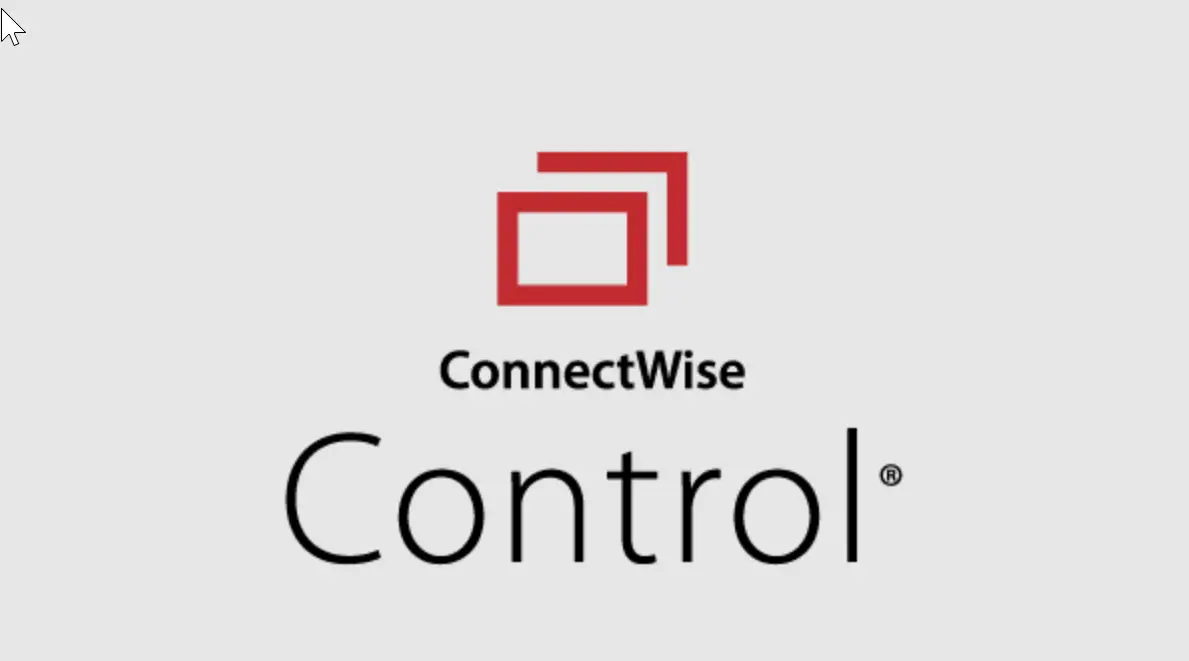 ScreenConnect has now been rebranded as ConnectWise Control. The software is fast, secure, reliable, supportive, and easy to use. In order to provide on-demand remote support, it connects instantly. In addition, it contributes to managing machines, providing updates, and repairing computers that establish unattended access. The features of ConnectWise Control are the same as those of other remote-control solutions.
The software includes incredible features that enhance the performance of the users. The robotic process becomes flexible in significant enterprise proportions with sophisticated advanced tools. Once again, it constantly updates the operative panel and implements multifunctional and extravagant features.
You can download ConnectWise Control from here.
Goverlan Reach
The Goverlan Reach on-premises and secure remote access software enable users to support their work seamlessly. This software can be used anywhere, at any time. In addition, this software does not require a VPN to be used.
Goverlan Reach is another excellent platform for remote connections. With its easy-to-use interface, superior performance, and utterly innovative interface, this software is highly profitable for any organization. This software is compatible with Windows, Android, Mac, and iPhone. Compatibility is one of the aspects that make this app attractive to users.
With Goverlan Reach, you can automate your IT management and provide remote IT support to your users. Regardless of where the machines are located, it secures access to them. Active directory administration, enterprise-class remote control, and password management are all possible with this remote access software.
You can opt for Goverlan Reach here.
NinjaOne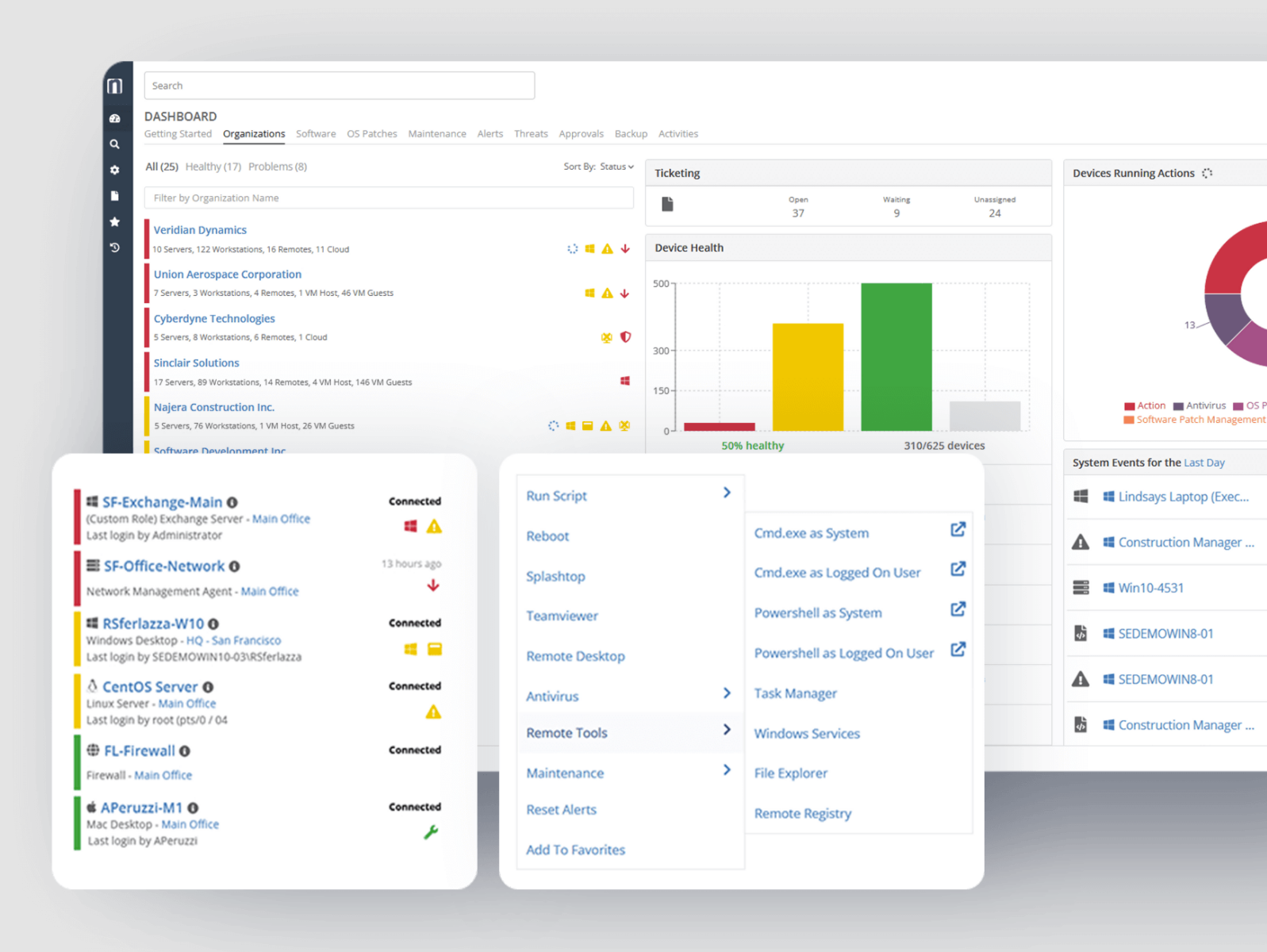 Among the leading solutions for unified IT operations is NinjaOne, which simplifies the IT team's work. With NinjaOne, IT departments can manage, automate, and remediate their entire management-related tasks. The program increases technician efficiency and user satisfaction by allowing them to manage and automate functions within a modern, fast, and intuitive platform.
NinjaOne has been recognized and rated best in the Digital Markets category by G2 and Gartner for the past three years. This free remote access software has a clean, organized, and accessible web interface for all users.
You can download NinjaOne here.
Atera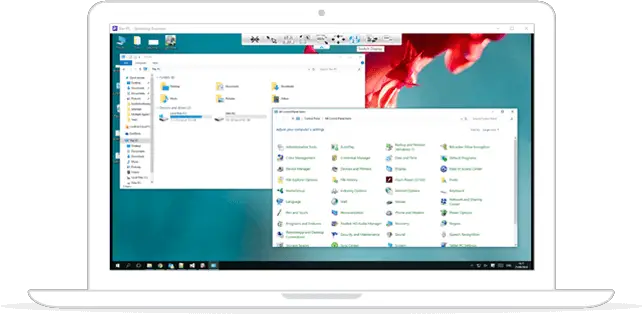 Atera is the ultimate Remote IT Monitoring & Management solution for MSPs and IT service providers. Atera includes everything you need for excellent IT management without those things you don't need. Among Atera's features are free remote access, full RMM, patch management, built-in PSA, alerts, IT automation, ticketing, helpdesk, billing, and chat.
With Atera, you can do it all in one place with its crisp, clean, and easy-to-use web interface. In addition, this app integrates with 3rd party apps. Nevertheless, the developed system of this remote access program provides a variety of information to the user about current and potential problems.
Here you can download and read more about Atera.
FixMe.IT
FixMe.IT is another remote support application that is easy to use and fast. This software's built-in motive is to offer unattended and on-demand technical assistance to clients worldwide. FixMe.IT, on the other hand, allows users to manage up to 150 unattended machines and provides unlimited on-demand support.
This remote access software includes multi-window control, branding, multi-monitor navigation, multi-session handling, drag-and-drop file transfer, and many other features. Additionally, it offers whiteboard tools, auto-connect and reboot, and recording and reporting the session. Users and clients alike will find this remote access software easy to use.
Here you can download FixMe.IT.
Chrome Remote Desktop
Chrome Remote Desktop is an essential piece of software for remote desktop access. Users can complete their tasks efficiently and conveniently with this software. The only requirement is that both computers must have Chrome installed. There are two computers involved, the one you are trying to log in remotely as well as the one you are trying to log in on as the client (you).
An extension is required for this software, and the app works through that extension. By creating a unique pin, however, you are giving yourself the host's access, and by logging in to Chrome, you can take control of the host. You can access the host even if you are not logged into the Chrome account or Chrome is not running.
There are, however, some limitations to this remote access software. You don't have chat options if you need to communicate quickly with someone on another platform. Furthermore, this platform no longer allows file sharing.
Download Chrome Remote Desktop here.
Microsoft Remote Desktop
Microsoft Remote Desktop and Chrome Remote Desktop are similar. This remote access software provides some basic and convenient features for a specific type of user. There are, however, limitations to Microsoft Remote Desktop.
This platform is provided free of charge by Microsoft. Windows PCs can be accessed remotely from other Windows computers, mobile devices, and Macs. However, Windows PC can't access Mac.
Microsoft Remote Desktop allows users to work with any version of Windows, beginning with Windows 7. Furthermore, the software works with any version of Windows, including Professional, Ultimate, and Enterprise. You do not need the authorization to connect to your PCs. When it comes to IT assistance, it doesn't offer a lot of options or support file sharing.
You can download Microsoft Remote Desktop here.
RemotePC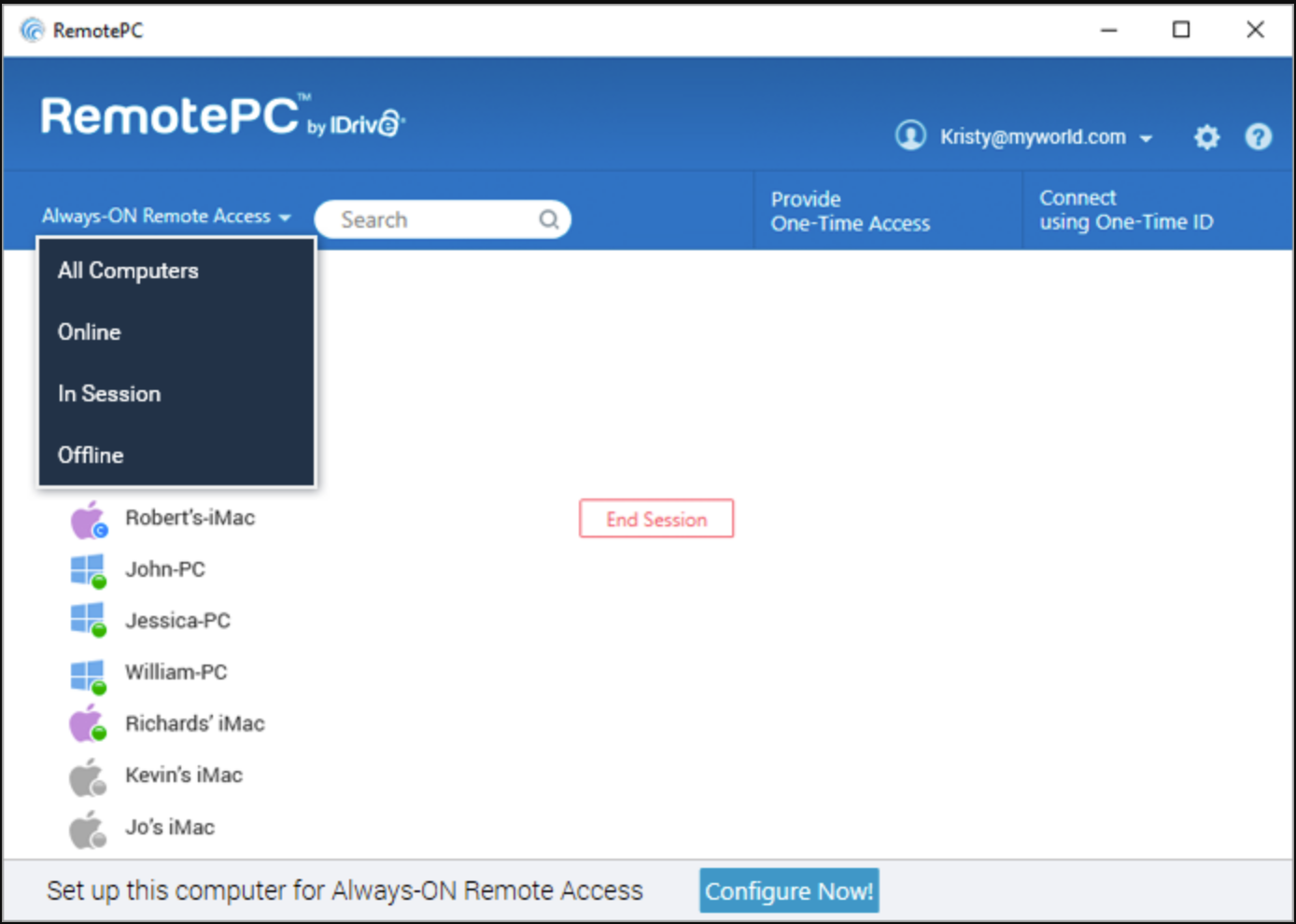 Compared to Microsoft Remote Desktop and Chrome Remote Desktop, RemotePC offers some additional features. As an example, this remote access software supports chat functionality and file sharing. Chat functionality and file sharing features are essential when working remotely with someone and solving a problem. Furthermore, if the user is not tied to a laptop or desktop, they can access a computer using their mobile device.
The most significant limitation of this remote access software is that it only allows the user to store information for one connection at a time. You can, however, take advantage of their freemium options.
A user can access only one ID and key pair for one type of connection. Therefore, the user could access as many hosts as they need. However, the user cannot store that information.
UltraVNC
In order to use UltraVNC, you must install a viewer and a server on two different PCs. The server needs to be installed on the viewer's computer, which will be used as a controller, and on the computer to which the user wants to connect. The server is installed as a system service. It runs constantly, and more connections can be made quickly.
When using Ultra VNC, you may need to change your router's settings to forward the port. UltraVNC supports transferring and sharing files, sharing clipboards, and chatting between viewers and servers. UltraVNC's download page is not as elegant as some other options.
Remote Utilities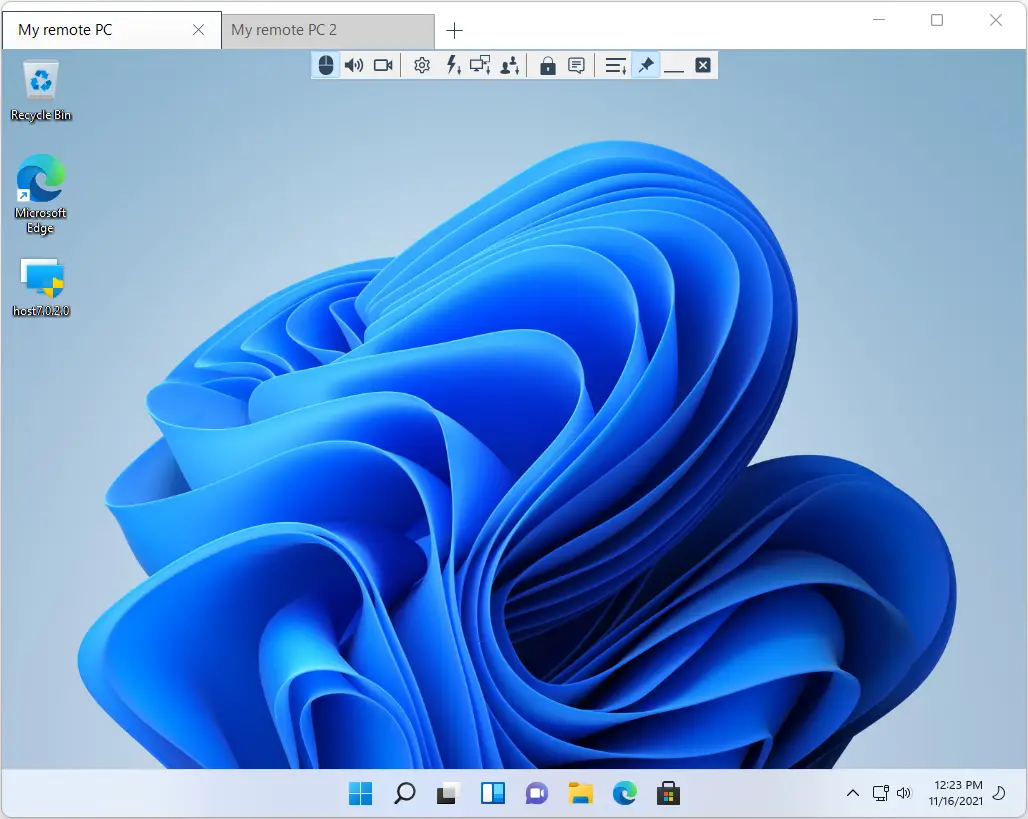 Users can access up to 10 PCs with Remote Utilities after pairing them with two computers with an Internet ID. It is a free remote access program. Several tools are provided in Remote Utilities to assist with the pairing process. In addition to a viewer for the controller computer, it offers unattended access to remote hosts. For random access, it offers a run-only agent. Further, it provides an RU server for accessing additional capabilities and routing remote connections.
A number of practical remote access tools are offered by Remote Utility software, both for enterprise and personal use. For instance, file transfers, task managers, text chats, and power control modules are available. In addition to the limit of ten connections, the main disadvantage of this remote access software is its compatibility with Windows only.
You can download Remote Utilities here.