Free remote access software enables users to connect to computers located in different locations from their own, providing the flexibility to work remotely as if they were physically present at the computer. This technology can be particularly beneficial to the IT industry, helping businesses adapt to a distributed workforce and enhancing collaboration among team members. By providing easy access to all necessary resources, remote access software enables users to work remotely and complete tasks effectively, regardless of physical location.
Why Free Remote Access Software?
IT professionals often face challenges in resolving computer issues and providing assistance to end-users. Regardless of the industry, issues related to resources, networking, and storage can be daunting. End-user computers have a significant impact on an organization, and resolving issues or investigating problems can be stressful and time-consuming.
Remote access software is a useful tool that can help IT professionals overcome these barriers. With remote access software, IT professionals can provide assistance to end-users without wasting time or resources. Even if the end-user is physically located in another building or on the other side of the world, remote access software allows IT professionals to access their computer and solve the problem.
There are several free remote access software options available for IT professionals. It is important to identify the best solution and software for your team within your budget. Whether the software is free, commercial, or Freemium, it is essential to research and learn about the products before using them. Remote access software provides a solution for IT professionals to meet all their IT needs and solve problems from anywhere in the world.
Free Remote Access Software for Windows 11/10
For Windows 11/10, the following remote access programs are available:-
TeamViewer
AnyDesk
ConnectWise Control
Goverlan Reach
NinjaOne
Atera
FixMe.IT
Chrome Remote Desktop
Microsoft Remote Desktop
RemotePC
UltraVNC
Remote Utilities
UltraViewer
TeamViewer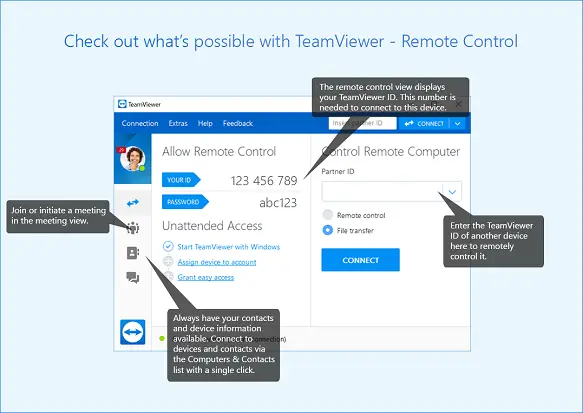 TeamViewer is a globally recognized provider of remote connectivity solutions that allows users to connect with anything, anywhere, and anytime. Its advanced features offer secure remote access software, control, support, and collaboration capabilities, making it possible for businesses of all sizes to harness their digital potential.
With a presence on over 2 billion devices and 45 million online users, TeamViewer is a significant player in the industry. The company has over 800 employees and operates in the United States, Europe, and the Asia Pacific. It was established in 2005 in Goppingen, Germany.
While TeamViewer's private (non-commercial) use is free, professional use requires purchasing a license.
To get started with TeamViewer, you can download a free copy for Windows and macOS from its official website.
AnyDesk
AnyDesk, a free remote access software founded in Germany in 2014, has over 300 million users worldwide. It utilizes a proprietary DeskRT Codec that ensures seamless virtual collaboration with no latency, allowing users to share screens and data with others regardless of their location.
AnyDesk boasts a significant advantage in terms of speed, even without installation. It can be used for an unlimited amount of time without payment, making it an excellent option for remote work. Users can access their office work from the comfort of their own homes without incurring additional costs.
ConnectWise Control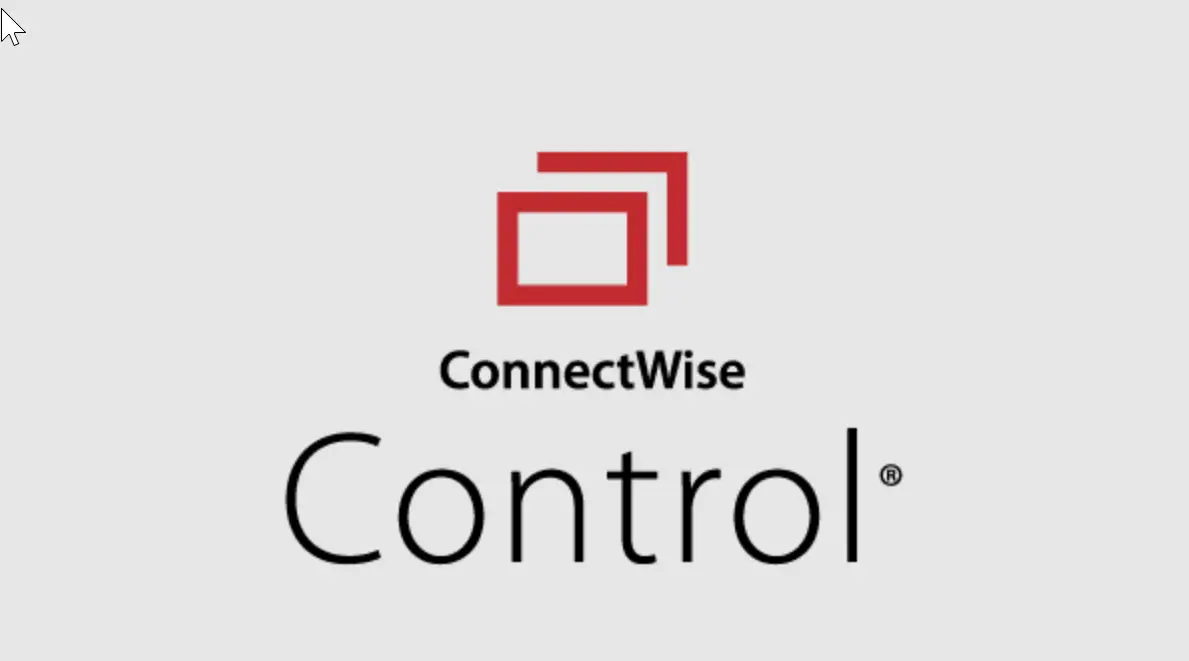 ConnectWise Control, formerly known as ScreenConnect, is a remote support software that is known for its speed, reliability, and security. It allows users to connect instantly to provide remote support, manage machines, provide updates, and repair computers with unattended access. In addition to similar features offered by other remote-control solutions, ConnectWise Control also provides advanced tools for robotic process automation and enterprise-level flexibility.
The software's operative panel is regularly updated with multifunctional and extravagant features, resulting in an enhanced user experience. All in all, ConnectWise Control provides a comprehensive remote support solution for businesses and IT teams.
You can download ConnectWise Control from here.
Goverlan Reach
Goverlan Reach is a remote access software that provides seamless and secure support for users on-premises without the need for a VPN. Its user-friendly interface, high performance, and innovative features make it an attractive option for businesses of any size.
One of the key advantages of Goverlan Reach is its compatibility with various operating systems, including Windows, Android, Mac, and iPhone, which enhances its versatility and usability. Additionally, the software offers automation of IT management and remote IT support, making it easier to access machines securely, remotely control computers, administer Active Directory, and manage passwords with enterprise-class security.
Overall, Goverlan Reach provides a comprehensive solution for IT teams to manage and support remote systems with ease, regardless of their location.
You can opt for Goverlan Reach here.
NinjaOne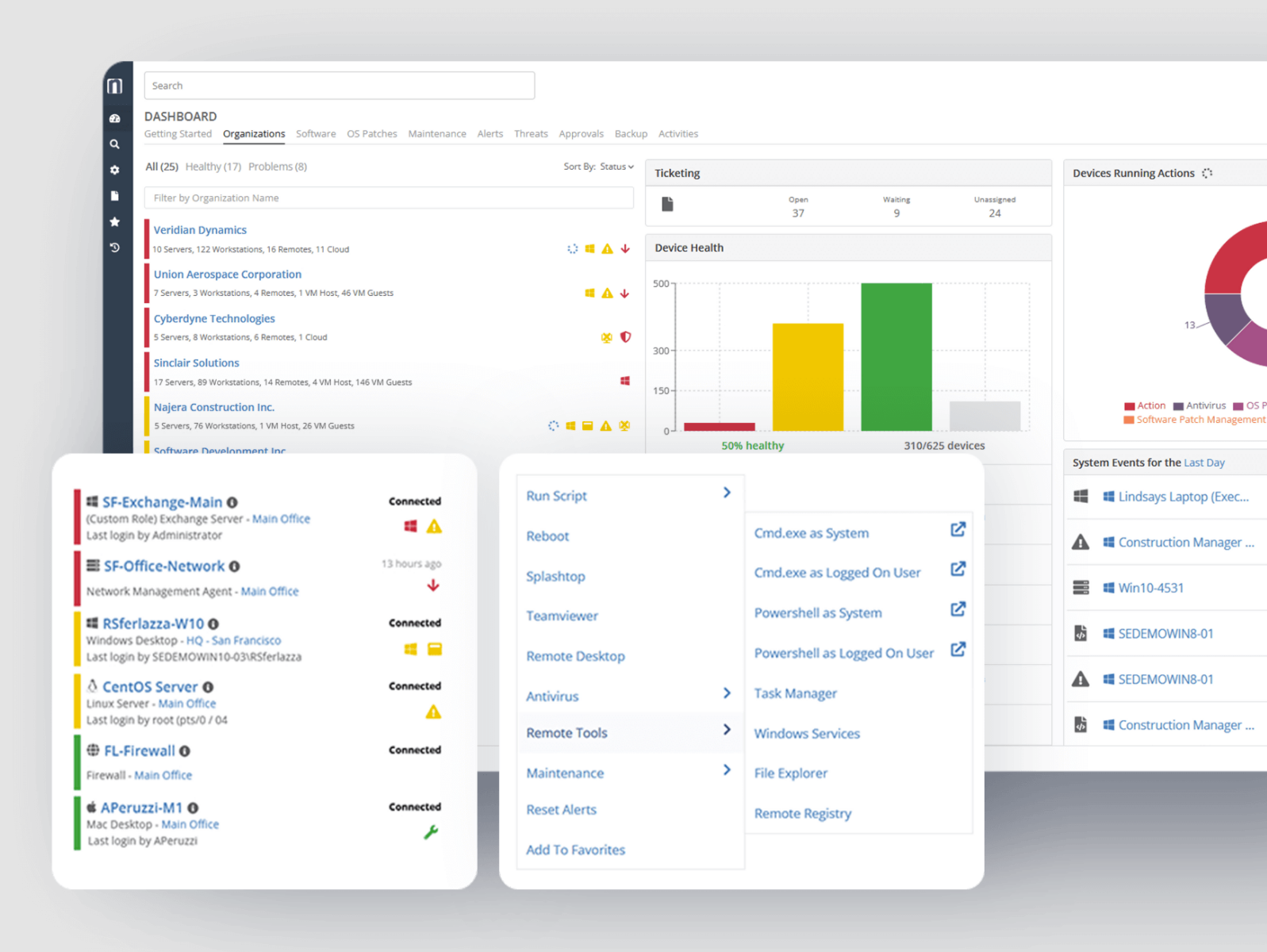 NinjaOne is a remote access software solution that offers a unified platform for IT operations management, and streamlining tasks for IT teams. Its platform is modern, fast, and easy to use, enabling IT departments to manage, automate, and resolve all management-related tasks. By automating functions and providing an intuitive interface, NinjaOne enhances technician efficiency and user satisfaction.
NinjaOne has been consistently rated as the best in the Digital Markets category for three years in a row by both G2 and Gartner. This recognition has established it as a trusted and reliable choice for IT operations. The software is free and features a clean, organized, and accessible web interface for all users.
You can download NinjaOne here.
Atera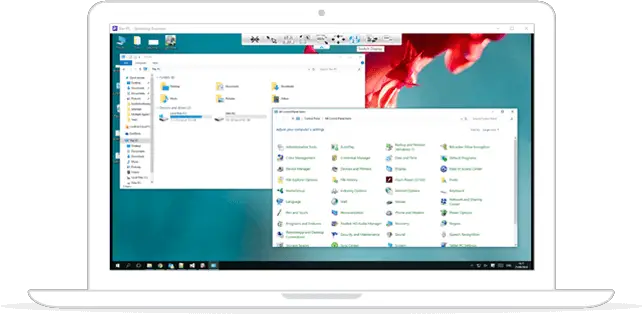 Atera is an all-in-one solution for MSPs and IT service providers, offering Remote IT Monitoring & Management capabilities. Its comprehensive features include free remote access, patch management, alerts, built-in PSA, IT automation, ticketing, helpdesk, billing, and chat, all without any unnecessary clutter.
The intuitive web interface of Atera simplifies IT management by providing all necessary functions in one location. Additionally, the software integrates smoothly with third-party applications. The advanced system of this remote access program also provides users with a range of information regarding current and potential issues.
Here you can download and read more about Atera.
FixMe.IT
FixMe.IT is a remote support application that provides technical assistance to clients worldwide. It offers both unattended and on-demand support and allows users to manage up to 150 unattended machines.
The remote access software offers a range of features, including multi-window control, branding, multi-monitor navigation, multi-session handling, drag-and-drop file transfer, whiteboard tools, auto-connect and reboot, and session recording and reporting. Its clean and straightforward interface makes it easy for both users and clients to navigate and use the software.
Here you can download FixMe.IT.
Chrome Remote Desktop
Chrome Remote Desktop is a popular software solution for remote desktop access, allowing users to access their computers from anywhere as long as they have a stable internet connection.
One of the key features of this software is its ease of use. It is a browser-based solution that requires no installation or additional software. All you need is a Google account and the Chrome browser installed on both the host and client computers.
Once installed, you can use Chrome Remote Desktop to control the host computer as if you were sitting in front of it. This makes it easy to access files, run applications, and perform other tasks from a remote location.
However, there are some limitations to this software. For instance, there is no chat functionality available, which can make it challenging to communicate with someone on the host computer. Additionally, file sharing is no longer supported, which means that you cannot transfer files between the host and client computers using this software.
Overall, Chrome Remote Desktop is a useful tool for remote access, particularly for those who need to access their desktops or laptops from another location. However, users should be aware of its limitations and be prepared to find alternative ways of communicating and sharing files if necessary.
Download Chrome Remote Desktop here.
Microsoft Remote Desktop
Microsoft Remote Desktop is a remote access software that provides basic and convenient features for a particular user group. Like Chrome Remote Desktop, Microsoft Remote Desktop is a free offering from Microsoft. It allows remote access to Windows PCs from other Windows computers, mobile devices, and Macs, but not vice versa.
One of the benefits of Microsoft Remote Desktop is its compatibility with all Windows versions, such as Windows 7, Professional, Ultimate, and Enterprise. Furthermore, users can access their PCs without requiring authorization. However, this software has limitations when it comes to IT assistance and file-sharing support.
You can download Microsoft Remote Desktop here.
RemotePC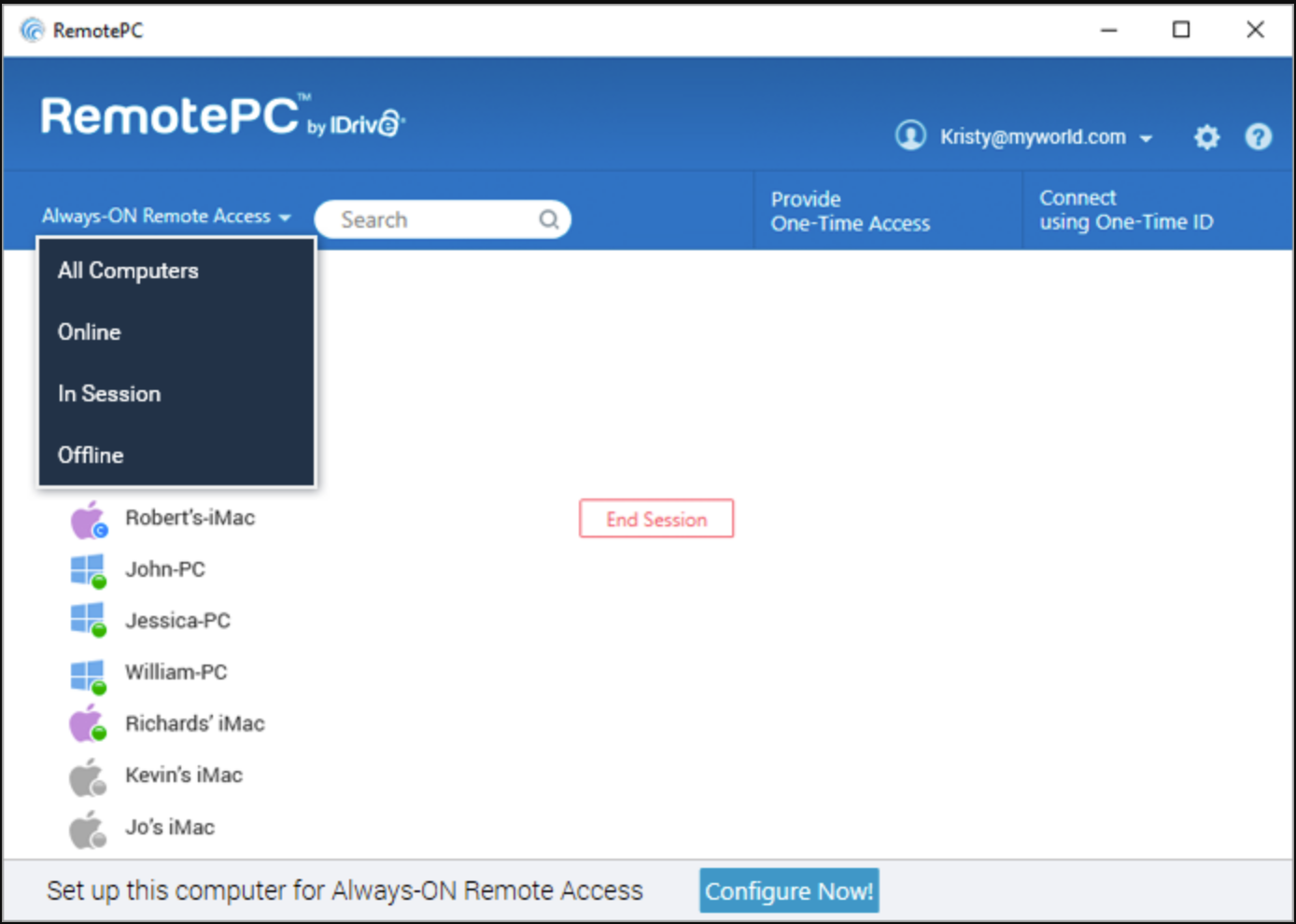 RemotePC stands out from Microsoft Remote Desktop and Chrome Remote Desktop by providing extra features, including chat and file-sharing capabilities, which are crucial for remote collaboration and technical support. Additionally, this remote access software allows users to access their computers from their mobile devices, providing flexibility and convenience.
Despite these advantages, RemotePC has a significant drawback. It only allows users to store information for a single connection at a time, although freemium options are available. While users can access multiple hosts using a single ID and key pair, they cannot save that information for later use.
UltraVNC
To use UltraVNC, two separate computers need to have the viewer and server installed. The server should be set up on the computer that the user wants to control, and the viewer's computer will act as the controller. The server runs continuously as a system service, allowing for quick connections.
Using UltraVNC may require configuring the router to forward the port. Furthermore, UltraVNC offers features like file transfers and sharing, clipboard sharing, and chat between the server and viewer. However, the download page of UltraVNC may not have an attractive visual interface compared to other options.
Remote Utilities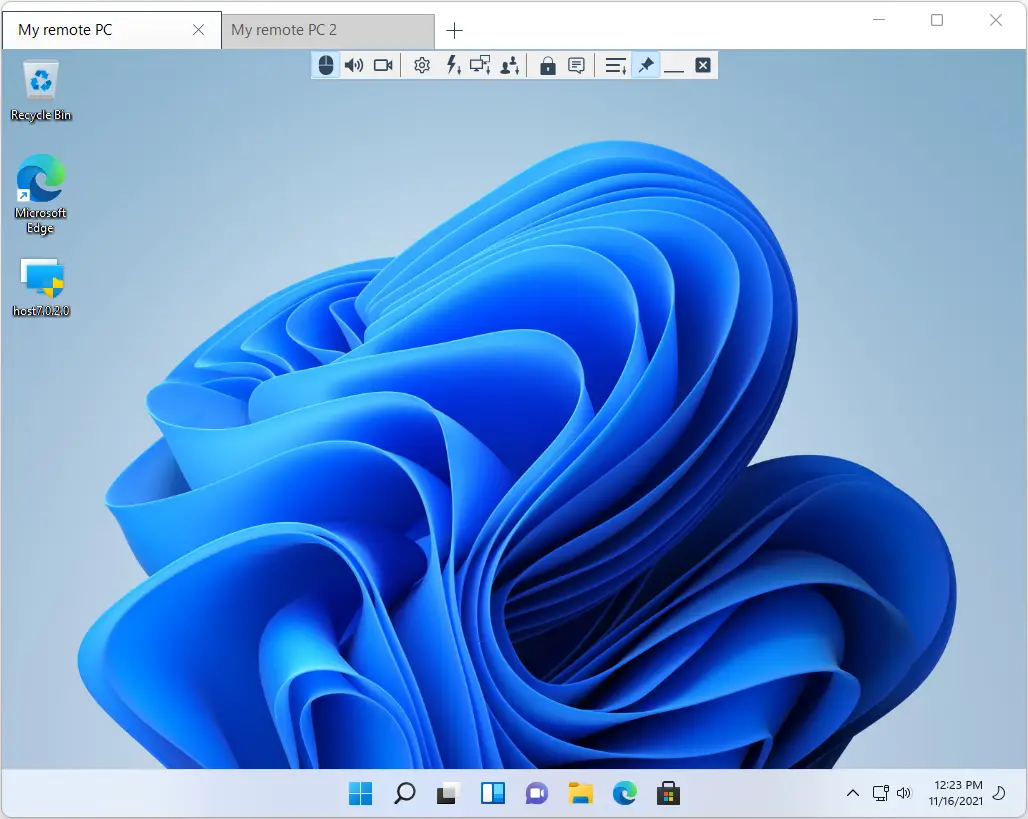 Remote Utilities is a no-cost remote access program that enables users to link up to ten computers with two other PCs using an Internet ID. The software comes with a viewer for the controller computer, unattended access to remote hosts, and a run-only agent for random access. Additionally, the program includes an RU server, which offers users access to further features and routing of remote connections.
Remote Utilities provides several practical remote access tools suitable for both personal and enterprise use, such as file transfers, task managers, text chats, and power control modules. Nevertheless, the software has some limitations, including a maximum of ten connections and compatibility issues limited to Windows operating systems only.
You can download Remote Utilities here.
UltraViewer
UltraViewer is a remote desktop access software that allows users to control and access a remote computer from anywhere in the world. It is a free and easy-to-use tool that enables users to provide technical assistance or work remotely, whether it be for personal or business purposes. UltraViewer's key features include remote access, file transfer, text chat, and unattended access.
With UltraViewer, users can remotely access a computer as if they were sitting in front of it, making it an excellent tool for IT support and remote collaboration. The software requires the installation of two separate applications, the viewer, and the controller. The viewer can be installed on the computer that needs to be controlled, while the controller is installed on the computer used to control the remote desktop.
UltraViewer also allows for file transfer, which makes it convenient for users to share files and folders between two computers. Additionally, the text chat feature enables users to communicate with the person on the other end of the remote connection, allowing for a seamless collaboration experience. The unattended access feature provides users with the ability to access the remote computer without needing to receive an invitation from the person on the other end.
In summary, UltraViewer is a powerful remote desktop access software that provides users with a range of features to facilitate remote collaboration and technical support. It is user-friendly and free, making it an accessible solution for anyone who needs to access a remote computer.