Abelssoft Data2Pocket 2023 is a simple and efficient data backup software designed to scan your Windows PC for pictures, music, videos, and documents and copy them to a USB stick or USB hard drive with just a few clicks. This backup tool is a convenient solution for anyone who wants a fast and straightforward way to protect their important data from unforeseen circumstances such as system crashes.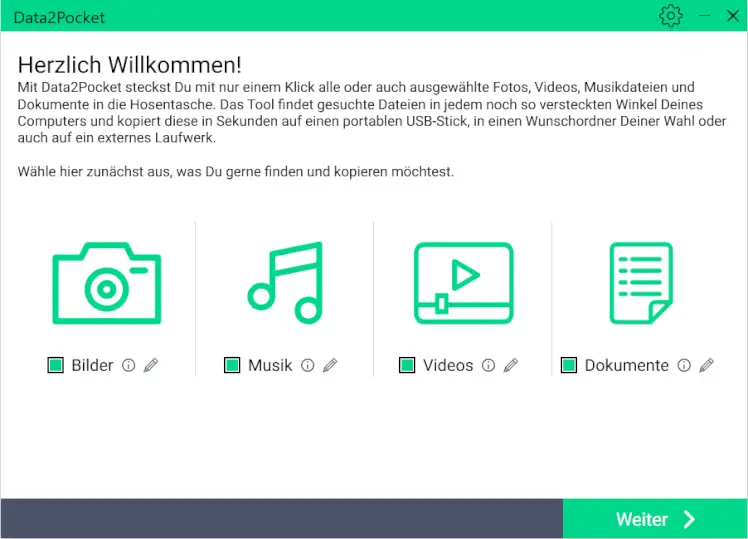 One of the standout features of Abelssoft Data2Pocket 2023 is its size filter, which allows you to customize the maximum size of the files that you want to transfer. This feature ensures that you can transport large files without running out of storage space on your USB drive.
The software also boasts an intelligent deep scan that searches your PC for files in various directories and hidden corners at lightning speed. This feature ensures that all your important files are transferred to your USB drive, leaving nothing behind.
Using Abelssoft Data2Pocket 2023 is a breeze thanks to its user-friendly interface. Simply plug in your USB drive, start the program, and let it scan your hard drive. Once the scan is complete, you can select the files you want to transfer and click on the "copy to USB" button. The software will take care of the rest, transferring your selected files in no time.
Get Abelssoft Data2Pocket 2023 Free
To get your hands on the full version of this software, start by downloading the giveaway version installer from this link. The installer is only 4.17 MB in size, making it a quick and easy download.
Once you've downloaded the installer, run it and complete the installation process. After launching the app for the first time, you'll be prompted with a registration window.
In this registration window, simply enter your first and last name, along with your email address, and agree to the terms and conditions. Then, click on the button that says, "Get free unlock e-mail now."
Shortly after, you'll receive an email from Abelssoft containing a confirmation link. Simply click on the link to unlock the full version of the software. It's that easy!
Conclusion
In conclusion, Abelssoft Data2Pocket 2023 is a reliable and user-friendly data backup software that offers a straightforward and efficient way to protect your important data from unforeseen circumstances. Its standout features, such as the size filter and intelligent deep scan, make it an excellent choice for anyone looking to transfer large files quickly and securely.
If you're interested in trying out Abelssoft Data2Pocket 2023, you can download the giveaway version installer from the provided link. The installation process is quick and easy, and you can unlock the full software version with just a few clicks. Protect your important data today with Abelssoft Data2Pocket 2023.