In today's digital landscape, protecting your computer from malware is of utmost importance. Malicious software can wreak havoc on your system, compromising your privacy and security. Thankfully, there's a robust solution available: UnHackMe 14. Not only does UnHackMe offer powerful malware detection and removal capabilities, but it also provides a rare opportunity to acquire a lifetime free license through its generous giveaway program. In this article, we'll explore the features of UnHackMe 14 and guide you on how to obtain this valuable license for a lifetime of worry-free computing.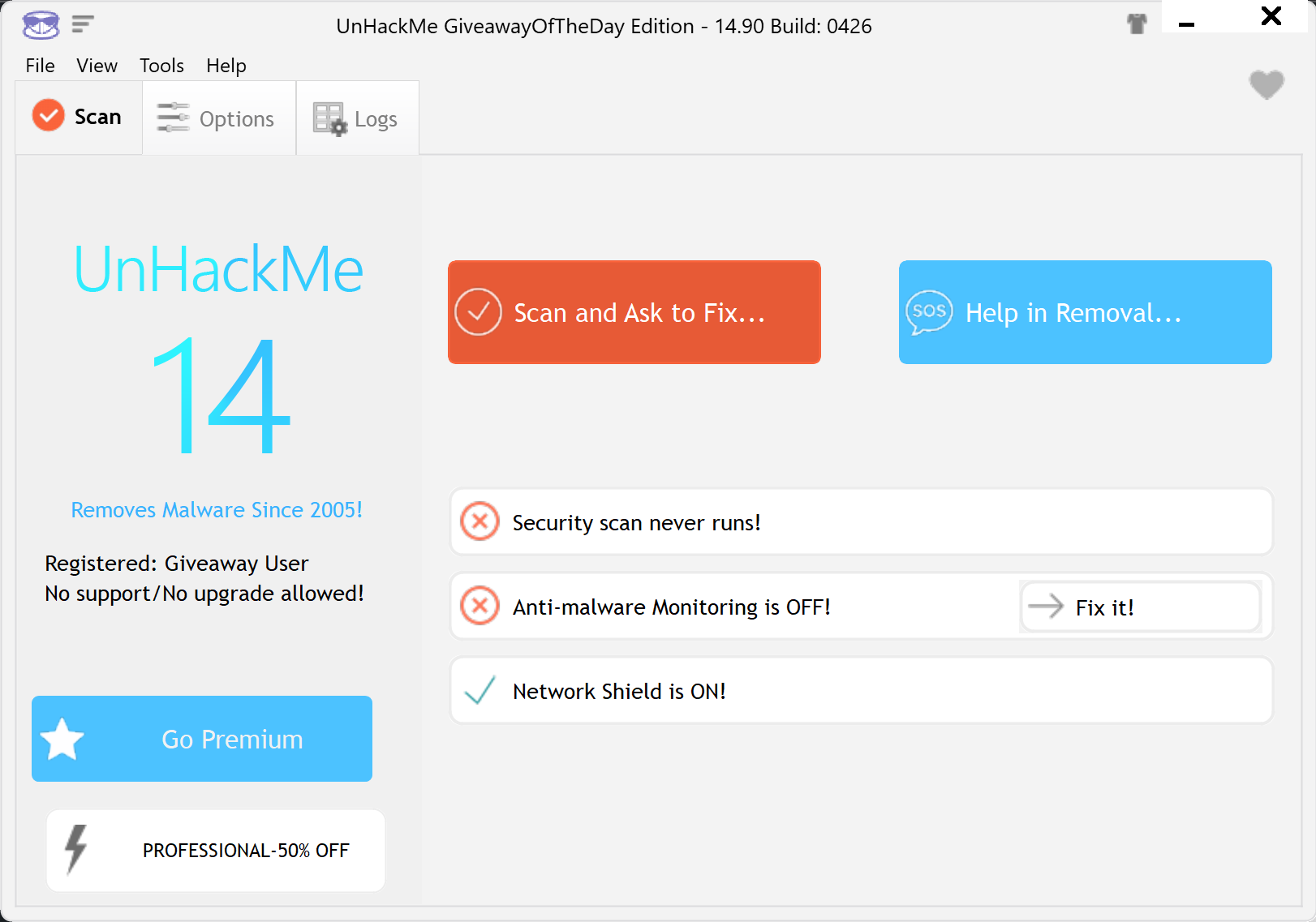 Unleashing the Power of UnHackMe 14
UnHackMe 14 is a comprehensive software suite designed to combat an array of malware threats. Its advanced detection algorithms are specifically engineered to identify and remove even the most stubborn rootkits, Trojans, spyware, keyloggers, and unwanted programs that may have found their way into your system. With UnHackMe 14, you can reclaim control over your computer, ensuring smooth and secure browsing experiences.
Free Features and Compatibility
What sets UnHackMe 14 apart is its commitment to offering essential features at no cost. Detection, removal, and support services are all provided to users free of charge. Unlike other software that detects malware but requires payment for removal, UnHackMe 14 ensures a complete package for safeguarding your system. Furthermore, UnHackMe 14 seamlessly integrates with existing antivirus software, enhancing your computer's defense without any compatibility issues.
Lightweight and Customizable
UnHackMe 14 understands the importance of system performance. The installation file is remarkably small, under 50 MB in size, ensuring a quick and hassle-free setup process. Once installed, UnHackMe 14 operates discreetly in the background, without impacting your computer's speed or responsiveness. It does not perform real-time scanning, granting you full control over your system resources. Moreover, UnHackMe 14 allows you to customize the scan schedule to suit your preferences, ensuring regular and convenient system checks.
Unparalleled Support and Assistance
Sometimes, malware-related issues can be complex or perplexing. UnHackMe 14 provides direct and reliable support options, easily accessible within the program itself. Should you encounter a problem that you are unable to resolve independently, simply reach out to the UnHackMe team for assistance. They are dedicated to promptly addressing your concerns and providing effective solutions. In addition, Dmitry, the author of UnHackMe, goes above and beyond by offering remote PC connection to tackle mysterious or intricate issues, showcasing his commitment to user satisfaction.
Obtaining the Lifetime Free License
Now, let's talk about the most exciting aspect: acquiring a lifetime free license for UnHackMe 14. By following a few simple steps, you can enjoy the benefits of UnHackMe without any ongoing subscription fees or renewals. Start by downloading the giveaway installer for version 14.90 from the official UnHackMe website. Once downloaded, run the installer and proceed with the installation process. After installation, launch UnHackMe and select the "Register" option. Enter the provided license code: UN23-JUGT-D6QW-B1X5. Finally, click on the Register button, and voila! You now have a lifetime free license to UnHackMe 14, ensuring perpetual protection against malware threats.
Conclusion
In an age where cyber threats are rampant, it is essential to fortify your computer against malware attacks. UnHackMe 14 emerges as a formidable solution, offering powerful detection and removal capabilities for various types of malware. With the opportunity to obtain a lifetime free license through their giveaway program, UnHackMe 14 presents an unrivaled proposition in terms of both effectiveness and affordability. Don't miss this chance to secure your digital world with UnHackMe 14 and experience worry-free computing for a lifetime.