No doubt, Windows offers many inbuilt features to improve computer performance. Still, you need to take care of your PC using professional software. We recommend IObit Advanced SystemCare 15 Pro to keep your PC top-notch. The latest version of this software offers deep cleaning for Windows computers and provides reliable protection for users' online privacy. The primary goal of this application is to keep the performance right without a lot of manual input, while privacy protection ensures keeping online trackers on the way.
While the free version of Advanced SystemCare is good enough for primary users, advanced users need a professional version. But, as you know, you need to pay for the pro version of every program.
Don't worry. If you don't want to pay for IObit Advanced SystemCare 15 Pro but want to use it for free, you have got covered here. IObit firm is offering a giveaway for their flagship Advanced SystemCare 15 Pro program. That means you will get a pro license for free, and you can use it on your PC without paying any money. Once you enter the license key in the program, IObit Advanced SystemCare 15 Free will be converted automatically into IObit Advanced SystemCare 15 Pro and will be valid for six months.
Advanced SystemCare 15 Pro for Windows 11 and 10
When you download, install, and run the Advanced SystemCare 15 Pro on your PC, you will find a big SCAN button. Below that, you can toggle between AI Mode and Manual Mode. AI Mode is enough for most PCs; however, if you need it, you can switch to Manual Mode to check/uncheck different options to scan your computer. This option is beneficial if you have little time to maintain your computer.
When you scan your PC in AI Mode, it will scan your computer for privacy traces, junk files, invalid shortcuts, registry entries, system optimizations, internet improvements, registry fragments, disk optimizations, disk optimizations, antivirus protection, firewall, outdated drivers, outdated software, spyware threats, system weakness, security holes, and disk errors.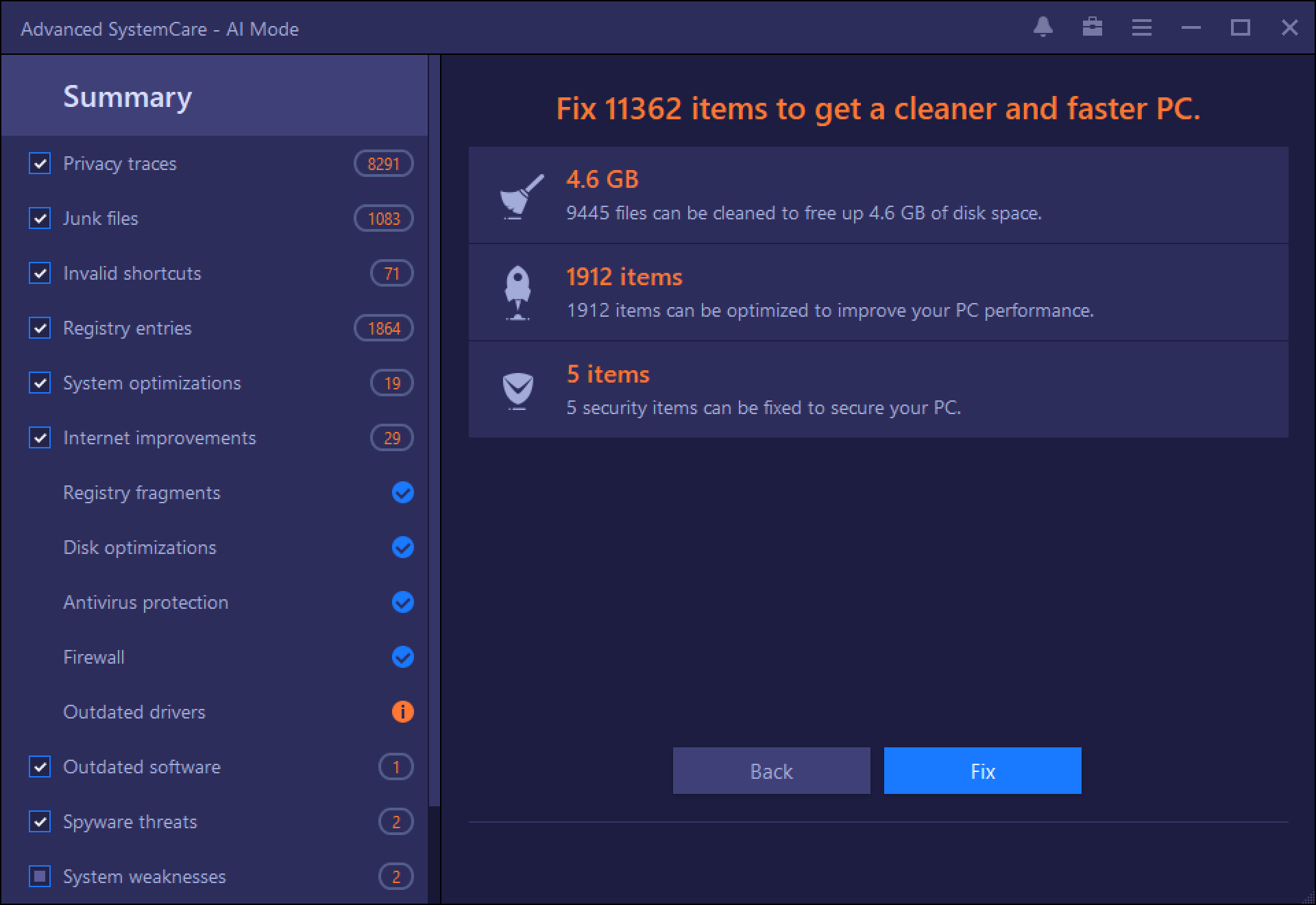 Clicking on the Fix button will repair all errors at once. If you want to learn more, click on the individual entry on the left sidebar.
Next, coming to the interface of IObit Advanced SystemCare. The homepage of this application is divided into five tabs. These are the following:-
Care
Speed Up
Protect
Software Updater
Action Center
Let me delve into depth.
Care
This is the first tab of the Advanced SystemCare program, where you will find a big SCAN button to maintain your PC in a bit of time. Using this, you can scan and remove several errors in your PC.
Speed Up
The Speed Up tab includes tools to increase the performance of your PC. Here, you can turn on "Turbo Boost" to help stop unnecessary programs from releasing RAM and boost your PC performance. Another useful option is "Startup Optimizer," which allows you to delete a program from Startup.
You can also enable "Performance Monitor" and "Auto RAM Clean" tools under "Real-Time TuneUp" to monitor and optimize system resources in real time for a smoother PC.
Protect
The Protect tab lets you know whether your PC is secure or not. Apart from that, Advanced SystemCare also includes some built-in tools that allow you to secure your PC. You can turn on Anti-Spyware, fingerprint protection, anti-tracking, browse protection, etc.
Software Updater
If you have installed several programs on your PC, you may face difficulty making all your software up to date. Advanced SystemCare keeps track of all installed programs and lets you know when you need to update which software.
Action Center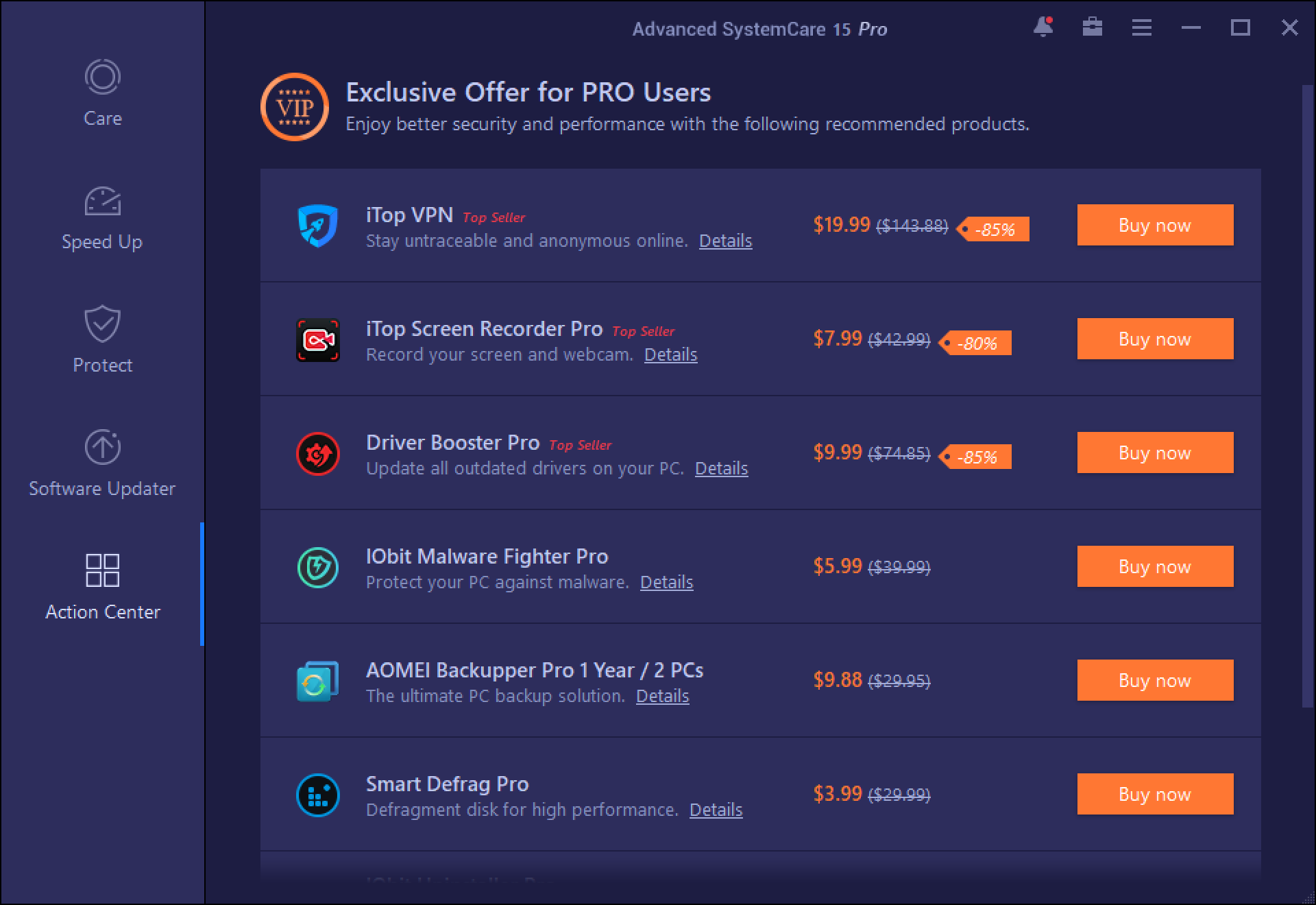 The last tab of Advanced SystemCare is Action Center. Here, you can find their in-house software with exclusive offers. If you need any of the programs, you can buy them using the Action Center.
The Advanced SystemCare Pro is an excellent software that can deeply clean Windows computers to boost performance and offers robust online privacy protection.
If you are looking for professional software to clean your PC and boost performance, go ahead with Advanced SystemCare. It is compatible with all versions of Windows, including Win 11, 10, 8.1/8, 7, Vista, and XP.
Download IObit Advanced SystemCare 15 Pro
To avail of the free license, first download Advanced SystemCare 15 Free, and then enter the giveaway license key. Once activated, the software will automatically turn into Advanced SystemCare 15 Pro.
IObit Advanced SystemCare 15 Pro Licence
Those Windows users who have downloaded Advanced SystemCare 15 from gearupwindows can active their copy using the following license:-
E48A4-90E88-B644F-10E2N
Please ensure that if you have activated the copy of IObit Advanced SystemCare using the license mentioned above, it will automatically expire in 6 months. Also, note that the above license is valid only for the first 100 users.
Conclusion
In conclusion, taking care of your computer's performance and online privacy is essential to ensure a smooth user experience. While Windows provides several built-in features to optimize the system, professional software can help you achieve better results. IObit Advanced SystemCare 15 Pro is an excellent software that deeply cleans your Windows computer, optimizes its performance, and provides robust online privacy protection. Its user-friendly interface and several features make it an ideal choice for both basic and advanced users. Additionally, the current giveaway by IObit allows users to get a free license for the Pro version of the software, making it an even more attractive option. So, if you're looking for a reliable solution to keep your PC top-notch, download IObit Advanced SystemCare 15 Pro and enjoy a smoother computing experience.
You might also be interested in a free license key for IObit Smart Defrag 8 Pro.