While Windows 11 and 10 come with a built-in antivirus tool Windows Defender, users prefer to use a third-party antivirus program for comprehensive security. However, no one cares about outdated software.
IObit Software Updater 5 Pro for Windows 11 and 10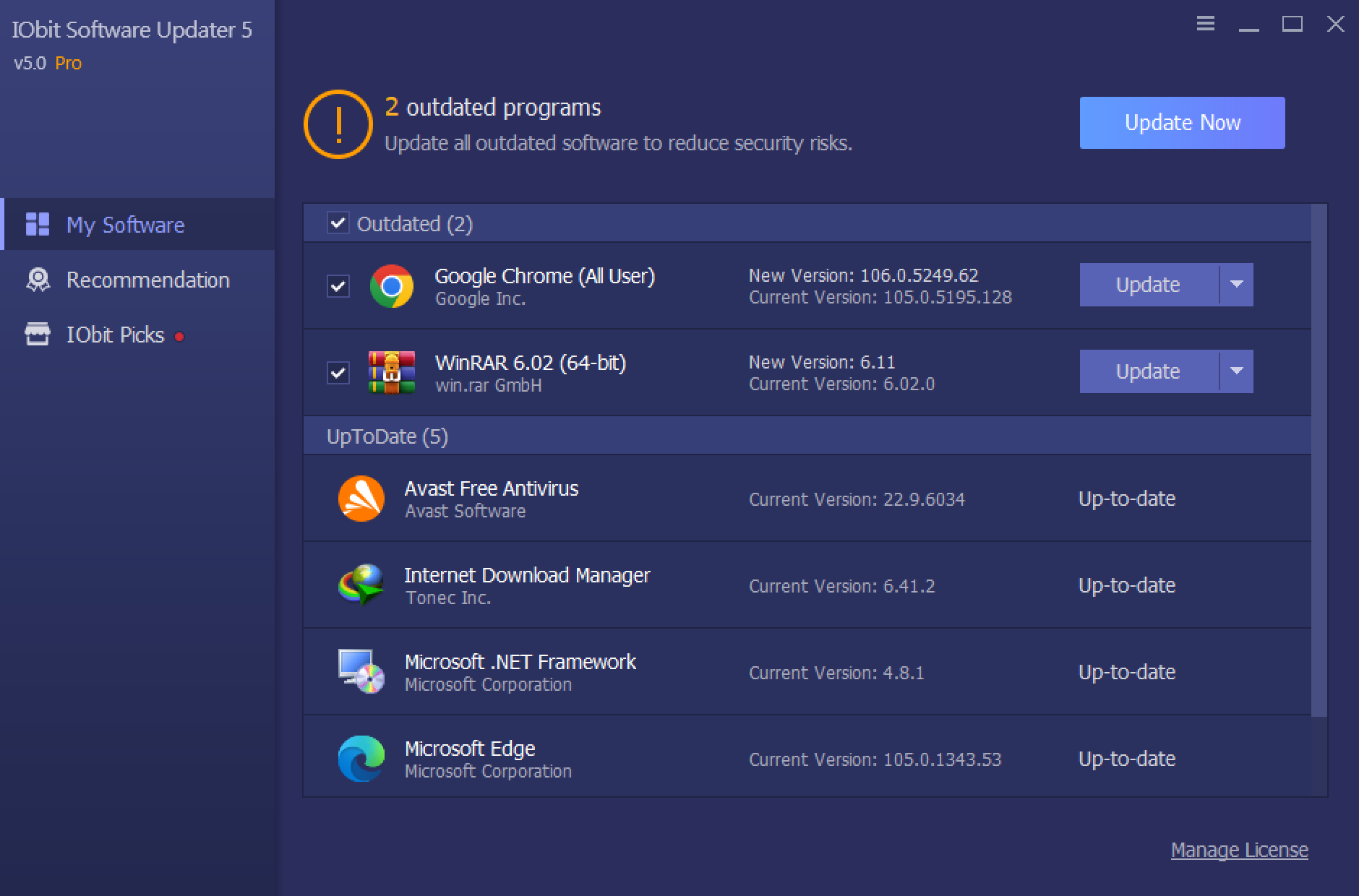 Cybercriminals could exploit outdated applications by exploiting many security holes. IObit Software Updater, with a 40% larger software database, provides mainstream and prompt software updates to you, allowing you to update more programs safely with a single click. As a result of the updated software, vulnerabilities will be reduced.
To meet all your daily needs, IObit Software Updater carefully selects highly recommended and popular software covering security, entertainment, productivity, and more. Remote Work Tools such as Teamviewer, Skype, Zoom, GoToMeeting, etc., can now be downloaded directly from IObit Software Updater 5 for better working from home.
You will receive notifications and information on available software updates faster with the latest IObit Software Updater because the update algorithms have been optimized by 150%. In addition, it always follows strict updating processes to ensure the entire installation is free of any additional bundles, installers, or malware, which guarantees safe and clean software.
In this tool, all installed software is scanned, compared to an online database, and the user is notified when an update is available. With a database of hundreds of popular Windows programs, you can download the latest updates quickly and securely.
IObit Software Updater 5 also checks the software status in real time once a new version of the program is available from the official website. In addition to the intelligent update, this Iobit software also installs the updates or new versions in a silent mode. It supports updating outdated programs automatically and regularly at a scheduled time. Installing the Apps in just one click makes it much easier for users than selecting the installation steps one by one.
The good news is that IObit is giving away a free license for Software Updater 5 Pro. Once you activate this application, it will be valid until March 18, 2023. That means you can use this application for free for about 6 months.
Download IObit Software Updater 5 Pro
To use this app, download the latest version IObit Software Updater 5 Free from its official website, install it as regular software, and activate it using the license code below. It will be automatically converted into the Pro version. Also, please uncheck unwanted apps during the installation process.
FB5B5-EC1FA-F68F1-5CFT5