SoftOrbits Picture to Painting Converter is a professional software tool that allows you to transform any picture into oil paintings in a couple of clicks, using automatic presets. This tool will cost you $12 when you purchase it for one year. However, you can get this application for free in the giveaway period.
Picture to Painting Converter for Windows 11 and 10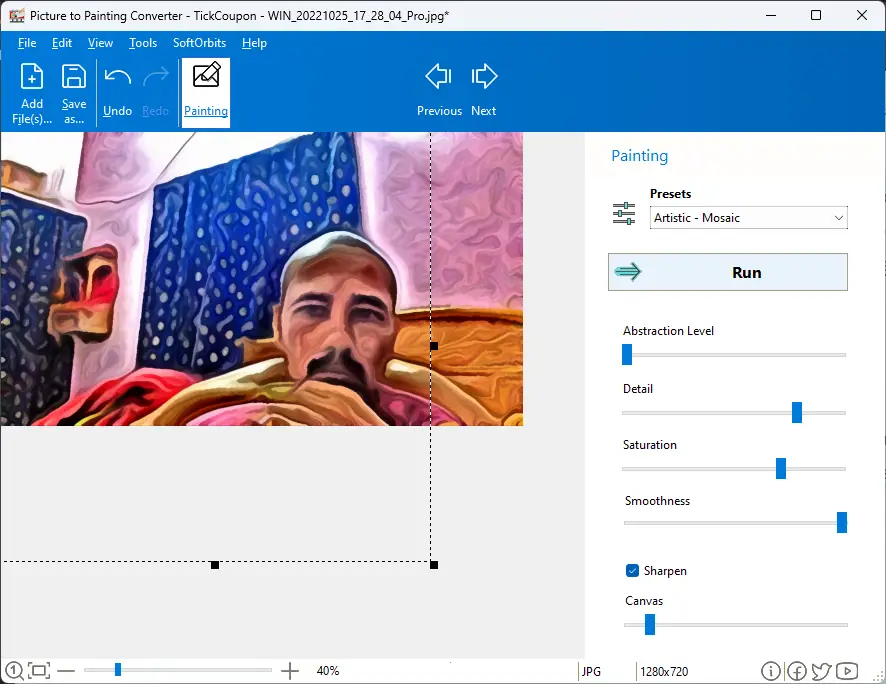 The Picture to Painting Converter is fully compatible with Windows 11 and 10. Using this software, you can make photographs look like paintings in a few simple clicks. It is easy to use and comes with limited options, so a novice can also learn to use it. Just upload your photo in the application interface, choose your style, and save the file on your computer.
This application is perfect for converting your photograph to a canvas painting or turning your photos into drawings. Click on the Add Files in the menu to upload your photos from your PC, or just drag photos to its interface to upload the photos, and you can choose Options. After converting your photos, save them to the desired location.
Features of SoftOrbits Picture to Painting Converter
Presets: Presets include Oil Paintings, Watercolors, Impressionists, and more. You can choose whichever one works best for your project. If you want to enhance the effect, you can make manual adjustments.
Batch Mode: In addition, you can choose to convert a group of photos at once with the photo to the painting software's Batch Mode. The converted photos will appear in your destination folder.
Visual Watermarks: Using the watermark feature will enable you to share your paintings on social media without worrying about someone taking them without your permission.
Picture to Painting Converter Free License
To grab the free license of SoftOrbits Picture to Painting Converter, navigate to the giveaway page, enter your email, and click the Request full version key button. A license key will appear on the promotion page.
Now download the application from its official webpage and enter the license code to activate it.
Note: The giveaway is updated with a new link on 14 Apr 23.