You should have Grammarly software if you are a researcher, academic researcher, writer, copywriter, or content writer. Grammarly can ensure all these qualities in your content, including grammatical errors, punctuation, and plagiarism. When you write content or research, you cannot guarantee that your writing is error-free. To ensure your writing is error-free, you must use a writing tool.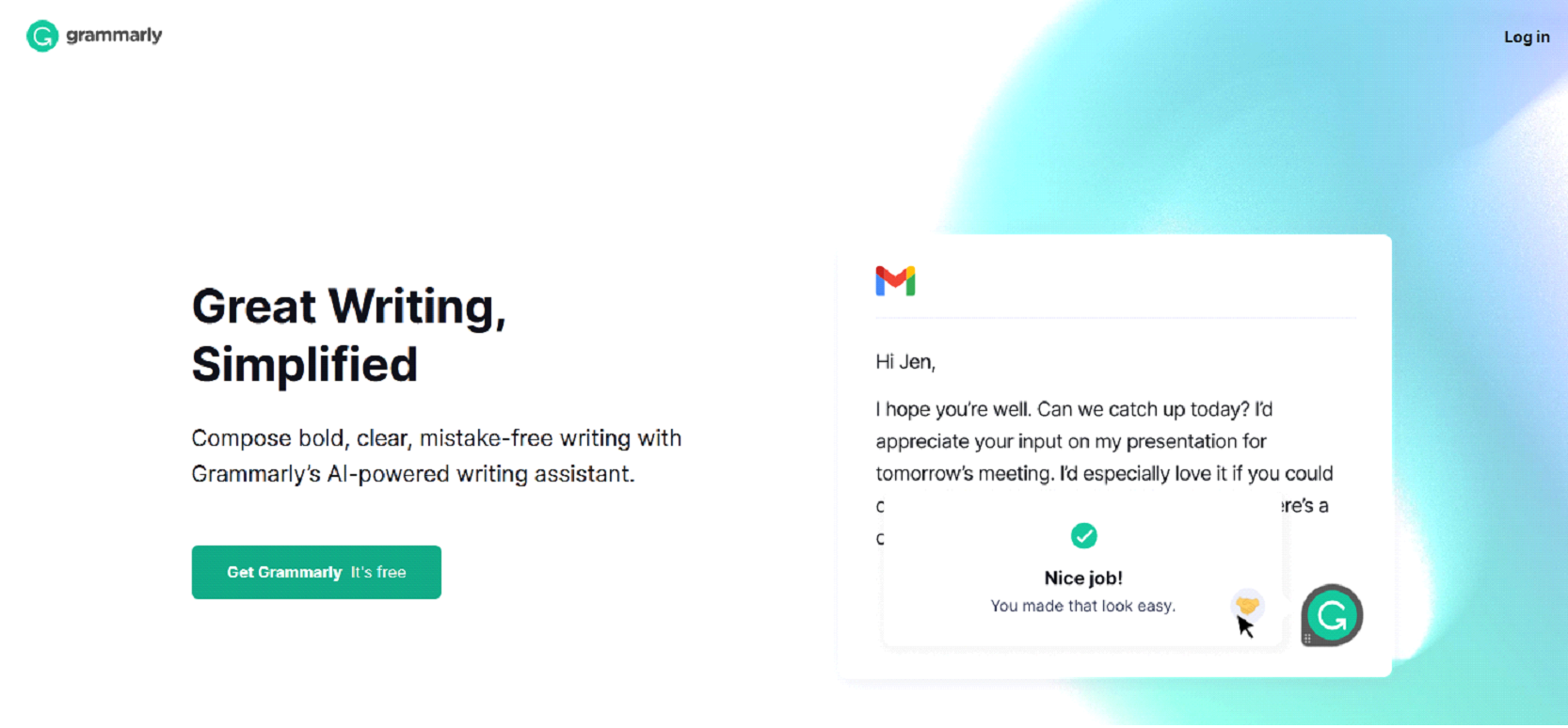 Grammarly software is one of the most popular programs for checking grammar, punctuation, and plagiarism. It is easy to use and allows writers to fix all writing mistakes quickly. This software is one of the most powerful writing assistants available. You can check your grammar and spelling with Grammarly, whether you are writing a blog post, book chapter, or proofreading an article. The software has two versions: a free version and a paid version.
What is Grammarly?
This extension allows you to check your writing's spelling, grammar, punctuation, and plagiarism in real-time using Grammarly software. There are millions of researchers and writers who depend on and trust this software for checking grammar, spelling, and plagiarism in their content. It works everywhere, including Microsoft Word, Facebook, WordPress, and many more.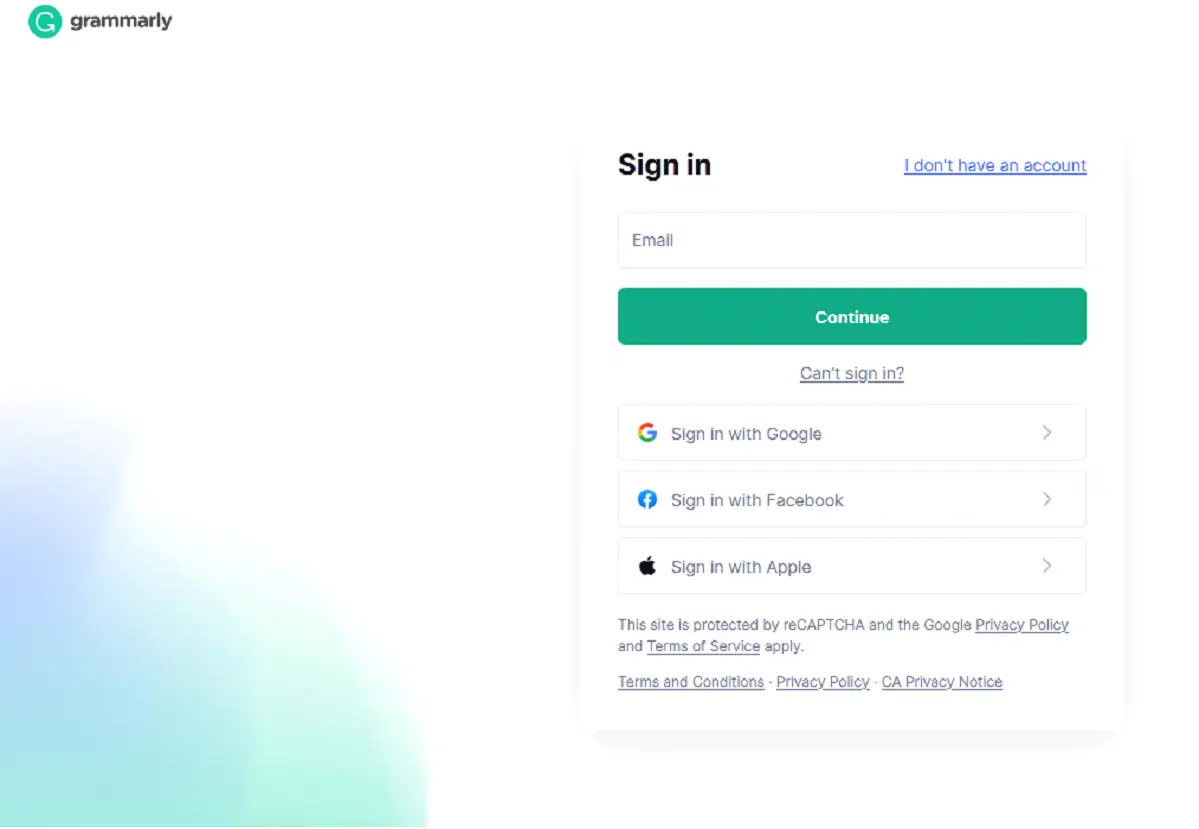 In order to ensure my writing is error-free as a freelance content writer, I regularly use Grammarly Premium software. In order to make sure my writing is error-free, I use this software to check for grammatical, spelling, plagiarism, and proofreading errors. Grammarly is a critical tool for my quality writing, and I rely heavily on it.
In order to properly review Grammarly, I will first mention its key features. Then, I will explain why you should use Grammarly and why you should take advantage of its Premium version.
Background of Grammarly
Grammarly is one of the most advanced and developed tools for writers since it allows them to check their content for grammar and plagiarism.
Grammarly was first released in 2009 in San Francisco, and it is available on web apps, desktops, laptops, and software plugins for free and for purchase.
How does Grammarly Software Work?
Grammarly uses artificial intelligence to assist in your writing. Grammarly scans your paper and finds errors, mistakes, and other issues in it. Following that, it provides suggestions, checks for plagiarism, and marks the part of your writing that is blatant plagiarism.
This software, however, includes the following tools:-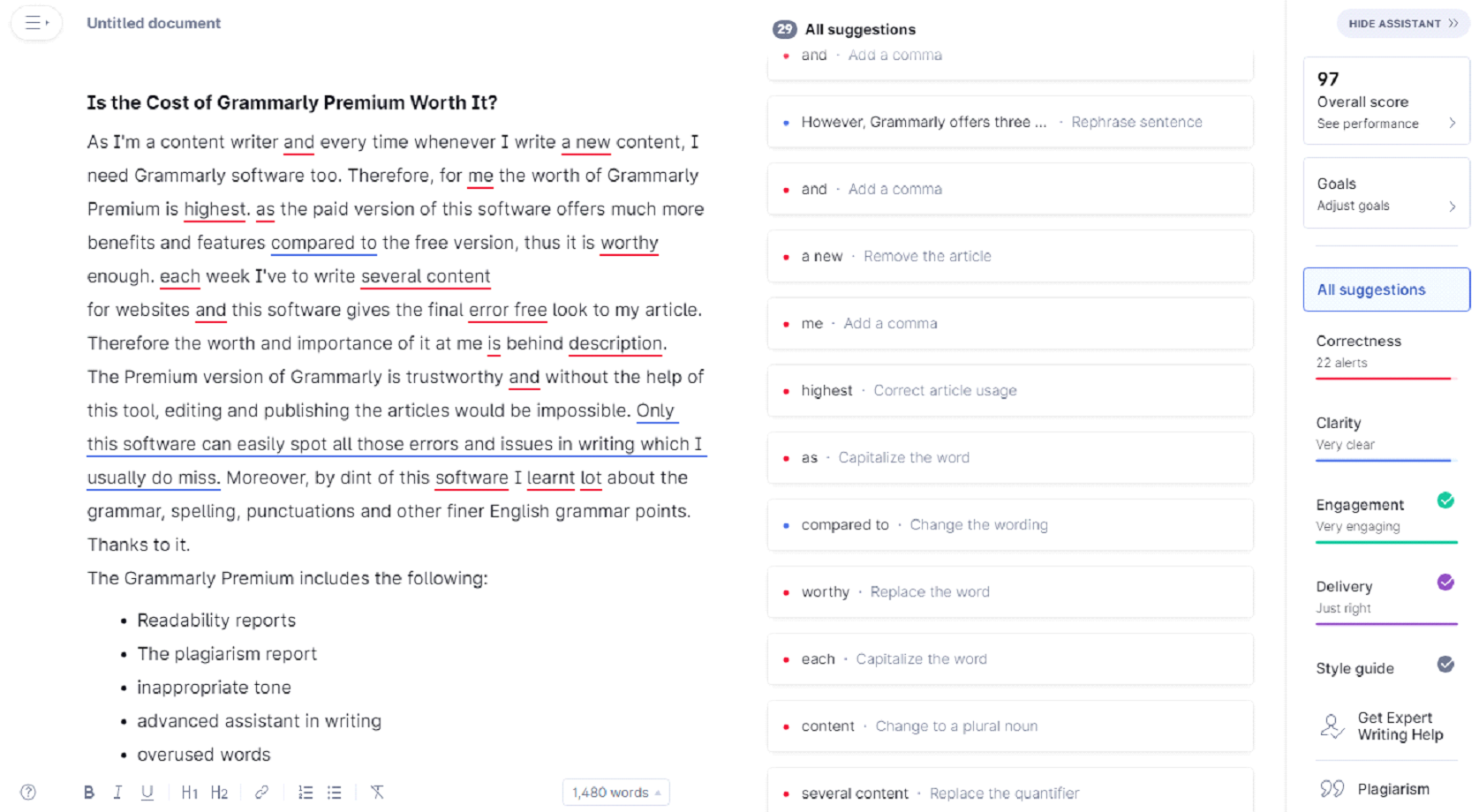 Grammar and Punctuation
With this software, you can detect punctuation and grammar errors in your writing quickly. If you see too many errors in your content, it also suggests real-time solutions and guidelines for correcting them. Grammarly, for example, detects and fixes apostrophes, grammatical errors, errant commas, sentence fragments, and much more.
Readability
As you write content, you need to consider readability. It refers to how easy your article is to understand for the users. The higher the readability, the easier it is to comprehend. Nevertheless, readability is determined by the length of the paragraph, straightforward sentences, common or general words to understand, and many other factors.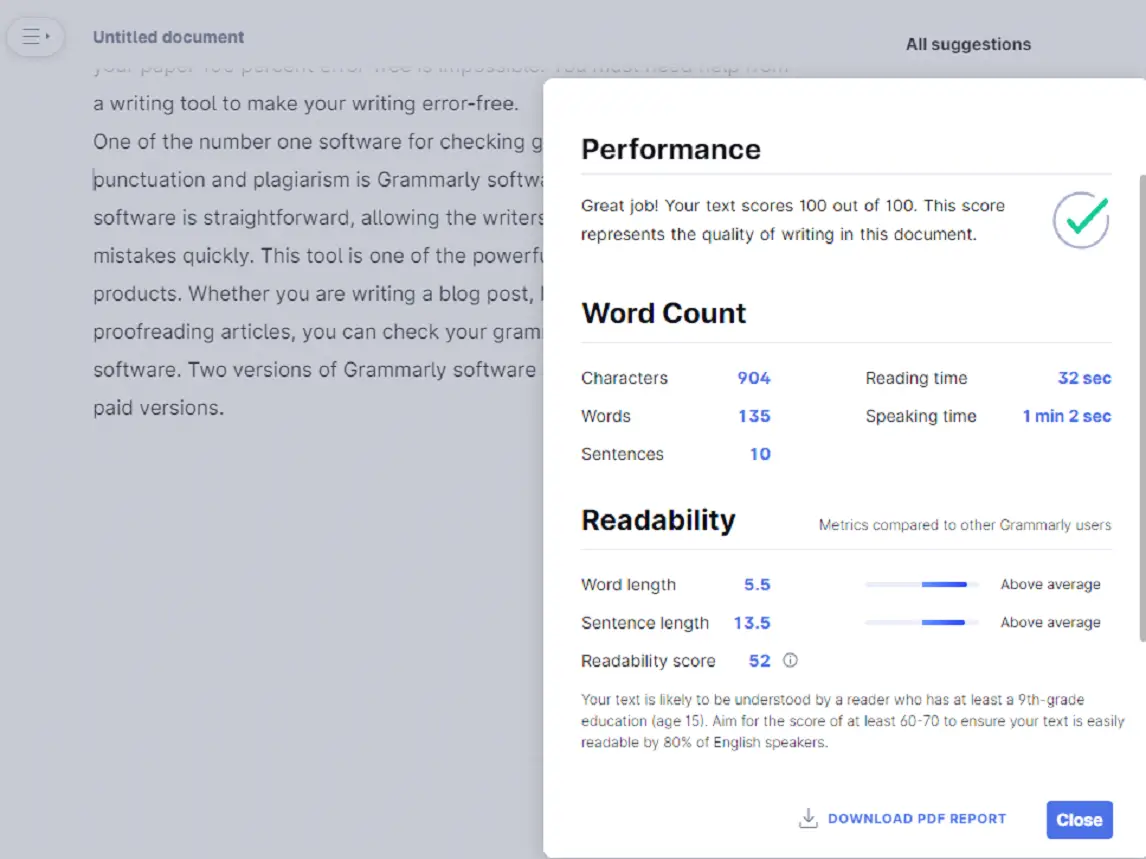 In addition to scanning sentences, passages, or paragraphs, Grammarly software determines your writing's ideal age group. The following are the fundamental considerations in readability:-
Character count
Word count
Sentence lengths
Speaking time and
Reading time
Grammarly suggests a clearer, more concise report whenever my writing becomes too long or difficult to read.
Checking Spelling Error
Using Grammarly's spell checker tool, you can also add a custom dictionary and words, and you can even get better results when you purchase the Premium version.
Writing Assistance
It is the writing assistant powered by artificial intelligence that is the core of Grammarly software. Upon entering or uploading a piece of writing, the writing assistant scans the entire document and then identifies all of the problems. After that, this software proposes suggestions that will increase the performance of your writing, and it will look great to the readers. You can accept or reject the fixes or proposals with just a click, whatever works best for you.
Writing Style
Even I have my own writing style. However, the problem is that your writing style may not be easy to understand by software and readers. If you use too many rigid or unfamiliar words, Grammarly software provides word choice and rewriting suggestions based on the ideal audience choice. The recommendations can be accepted or rejected, but always choose based on the percentage of your writing performance.
Reports Editing
Grammarly offers a downloadable report that you can send to another editor or writer. This report aims to improve your writing, and for this reason, it includes information and metrics.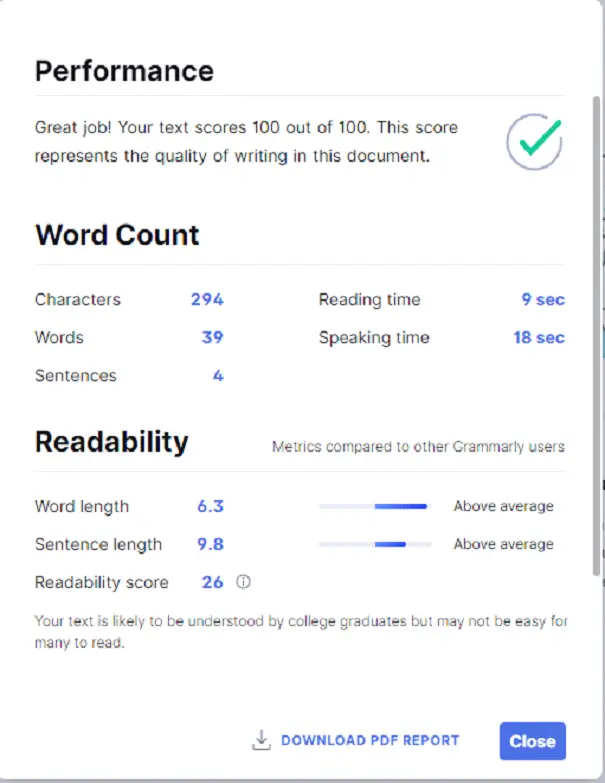 Plagiarism Check
When you upload a document to Grammarly and click the Plagiarism Checking option, it shows whether the content has any plagiarism or not. It compares your writing to billions of webpages.
Your paper will also show you a percentage and a link if it contains plagiarism. The percentage represents how much of your writing is based on another article or content, and the link indicates where you got the information from.
Availability of the Above Features With Each Version
The Grammarly software comes in two versions, a Free version, and a Paid version. The free version offers users more services, but the premium version provides the best writing assistance. All the above features are not available in both versions.
Nevertheless, the following features are available with each performance:-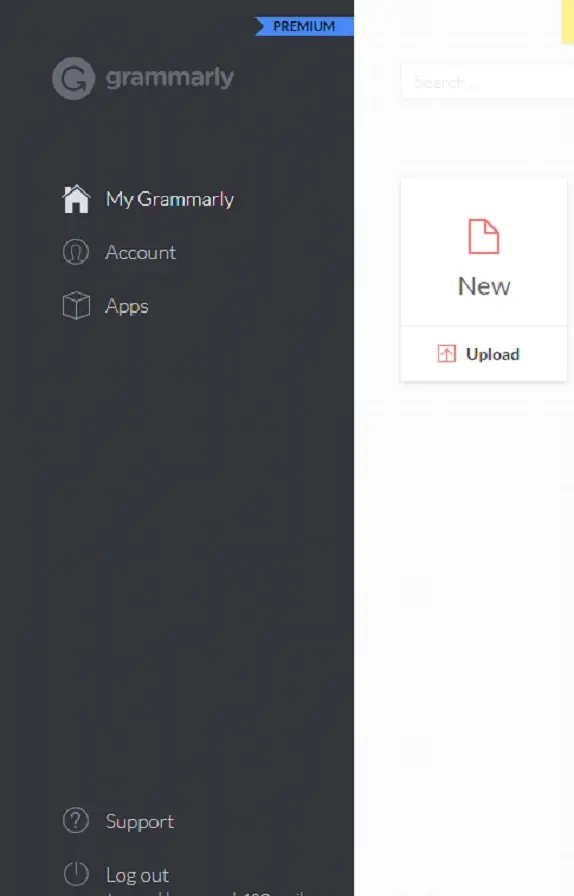 Available Features on Free Version of Grammarly
Grammar checks
Spelling checks
Punctuation
Available Features on Premium Version of Grammarly
Grammar and spelling checks
Vocabulary enhancement
Checks sentence structure, context, and punctuations
Detecting plagiarism (Check and compare your writing against 16 billion web pages)
Checks Genre-specific writing style
Fluency
Additional advanced suggestions
Who Should Use the Grammarly Software?
The Grammarly software is a primary defense line for every researcher, copywriter, and content writer, regardless of whether they are native English speakers or not.
Grammarly is recommended for the following professionals when writing:-
Content writers
Bloggers
Copywriters
Researcher/academic researcher
Freelance writers
Authors
Content marketers and publisher
Students
Journalists
Small business owners
Anyone who often writes in English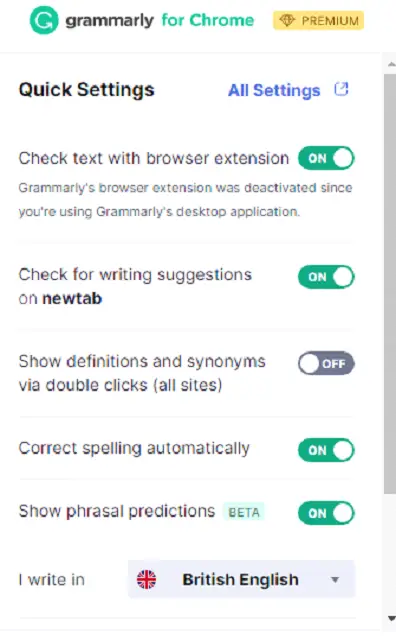 The Grammarly grammar-checking tool, however, is only available for the English language, including American English, Canadian English, Australian English, and British English.
What is the Cost of Grammarly Premium?
Purchasing Grammarly's premium version is worth the money, but Grammarly offers three subscription options: monthly, quarterly, and yearly.
Monthly subscription costs of Grammarly Premium – $30 per month
Quarterly subscription costs of Grammarly Premium – $60, and
Annual subscription costs of Grammarly Premium – $144.
Is the Cost of Grammarly Premium Worth It?
I am a content writer, so whenever I write new content, I use Grammarly software. For me, Grammarly Premium is the most valuable software. Additionally, the paid version of Grammarly offers many more benefits and features than the free version. As I write content for websites every week, this software gives my articles a final error-free look. Therefore, the value and importance of it are hidden in its description.

Grammarly's Premium version is trustworthy, and editing and publishing your articles would not be possible without it. By using this software, I was able to spot all the errors and issues in my writing that I usually miss. Moreover, through this software, I was able to learn a great deal about grammar, spelling, punctuation, and other finer points of English grammar.
The Grammarly Premium includes the following:-
Readability reports
The plagiarism report
Inappropriate tone
Advanced assistant in writing
Overused words
The Premium version of Grammarly software will provide you with grammatical, punctuation, and spelling errors free writing. Countless writers, researchers, and companies use Grammarly each day, and it is trusted.
Download Grammarly
You can download Grammarly from here.