If your device is already running Windows 11 21H2 without bypassing system requirements, you can run Windows 11 22H2 with virtually no changes in hardware requirements.
For those who plan to upgrade from Windows 10, you will need to ensure the hardware meets the minimum requirements. An example would be a 64-bit dual-core processor, 4GB of RAM, 64GB of storage, and Secure Boot 2.0. A new installation requires you to create an account using your Microsoft credentials, which means your device must be connected to the internet before the setup can be completed.
In this gearupwindows article, you will learn about the new system requirements for installing Windows 11 as well as how to find out if your computer is compatible with the new operating system.
System requirements for Windows 11 22H2
Processor: 1GHz or faster CPU with two or more cores.
RAM: 4GB.
Hard Drive: 64GB or larger.
System Firmware: UEFI with Secure Boot.
TPM: Trusted Platform Module (TPM) version 2.0.
Graphics: Compatible with DirectX 12 or later with WDDM 2.0 driver.
Display Resolution: High definition (720p) display greater than 9″ diagonally, 8 bits per color channel.
Networking: Microsoft account and internet access.
As of the initial release of Windows 11, a Microsoft account and an Internet connection were not required. However, to upgrade to Windows 11 22H2, you will also need an Internet connection and a Microsoft account. During initial setup, Home and Pro editions no longer support local accounts, so you won't be able to complete the out-of-box experience.
Processors Supported by Windows 11 22H2
When Windows 11 22H2 was released, only some processors were compatible. However, the latest version supports Intel Core 8th Gen and higher processors, as well as some Pentium, Atom, Celeron, and Xeon processors. The second-generation Ryzen (including Threadripper) and newer processors, as well as some EPYC and Athlon processors, are compatible with AMD. In terms of ARM support, Windows 11 adds support for Qualcomm Snapdragon 850, 7c, 8c, and 8cx, as well as Microsoft's SQ1 and SQ2.
It also supports Intel's 7th Generation processors (7820HQ), in addition to Intel's Core X and Xeon W processors, but only if the device comes with Declarative, Componentized, Hardware Support Apps (DCH).
The complete list of compatible processors for Windows 11 can be found on the Microsoft website, including Intel, AMD, and Qualcomm.
Windows 11 22H2 Compatibility Check
It is possible to check if your computer meets the system requirements using the official app "Microsoft PC Health Check" on a Windows machine. The app will also show you details of the components that are not compatible if your system configuration isn't compatible.
Here are the steps you need to take to see if your computer can run Windows 11 22H2:-
Step 1. Download Microsoft PC Health Check tool and run the setup file on your Windows PC.
Step 2. At last, ensure "Open Windows PC Health Check" is checked, and then click the Finish button to open the tool.
Step 3. Click the Check now button under the "Introducing Windows 11" section.
Step 4. If your PC is compatible with Windows 11, you should see "This PC meets Windows 11 requirements." If it's not, you should see "This PC doesn't currently meet Windows 11 requirements."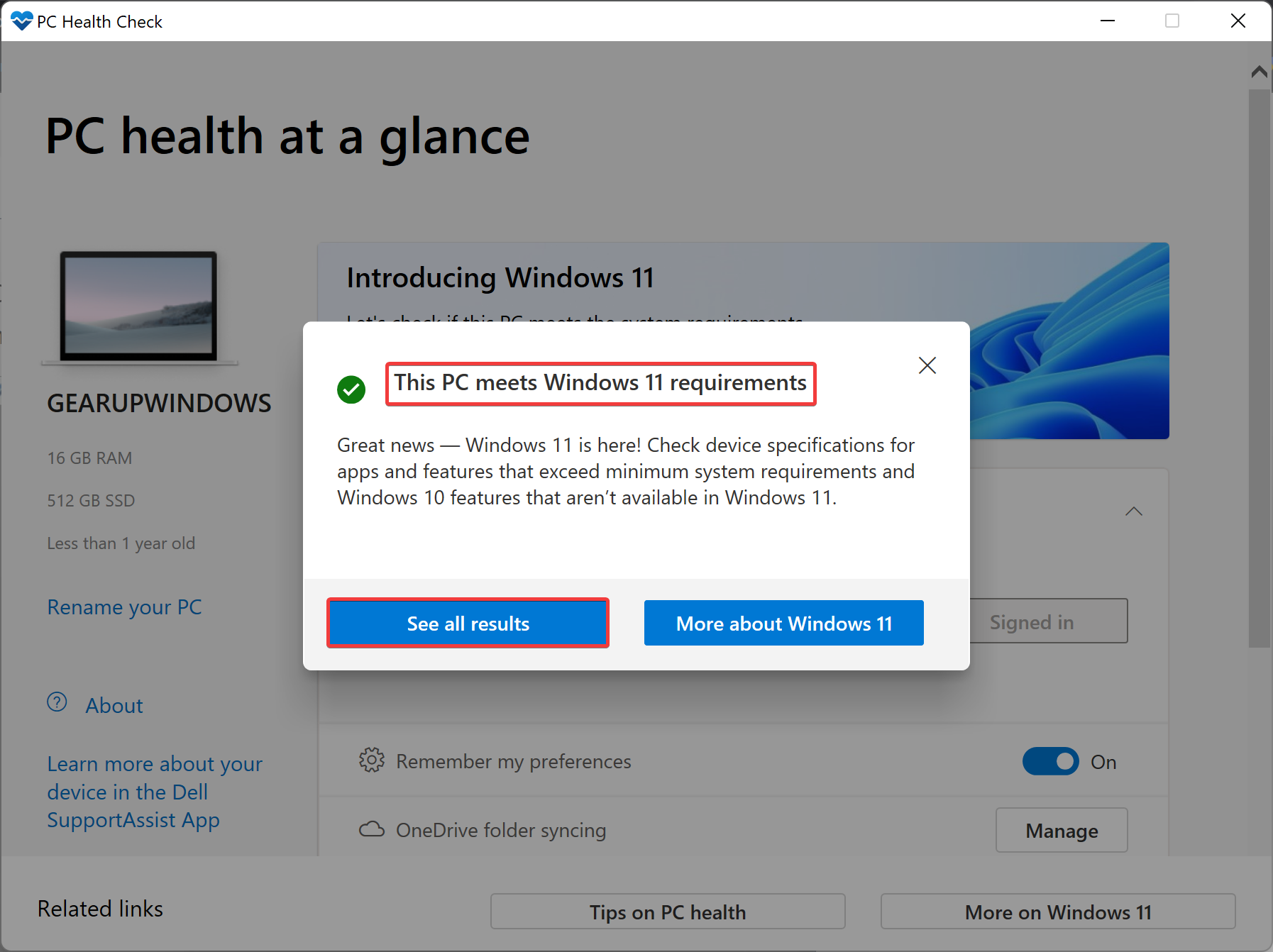 You can view a list of the components that passed or failed the compatibility test by clicking the See all results button.