How do I change my default browser? Windows 11 comes with a lot of features and even a built-in modern Edge browser. Yes, the Edge browser was introduced in Windows 10, and it is still a part of Windows 11. Edge is a good browser, and many Windows users prefer to use it, but a few people also prefer to use the Chrome browser. Edge and Chrome are not only popular browsers; even some of us like to use Opera and Mozilla Firefox.
Every person's choices and opinions are different on browser selection, but the whole thing is how to make your favorite browser the default browser on Windows 11. Once you install Windows 11 on your PC, the Edge browser will be your default web browser. That means when you need to open HTML and/or other links on your PC, Windows 11 will automatically open them in the Edge browser. But, if you always want to open them in Chrome or any other favorite browser, you set your default browser on Windows 11 using the Settings app.
How to replace the default web browser on Windows 11?
To replace or set a new web browser as default on Windows 11, do the following steps:-
Step 1. First, install your favorite browser on your computer that you would like to set and use as a default web browser.
Step 2. Now, open the Settings app and then click on the Apps category from the left side pane. Then, click the Default apps tab on the right side of the Apps category.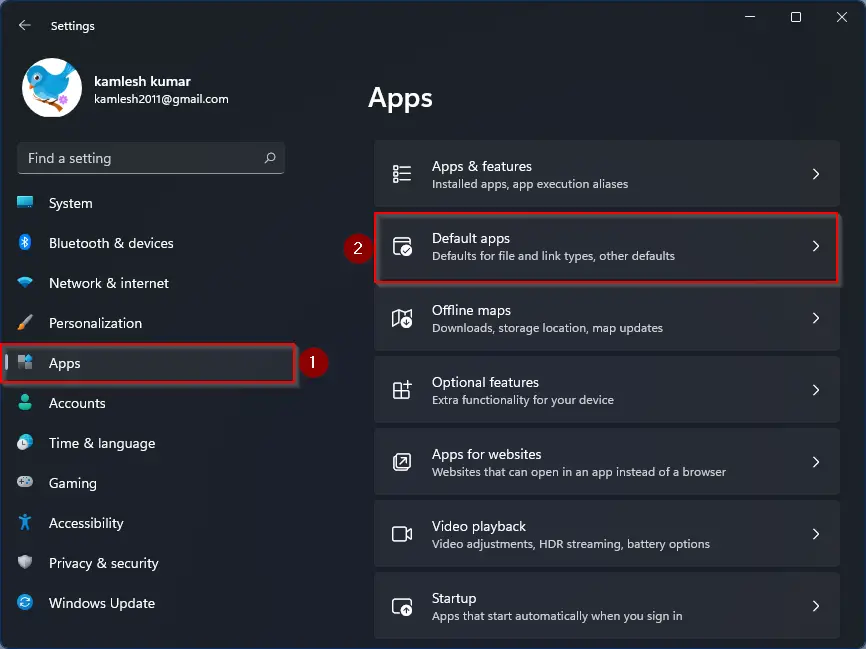 Step 3. Now, on the right side pane, scroll down to see the entry of your browser. Click on the browser entry that you want to set as default. For instance, we want to fix Google Chrome as the default web browser on my PC. Hence we need to click on the Chrome browser entry.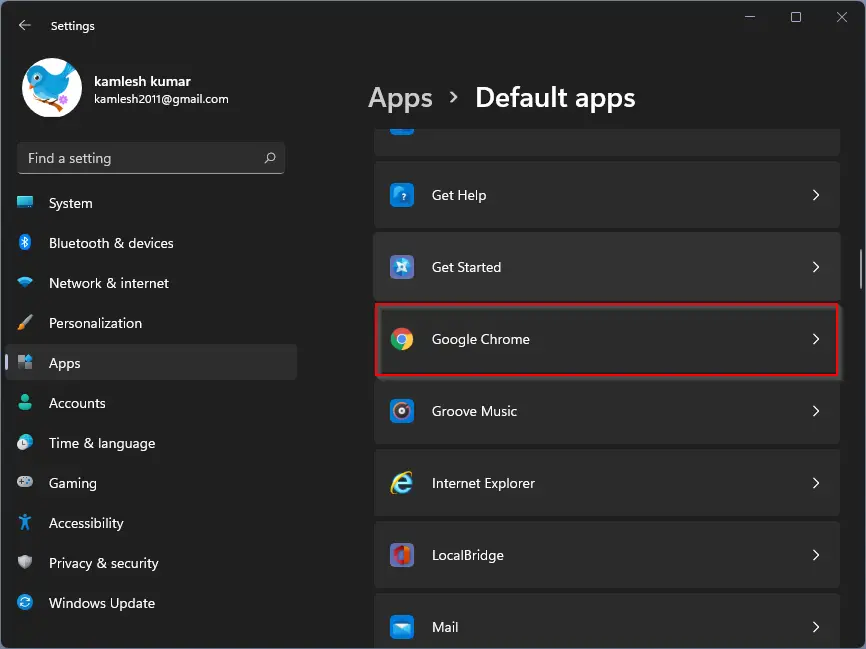 Step 4. Click on Microsoft Edge under ".htm" option.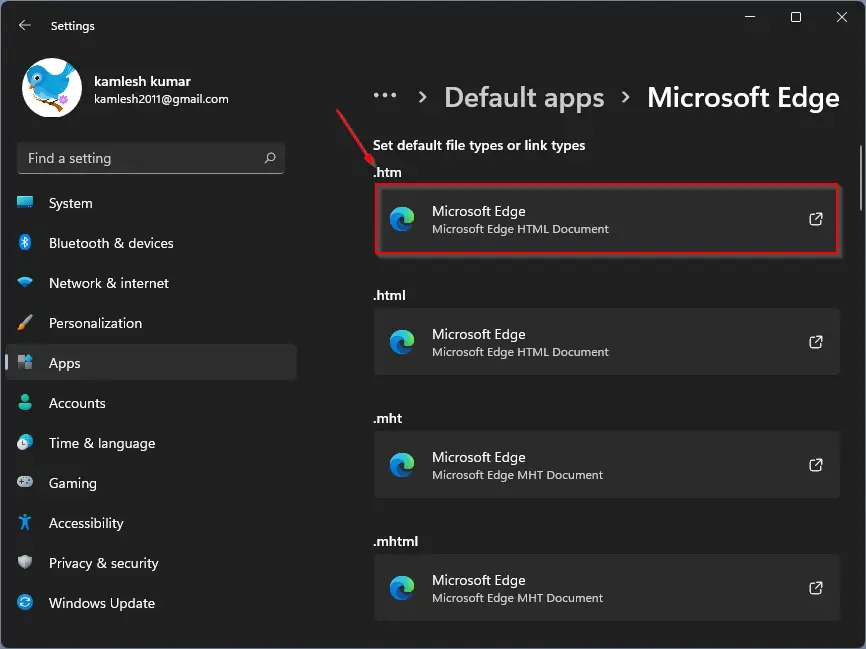 Step 5. Select Google Chrome in the flyout that opens. Now, click on the OK button.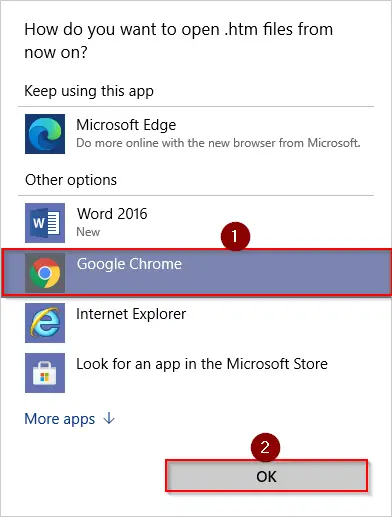 Step 6. Now, you will see Microsoft Edge has been replaced with Google Chrome. That means if you double-click on a ".htm" file, it will open in the Google Chrome browser now.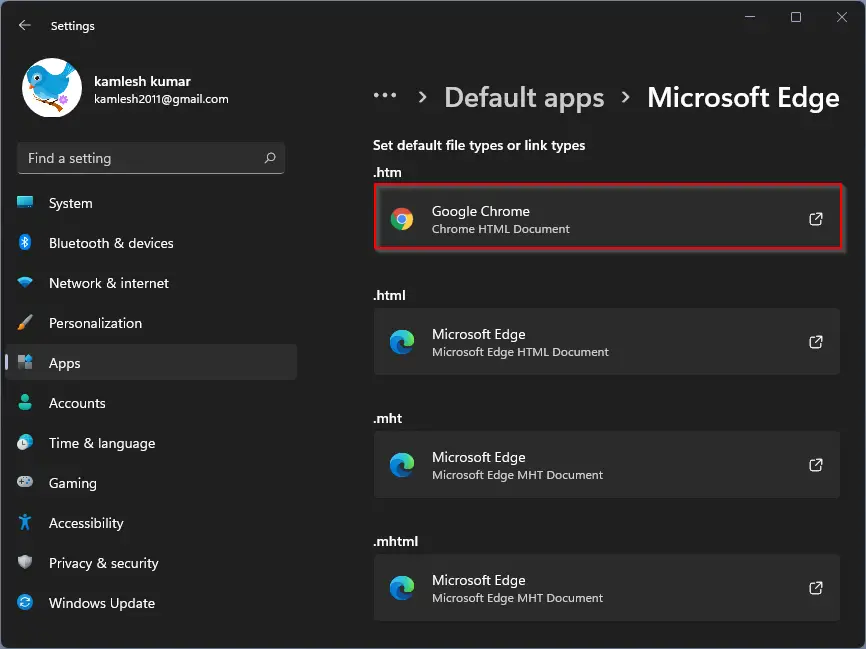 Step 7. You need to repeat steps 4 to 7 for these file or link types if you want to open them also with the Google Chrome browser:-
.html
.pdf
.shtml
.svg
.webp
.xht
.FTP
.HTML
.HTTPS
Once you complete the above steps, the selected file extensions file or link will open in the default web browser that you have chosen in the above steps.
Conclusion
In conclusion, changing the default web browser on Windows 11 is a simple process that can be accomplished by following the steps outlined in this article. Although the Edge browser is the default browser on Windows 11, users can easily set their preferred browser, such as Chrome, Firefox, or Opera, as their default browser. By doing so, all HTML links and other file types associated with the browser will automatically open in the newly selected default browser. This provides users with greater flexibility and customization in their browsing experience on Windows 11.