By default, Windows automatically assigns a maximum storage size for the Recycle Bin on each partition. When you delete any item on your PC, it goes to the Recycle Bin. The deleted items sit on the Recycle bin until you manually delete them or the Recycle Bin storage gets full. When the maximum storage limit of recycle bin reaches, Windows automatically deletes the oldest files to make room for new ones.
On a Windows PC, every partition has its own Recycle Bin settings. The settings are stored in a hidden system folder named "$RECYCLE.BIN" at the root of each volume. Since Recycle Bin automatically handles the delete files, you usually don't have to do anything. But if you need, you can customize or change the storage size of Recycle Bin.
How to Resize the Recycle Bin Size on Windows 11?
To customize the recycle bin size on Windows 11 computer, perform the following steps:-
Step 1. Right-click on the Recycle Bin icon on the desktop and select Properties from the pop-up menu.
Step 2. When the Recycle Bin Properties window opens, you'll see each volume is listed. Select the volume under the General tab and click the Custom size option.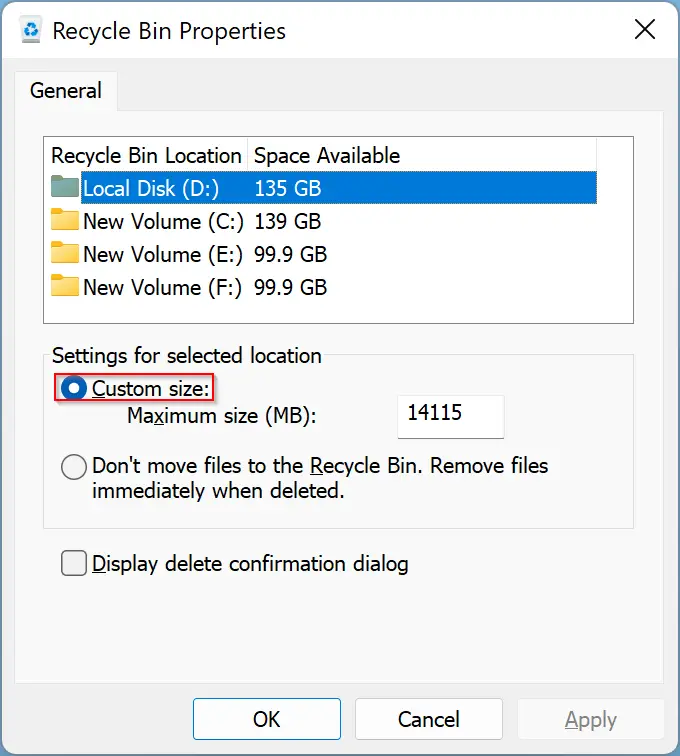 Step 3. In the "Maximum size (MB)" field, type a specific size in MB.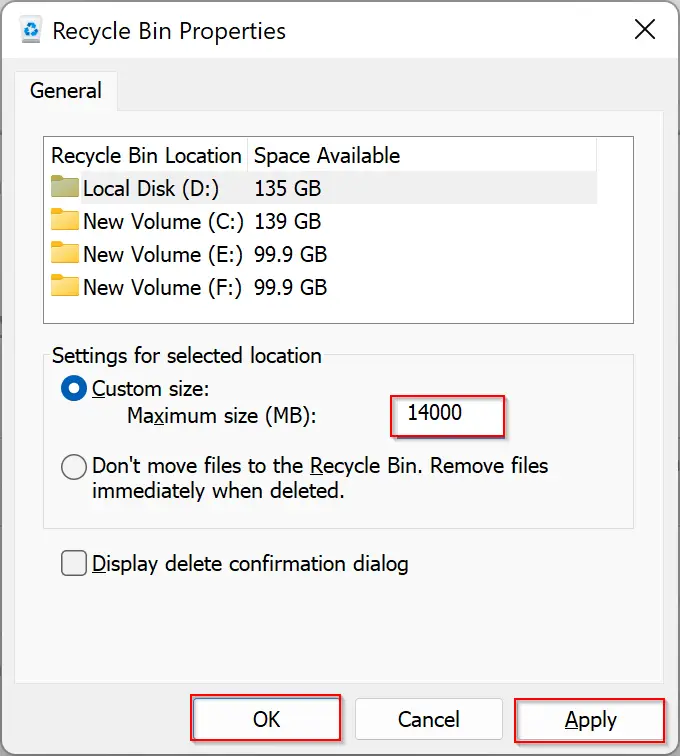 Step 4. Then click "Apply/OK" to save the changes.
You need to repeat the above steps for each volume one by one.
If you don't want to send deleted items to the Recycle Bin, in the above screen, select the option, "Don't move files to the Recycle Bin. Remove files immediately when deleted."
While you are on the above window, you can also apply the additional settings to display delete confirmation dialog. If you want to see a message before sending the deleted item to recycle bin, check the option "Display delete confirmation dialog."
That's it.