A solid-state drive (SSD) is a new generation of storage devices that are used in computers. It is replacing the traditional mechanical hard disks by using flash-based memory, which is significantly faster. Older hard-disk storage (HDD) run slower, which often makes your computer run slower than it should. SSDs gear up computers significantly due to their low read-access times and fast throughputs. Nowadays, SSDs are becoming cheaper; hence more SSDs are used as primary storage for computers and laptops.
Those who are using SSDs in their computers to store critical data should review the health of SSDs from time to time to avoid data loss in case of storage device failure.
Most SSD manufactures provide their own software to configure and monitor SSD health. You can even use a third-party tool to monitor SSD health, performance, and temperature.
If you don't prefer to use any third-party tool, don't worry, Windows 10 now offers the functionality to monitor the health of SSD. SSD health monitoring function is available in Windows 10 Insider build number 20226 and above only. With this new feature's help, you can easily view the SSD health, available spare, and the current temperature. This means if you don't regularly check SSD's health, Windows 10 itself will alert when the SSD is about to fail, or its health deteriorates to a certain percentage.
One should note that the inbuilt temperature and health monitoring functions of Windows 10 are available for only internal NVMe SSDs, which means you can not monitor the health of external drives such as pen drives and memory cards.
How does Windows 10 calculate the estimated remaining life of an SSD?
Microsoft says, "Windows 10 OS uses approximate percent used of manufacturer's prediction of drive life to calculate the estimated remaining life of SSDs. Hence, it may not be accurate. One should note that if Windows 10 displays the estimated remaining life of an SSD is 0%, that does not necessarily mean that the SSD has failed or is about to die. This is the only indication that the drive has completed write/erase cycles predicted by the manufacturer."
Note: As said before, the SSD health feature is currently available in Windows 10 Insider builds (20226 and above) only. To check the build number of your Windows 10, type winver.exe in Start/taskbar search and press Enter key from the keyboard.
How to check NVMe SSD estimated remaining life and temperature in Windows 10?
Step 1. Open the Start menu and select the Settings app.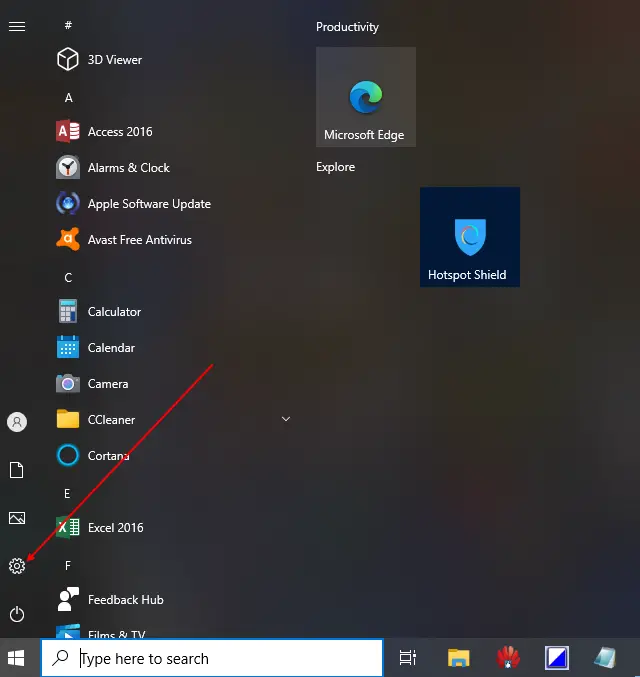 Step 2. Navigate to the System > Storage page.
Step 3. From the right side pane, click on the link 'Manage Disks and Volumes.'
Step 4. On the next screen, click on the drive you want to check the temperature.
Step 5. Click on the Properties button below the drive's name.
Step 6. Now, you can see the temperature under the Drive health section.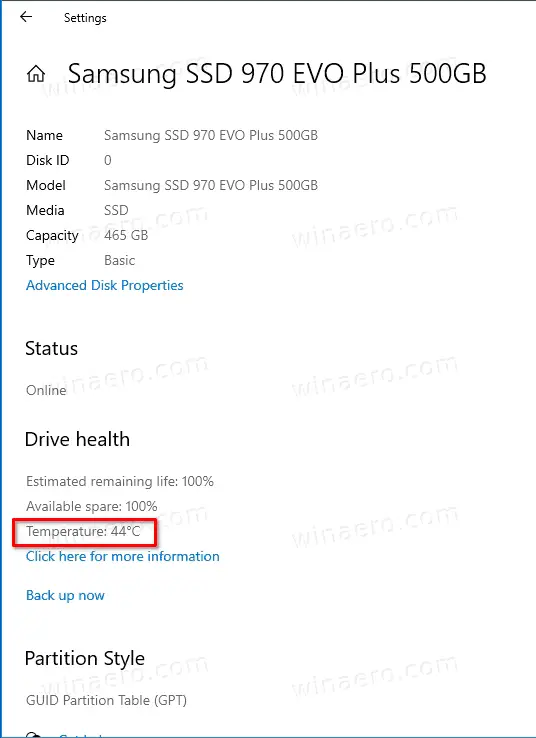 That's all!
Source: winearo