The CCleaner application is one of the most popular ways to clean up your Windows 11 PC. It quickly removes temporary files, web browsing history, and unwanted files from your computer. You can say that CCleaner is the best free maintenance tool available on the internet because it has a lot of functionalities.
With CCleaner, you can also clean temporary files and registry files, uninstall programs (even built-in ones), manage your system restore points, and remove Windows startup programs. This software securely erases the drive contents, cleans and optimizes the registry, and cleans up Windows and other installed applications.
Aside from the above-mentioned features, this tool can also help you remove unnecessary context menus (right-click menus). If you have cluttered context menus in Windows 11, you can easily get rid of them with CCleaner. We keep testing this freeware tool, and it creates context menu entries. While most are automatically removed during uninstallation, some may not. Occasionally, you might not want a right-click context menu on your Windows 11 computer, and you wish to get rid of it. You may need to remove the unwanted right-click context menu for any reason; we will show you how to do so with CCleaner.
This gearupwindows article demonstrates how to clean Windows 11's Context Menu with CCleaner.
How to Clean Context Menu using CCleaner on Windows 11?
Follow these steps to remove the context menu items through CCleaner on Windows 11:-
Step 1. First, download and install the latest version of the CCleaner tool from the official website.
Step 2. Once the installation is completed, launch the CCleaner program from the Desktop shortcut.
Step 3. Then, go to Tools > Startup > Context Menu.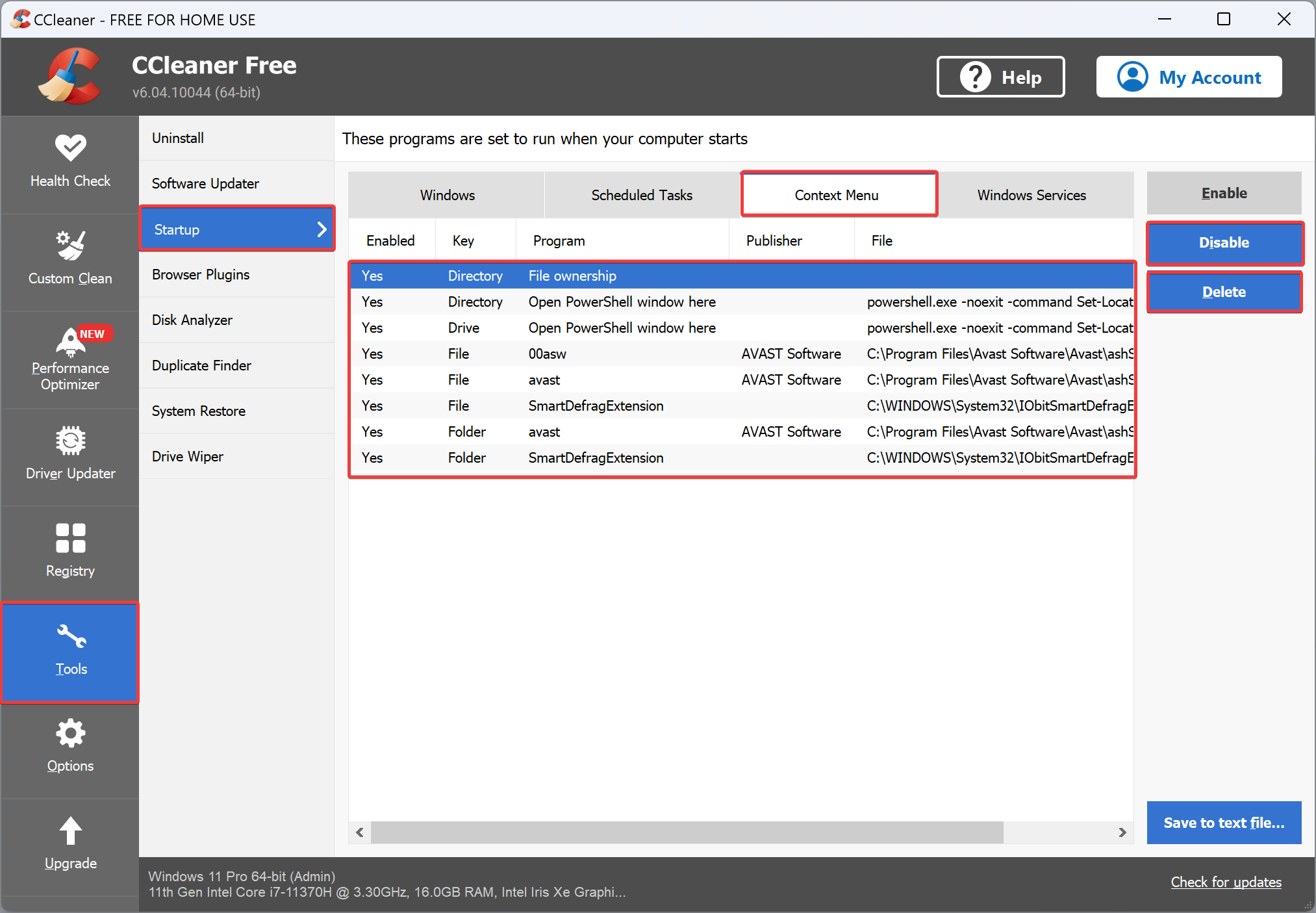 Step 4. From here, select an entry you want to remove completely from your PC or want to disable for some reason temporarily.
Step 5. Once you have selected the unwanted entry, you can click on Disable button to disable it temporarily or use the Delete button to remove it permanently.
In case you haven't heard of CCleaner yet, it is available for free as well as paid. Further, It is compatible with Windows 7, 8, 10, and 11 (32-bit and 64-bit).
Conclusion
In conclusion, CCleaner is a highly popular and effective application for cleaning and optimizing Windows 11 PCs. It offers a wide range of functionalities, including the ability to remove temporary files, clean the registry, uninstall programs, manage startup programs, and even remove unwanted context menus. With its user-friendly interface and comprehensive features, CCleaner stands out as one of the best free maintenance tools available on the internet. Whether you need to clean up your system or remove unwanted right-click context menus, CCleaner provides a reliable and convenient solution for Windows 11 users.