You might already know the Ctrl + Scroll functionality of Windows operating systems that allows you to zoom in or out in web browsers and other apps such as Microsoft Word documents. When you press the Ctrl key on your keyboard and then use the mouse wheel, the page zooms in and out accordingly. Although this helps you check the page in various resolutions, it might sometimes be annoying. For instance, if you are reading an article and the Ctrl key is not functioning pleasingly, you might not be able to scroll down using your mouse. Instead of scrolling up or down, you may end up zooming in and out. You might want to disable the Ctrl+Scroll zoom feature in such a situation.
"No Mouse Wheel Zoom" for Windows 11 and 10
The "No Mouse Wheel Zoom" is an application that disables the Ctrl+Scroll Zoom in all programs, including Google Chrome, Mozilla Firefox, Opera, Microsoft Word, etc. It is a free as well as a portable app that quickly disables zoom-in and zoom-out in all versions of Windows, including Windows 11 and 10. Whether you want to turn off the accidental zoom-in or zoom-out in Chrome, Firefox, Edge, or any other application, you can use this app.
The "No Mouse Wheel Zoom" includes these three more options:-
Block in all windows: By default, this app blocks the zoom-in or out function in browsers only. However, if you want to use the same feature in all the other apps, such as Microsoft Word Photos, etc, you can turn on this option.
Pause MWNoZoom: If you need to pause the app temporarily, either close it from the system tray or use the Pause MWNoZoom option.
Autostart on Windows startup: If you want to start this app automatically when you start your computer, this option is helpful.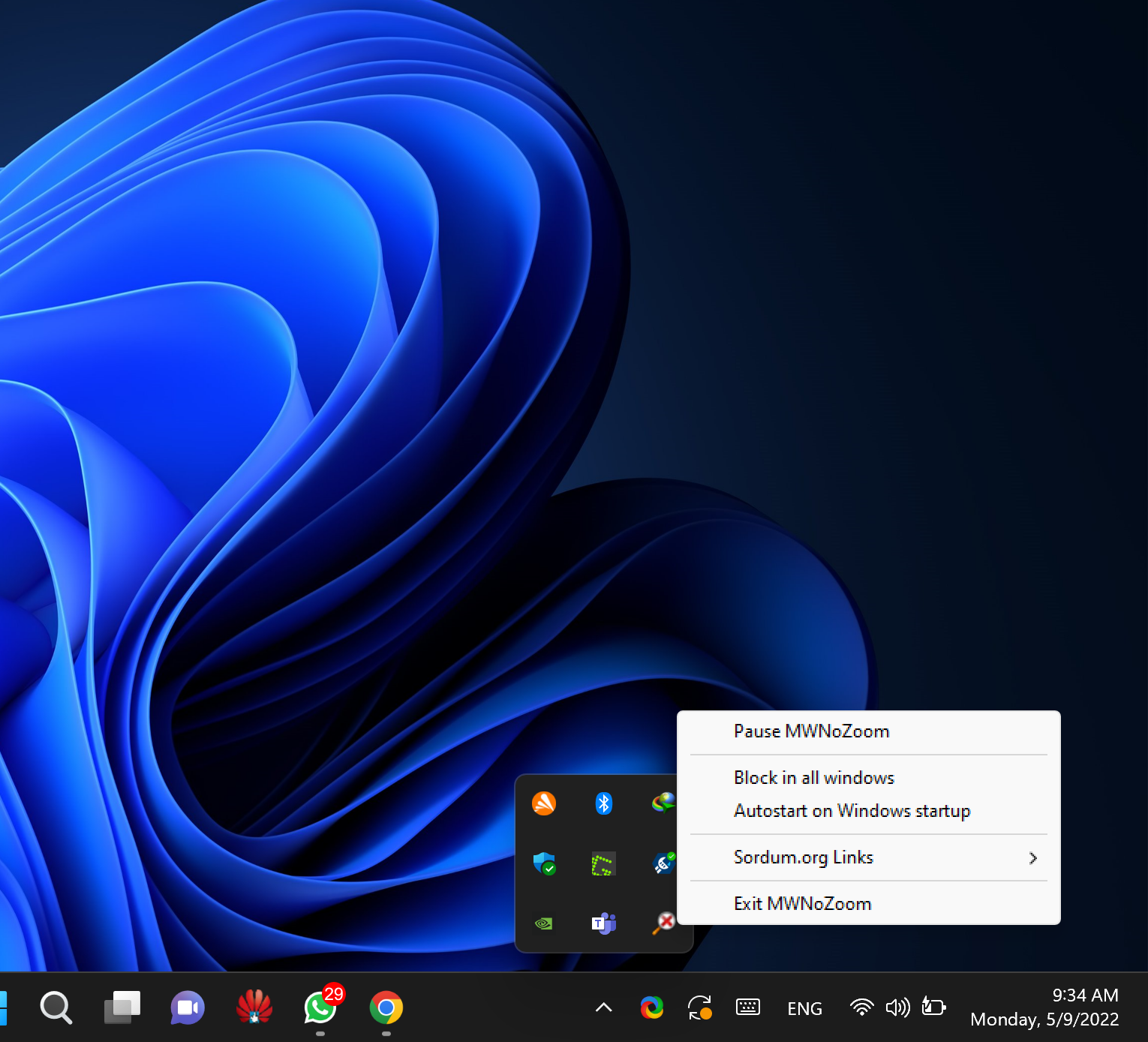 How to Turn Off Ctrl+Scroll Zoom in Windows 11 or 10?
If you want to disable the Ctrl+Scroll zoom in or out mouse wheel feature in any browser or other applications, use these steps:-
Step 1. First, download the Mouse Wheel Zoom app on your computer by visiting the official website.
Step 2. Then, extract the contents of the zip file.
Step 3. After that, double-click on the MWNoZoom.exe or MWNoZoom_x64.exe file according to your system architecture.
Step 4. Next, click on the Yes button when the UAC prompts.
That's it. When you're done, open any browser and use the Ctrl+Scroll zoom functionality. It won't work anymore. Whether it is Chrome, Firefox, Edge, Microsoft Word, or anything else, you won't be able to use the Ctrl+Scroll feature.
Download "No Mouse Wheel Zoom"
The "No Mouse Wheel Zoom" is compatible with Windows 11, 10, 8/8.1, 7, Vista, and XP (both 32-bit and 64-bit). If you want, you can download it from here.
Conclusion
In conclusion, the Ctrl + Scroll functionality can be helpful at times, but it can also be a nuisance when you accidentally zoom in or out instead of scrolling down the page. However, with the "No Mouse Wheel Zoom" application, you can disable this feature in all programs, including web browsers and Microsoft Word documents, among others. This free and portable app is compatible with all versions of Windows and comes with additional features such as blocking zoom-in and out in all windows, pausing the app temporarily, and autostarting the app on Windows startup. By following the simple steps outlined in this guide, you can easily turn off the Ctrl + Scroll zoom in Windows 11 and 10 and improve your browsing experience.