Since 1991, folks had seen many improvements when the World Wide Web (WWW) was introduced to the general public. Several media types are available to connect to the internet, such as routers, modems, smartphones, etc. Now, the internet is mixed with our life, and we can't survive without it. Whether it be modern school, bank, shop or our child education, we need an active internet connection in all places.
Internet is essential for all of us, but you may want to stop all types of internet access on your PC due to some reason. For example, you want to stop your child from playing online games. You are doing some important project and where no internet connection is required, and you don't want to get disturbed by any notifications. It may also happen, your PC is infected with virus/malware, and you want to work offline.
Reasons may be several to block your PC from accessing the internet. Net Disabler is a freeware tool that lets you easily enable or disable your internet connection on a Windows PC.
Net Disabler for Windows 11/10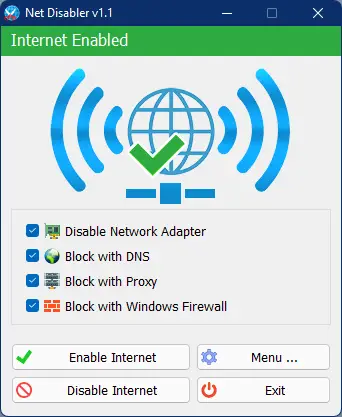 Net Disabler is a freeware application that temporarily disables or blocks internet access on your computer or laptop. If you want to disable Internet connectivity for some time or on some events, you can easily do it with Net Disabler. It is a small portable application that means there is no need to install it on your PC. You can use it to turn the Internet off or on again quickly.
Once you download and run it on your PC, it will show the current status of the Internet connection in the application's interface, Internet Enabled or Internet Disabled.
Internet Enabled: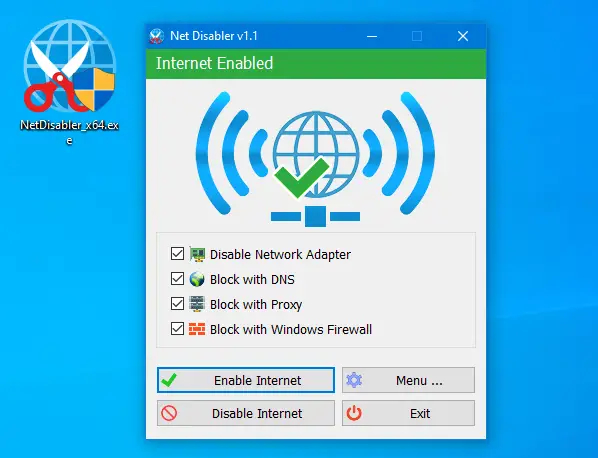 Internet Disabled: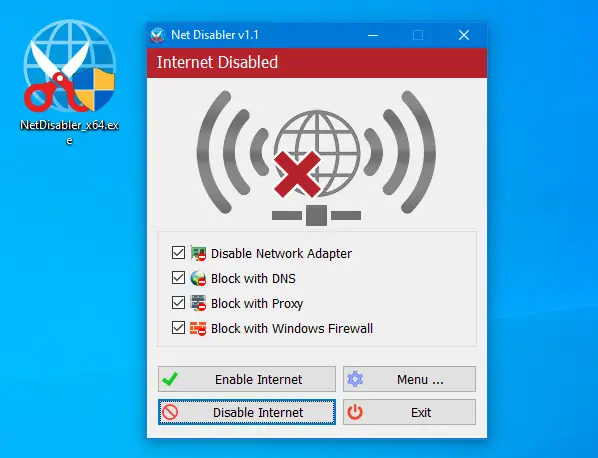 Net Disabler comes with a straightforward user interface so that a novice can also use it. It includes four Internet blocking methods. You can choose one or all of them, or you can use a combination.
Disable Network Adapter
Block with DNS
Block with Proxy
Block with Windows firewall
To turn off the internet on your PC, select the desired method and then click on the "Disable Internet" button. To bring back the internet access, run the Net Disabled app and click on the "Enable Internet" button. Is it not so simple to enable or disable the internet? Under the menu button, you can choose your Network Adapters; you can set a password, open Device Manager, Network Connections, or Firewall settings.
You can choose your Network Adapters, set a password, open Device Manager, Network Connections, or Firewall settings by clicking on the Menu button.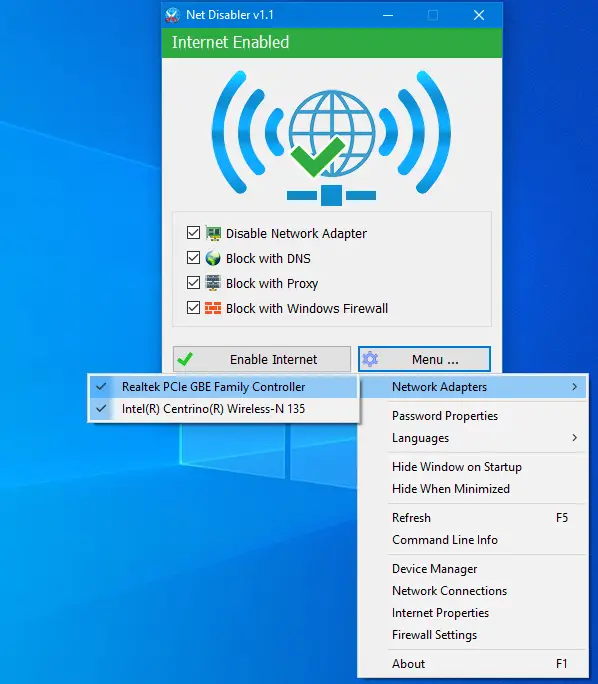 When you run Net Disabler, it sits on the System Tray of Taskbar. Right-clicking on the Net Disabler taskbar icon, you can enable or disable internet access.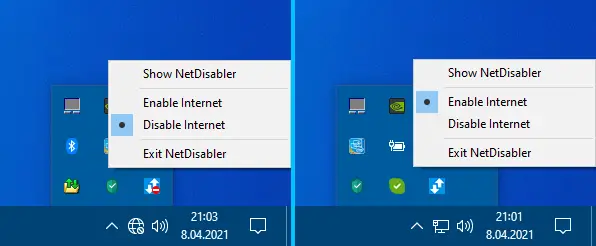 To ensure no one will use the internet, you can set a password to protect your settings.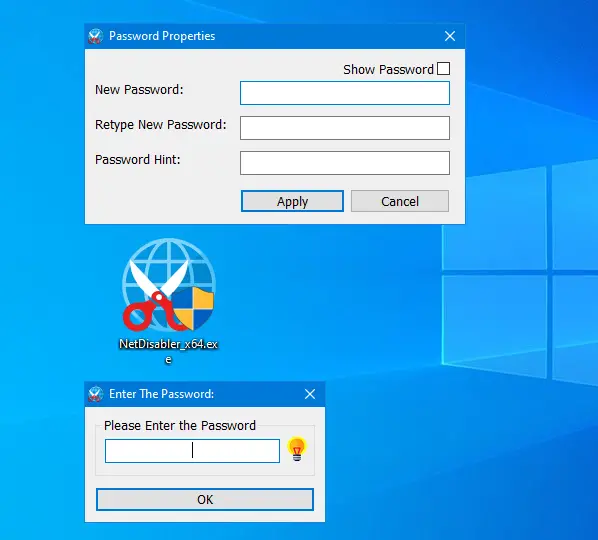 The Net Disabler program supports several languages. Furthermore, it is compatible with all versions of Windows, including Windows 11, 10, 8.1, 8, 7, Vista, and Windows XP (both x86 and x64).
Download Net Disabler
You can download this free and portable utility Net Disabler from its official website.