Mozilla Firefox uses the system default theme. That means, that if you have enabled a dark theme in Windows 11 or 10, Firefox will also use dark mode. However, if you have set a light theme for your Windows, Firefox will use light mode.
But, for some reason, if you want to manually enable dark or light mode in Firefox or any operating system, you can do it using built-in Firefox settings. That means there is no need to download third-party add-ons to do this work on Windows 11 or 10 or any other operating system.
In this gearupwindows article, we will guide you on enabling dark and light mode in Firefox on Windows 11 or 10.
Dark mode or theme is convenient for those who want to browse the web or watch videos/movies in web browsers at night. If you need to browse the web at night or have your PC in a low-lit room, you should consider enabling a dark theme on your Firefox to avoid eye strain.
Almost all major web browsers support dark themes or modes, and Firefox is no exception. Enabling dark mode in Firefox is relatively easy. You can enable the dark theme without even installing additional extensions. Mozilla Firefox comes with a built-in dark mode to help PC users browse the web using the Firefox browser at night without hurting their eyes.
How to Enable the Light or Dark Mode in Firefox on Windows 11 or 10?
To turn on light or dark mode/theme in Firefox, use these steps:-
Step 1. First, open Mozilla Firefox on your PC.
Step 2. Next, click on three horizontal lines (Open application menu) and select Settings in the drop-down menu.
Step 3. On the Firefox settings page, select the General tab in the left sidebar.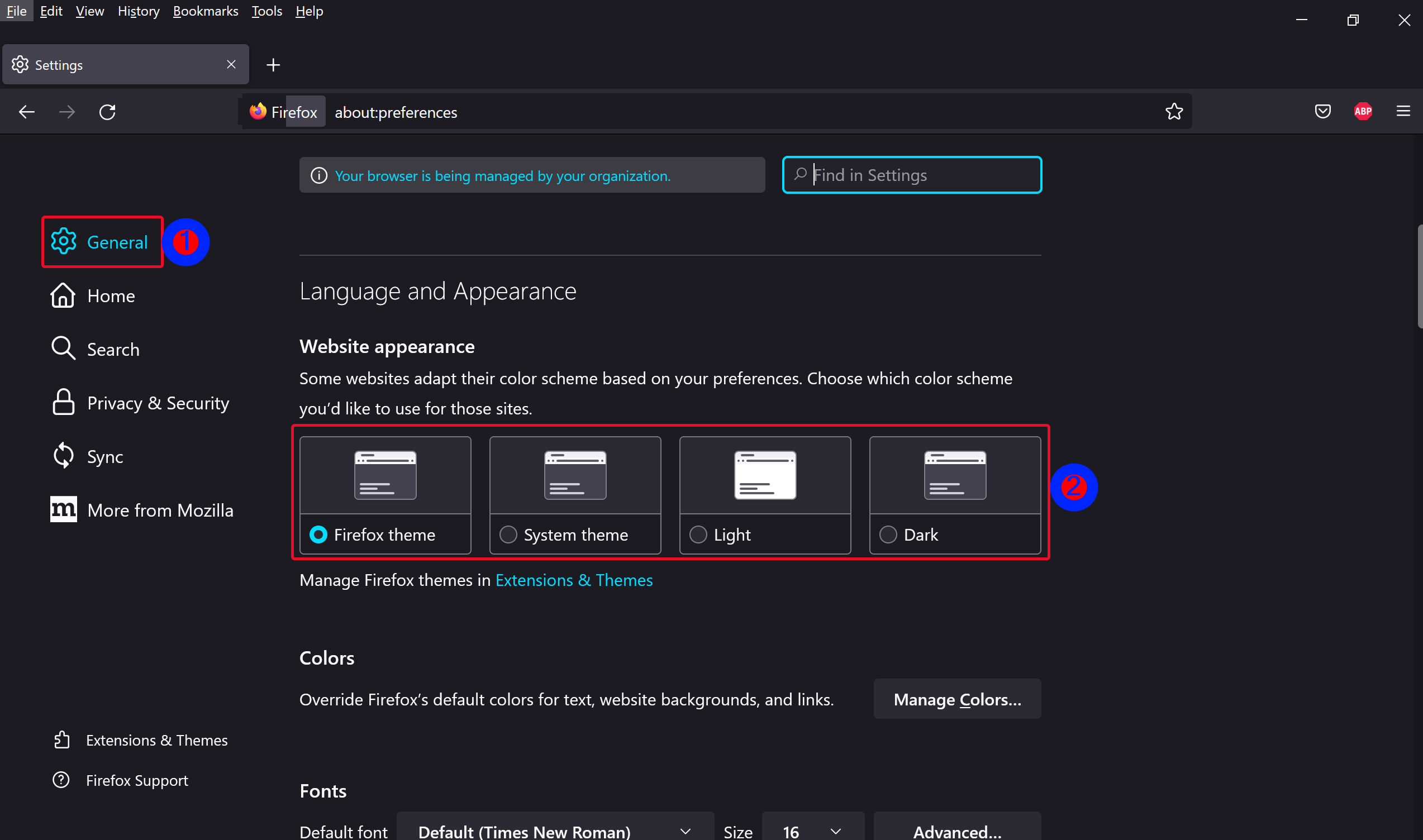 Step 4. Then, scroll down to the "Language and Appearance" section on the right-side of "General."
Step 5. By default, the "Firefox theme" will be selected as the default theme for your browser. You can choose the Dark to enable dark mode or Light to turn on light mode.
However, if you want to use the Firefox system default theme, you can either pick the Firefox theme or the System theme. So, if you have set a Dark theme for your Windows 11 or 10, Firefox will also use Dark mode. And, if you have chosen the Light theme for your Windows, Firefox will also use Light mode,