"Remember my apps" setting on your Windows 11 remembers the apps that you have installed on your device so that you can restore them from the Microsoft Store on other Windows 11 devices or the same machine. It is a handy feature of Windows 11. Let me see an example.
Suppose someone has lost his system or the machine is damaged, and it is now beyond repair, he has to go for a new one. Now the user will want to retrieve all his details from the old laptop to the new one, but he can't do such because it is not possible in this case. Therefore, Windows 11 includes a feature, "Remember my apps," which is enabled by default. This remembers all the apps that you downloaded from the Microsoft store. When you sign in to another Windows11 machine with the same Microsoft account, all the apps will be downloaded and installed automatically.
An option is available on the Windows backup page to turn on or off the "Remember my apps" settings. In this gearupwindows article, we will guide you on enabling and disabling "Remember my apps" in Windows 11.
Note: The "Remember my apps" setting is not available for Work or school accounts. Hence, you'll need to sign in to Windows 11 with your Microsoft account.
How to Turn On or Off "Remember my apps" in Windows 11?
To enable or disable "Remember my apps" in Windows 11, use the following steps:-
Step 1. Press Windows + I keys altogether on your keyboard to open the Settings app on your Windows 11 machine.
Step 2. Then, select Accounts in the left sidebar of the Settings window.
Step 3. Next, click on the Windows backup tile at the bottom of the Accounts settings page.
Step 4. On the next screen, turn On the toggle switch beside the "Remember my apps" option.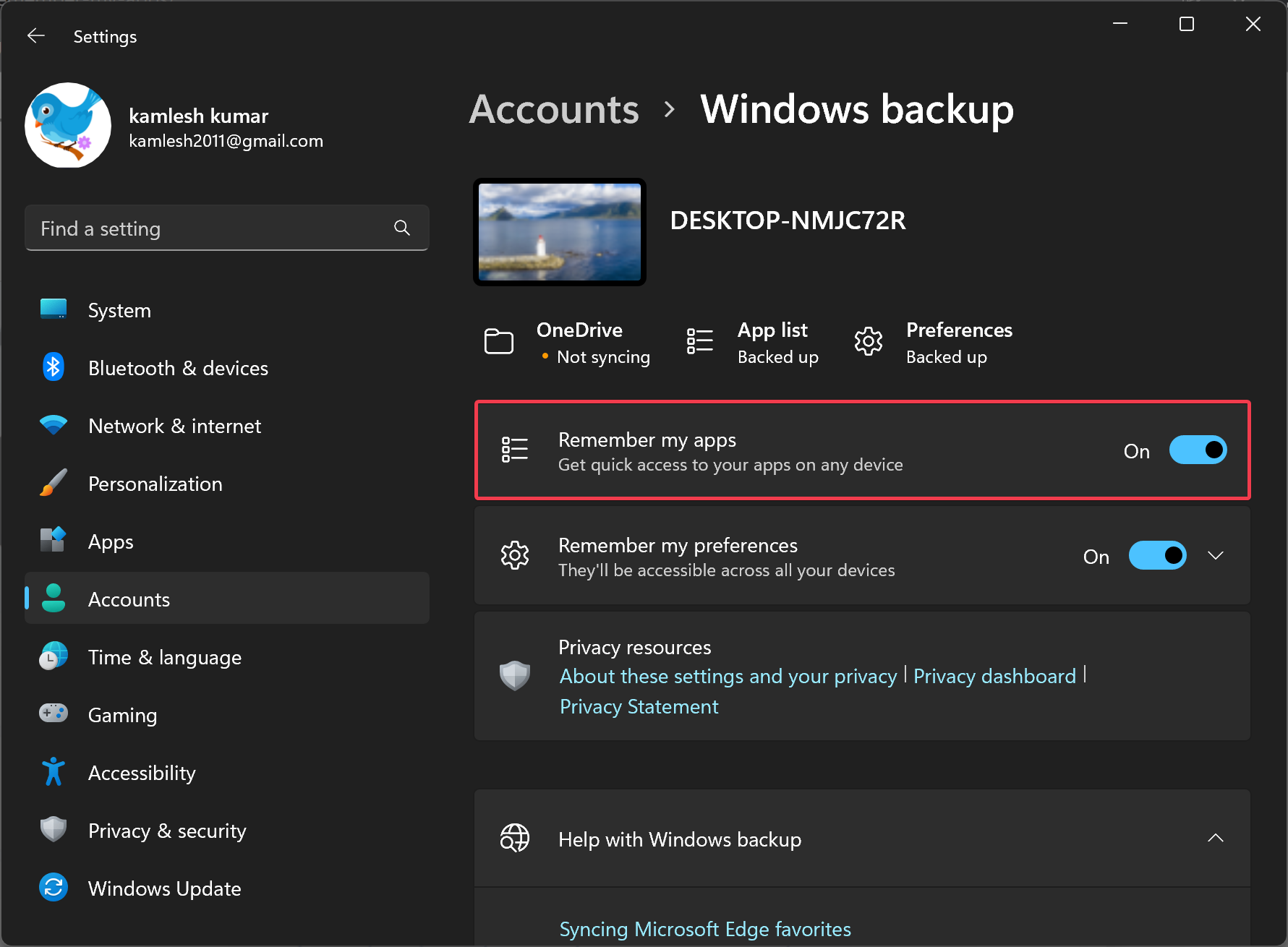 To turn off or disable the "Remember my apps" feature, repeat the above steps and in step 4 above, turn Off the toggle switch that says "Remember my apps."
That's it.