The latest operating system from Microsoft, Windows 11, ships with a Windows Hello feature that furnishes a more personal and secure way to sign in. Along with Windows Hello, you can use a PIN, facial recognition, or fingerprint to sign in to your device. You'll also need to set up a PIN when you set up facial recognition or fingerprint to sign in to Windows. However, if you wish, you can set up a PIN independently to sign into Windows 11.
A PIN on Windows 11 helps make it easier and safer to sign in to your PC because it is associated with one device, and it's backed up for recovery with their Microsoft account. When you set a password for your account, it can be intercepted in transmission or stolen from the cache. Furthermore, the PIN is local to the device, so it can't be used remotely to access your account.
The 'Hello PIN' is backed by Trusted Platform Module (TPM) chip and integrated with the hardware, making it more secure than a password. Due to some reason, if you want to remove the PIN from your user account, this gearupwindows article will help you.
How to Remove a PIN from Your Local Account in Windows 11?
Since the PIN is required for all Windows Hello sign-in options, facial recognition or fingerprint will also be removed if you remove the PIN from your account. If you still need to remove the PIN from your account in Windows 11, use the following steps:-
Step 1. First, open the Settings app. For that, press Windows + I keys on the keyboard.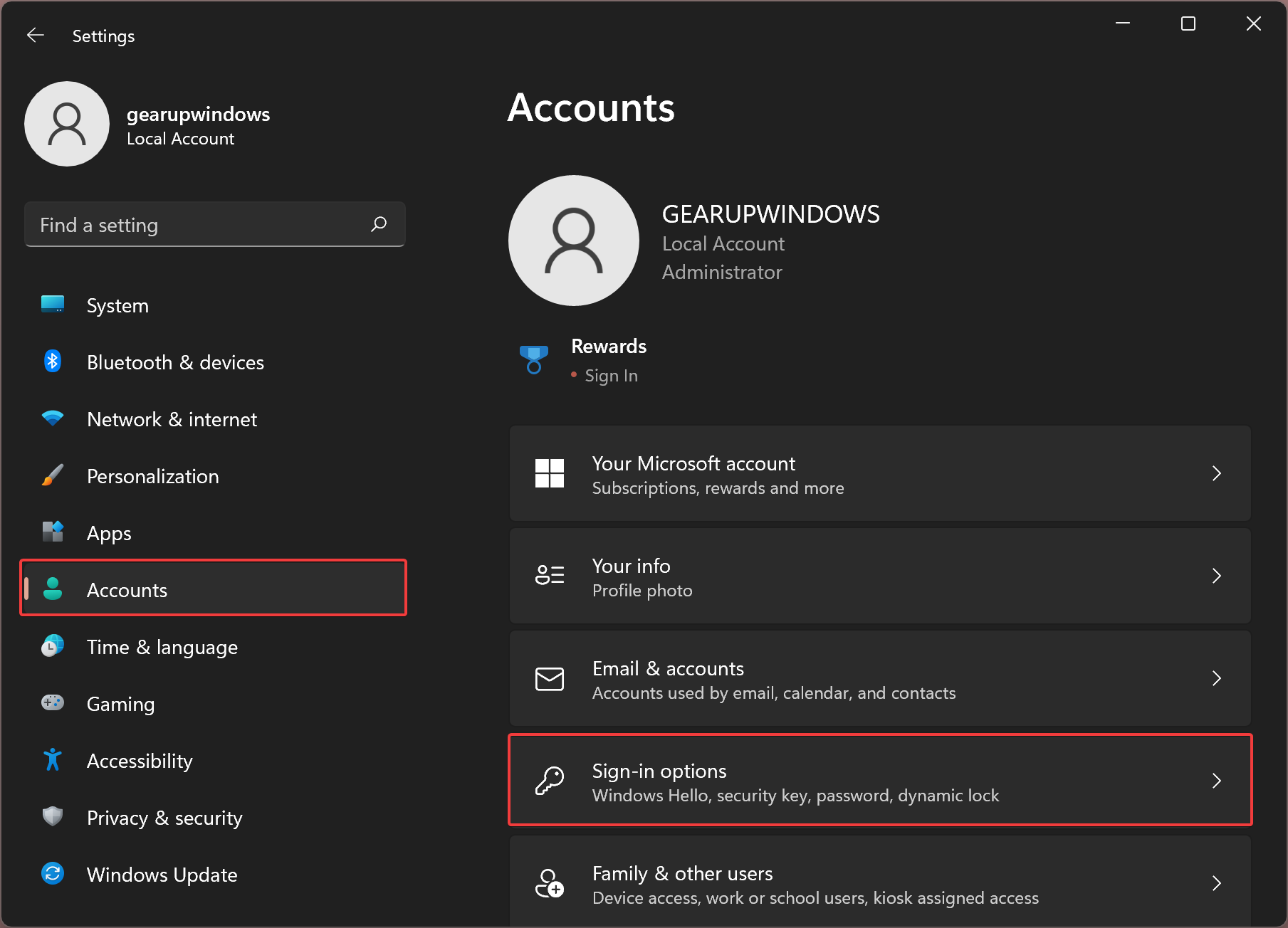 Step 2. After that, select Accounts on the left side.
Step 3. Then, select Sign-in options tile on the right pane of your screen in the Accounts settings page.
Step 4. Next, click on the PIN (Windows Hello) tile under the 'Ways to sign in' section on the 'Sign-in options' settings page.
Step 5. Then click the button Remove beside "Remove this sign-in option."
Step 6. Again, click the Remove button.
Step 7. When prompted by "Windows Security," enter your account password and then click the OK button.
That's it. You can close the Windows Settings app.
Conclusion
In conclusion, removing a PIN from your local account in Windows 11 is a straightforward process. However, keep in mind that removing the PIN will also remove facial recognition or fingerprint sign-in options associated with your account. A PIN is more secure than a password, and it is backed up for recovery with your Microsoft account. Nevertheless, if you decide to remove the PIN, follow the above steps carefully to remove it successfully.