The forthcoming Windows 11 final release is scheduled for 5 Oct 2021. Most Windows users are already using Windows Insider and beta builds to view the upcoming update. However, some users see the 'Evaluation copy' watermark, which is quite annoying. Now, what to do? Is something wrong with our OS? Is your copy of Windows expired? Let me see it in detail.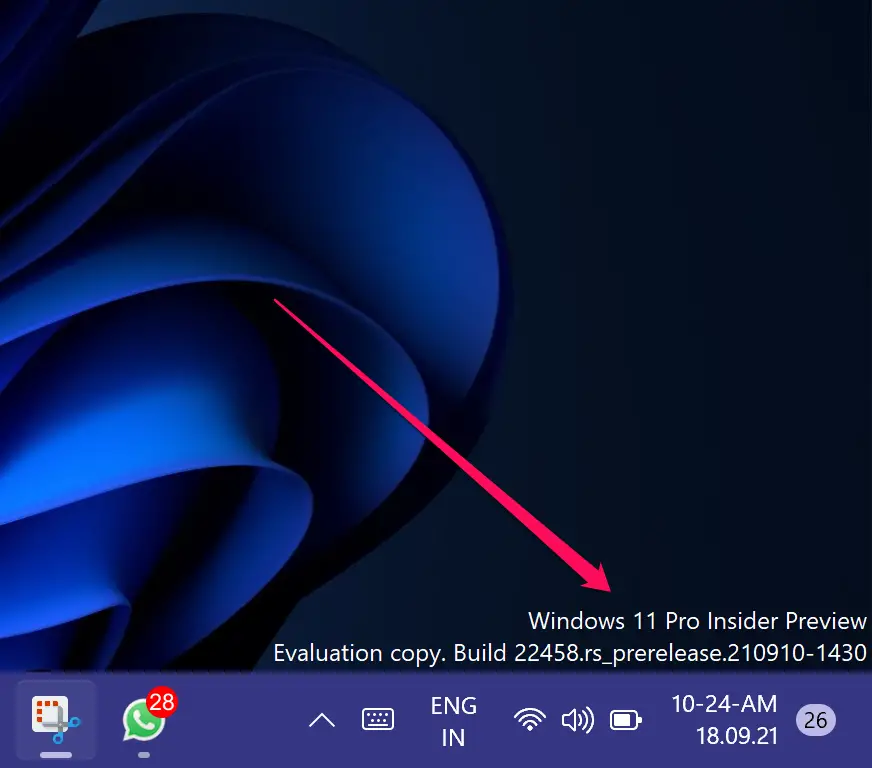 What is the evaluation copy watermark on Windows 11 or 10 desktops?
Windows add evaluation copy watermark to your desktop in the bottom right corner of your screen. This watermark indicates your current build, your Windows edition, and the variant that you are using. It reminds the user of their current beta or dev builds at a single glance.
A few Windows users are happy, but most people get annoyed to see anything extra that they have not added themself. In such cases, they want to remove this watermark from their PC.
Windows also add a watermark when your copy is not genuine. However, that is different than this message, and you will see on the desktop, 'Your copy of Windows is not genuine.' This nongenuine watermark never goes away until you activate your Windows copy with a genuine product key.
How to Remove Evaluation Copy Watermark on Windows 11 or 10?
This evaluation copy watermark will automatically be removed when Windows 11 will finally be released and you update your Windows. Microsoft includes it for a specific period during the development of the operating system. But, if you can't wait for that period and want to remove it just now, you need to use third-party software.
The Universal Watermark Disabler is a popular freeware tool from the winareo team that lets you show or hide the watermark from your beta or dev copy of Windows 11. To remove the watermark from the desktop, do the following:-
Step 1. Download Universal Watermark Disabler.
Step 2. Now, right-click the downloaded uwd.zip file and select the Extract all option.
Step 3. Now, double-click the usd.exe file to open it.
Step 4. Click the Install button to remove the watermark.
Step 5. Read the warning message and then click Yes.
Step 6. Click OK to sign out.
Now, when you log into your PC, you will be unable to find a watermark.
If you wish to add the watermark again, run the Universal Watermark Disabler tool, and this time you will find the Uninstall button. Press it to remove the patches from your Windows 11/10 PC. Now, you will see the watermark again.
Download Universal Watermark Disabler
Universal Watermark Disabler is a freeware application that can remove all kinds of watermarks in Windows 10, 8.1, and 8. It officially does not yet support Windows 11, but it did a great job in our test. You can download this free and tiny utility from here.
Also Read: How to remove "System requirements not met" Watermark on Windows 11?