Have you set the BIOS password for your Acer laptop and forgotten it? Sometimes we need to access the BIOS to make some hardware changes to the computer, but the BIOS is protected and secured by some password. In order to reset your Windows password, you can use a password-breaking CD. But what about the BIOS password?
To remove a BIOS password, you need to remove the CMOS Battery on all Windows devices which work on all Windows devices. This method requires opening screws on the computer hardware, so it isn't suitable for an unfamiliar person, despite suiting the best to technicians.
This method requires turning off your computer and unplugging its power cord first. The CMOS battery is located under the computer case. Remove the case with a screwdriver. After taking out the CMOS battery, wait 10 – 25 minutes to put it back in because the capacitors can still store power even when everything is unplugged.
After plugging everything back in, power up the computer and enter the BIOS. If everything goes well, there should be no more passwords.
It is, however, possible to manage things without opening the case if you use an Acer laptop or computer. You can make the task easier by using an online BIOS password generator.
To access your Acer BIOS, turn it on and immediately press the F2 key (If F2 does not work, you can try Del or Esc key). You should now see "Enter Current Password." Here's where the trick kicks in.
Enter any random number as your password. If you enter the wrong password three times, you should see "Enter Unlock Password." Click Enter, and your Unlock Key should appear. Write this key down and go to BiOSBUG.com. Here, there are two types of passwords generator available. If your laptop needs 8-digit unlock key, generate it here. However, you need to follow this link for the 10-digit unlock key.
Here, write that key in the text box and press the "Send Request" button to get your Acer BIOS unlock key.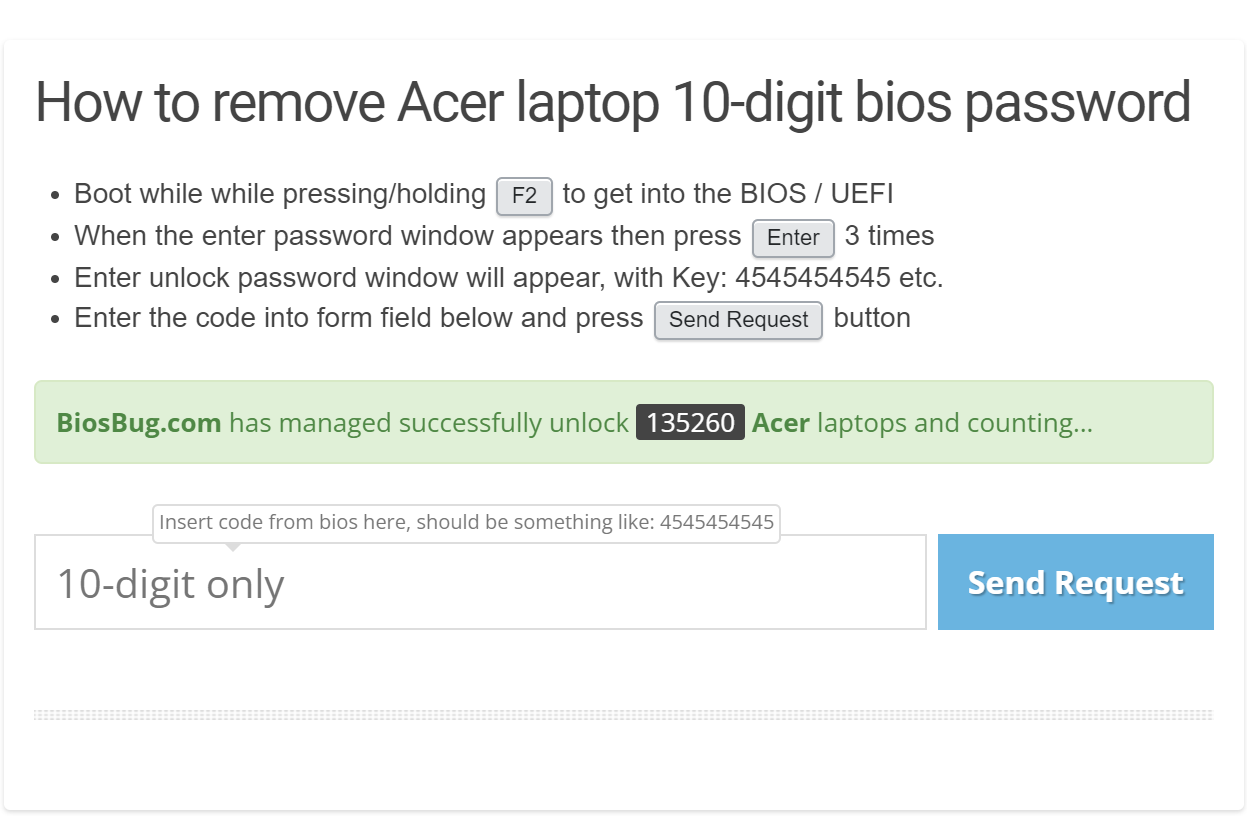 You should then go back to your laptop and put that key into the "Enter Unlock Password" box, and if you are successful, you should have entered into BIOS. You should now see a little box with three password fields in the BIOS when you click the "Set Supervisor Password" button under the Security tab. Enter the unlock key you received from BiOSBUG.com into the current password field, leave the new password field blank, and press the Enter key twice to confirm. After clicking on "Exit Saving Changes," your laptop should no longer have a BIOS password, and you will be able to boot into Windows OS.