If you're encountering an error message on your Windows PC indicating that a file is missing or corrupted, don't worry! There are various reasons why this might be happening, such as a virus attack, improper shutdown, or human error. Fortunately, there's an easy solution to this issue: performing a system scan for corrupted or missing files.
While there are many third-party tools available online that claim to fix Windows issues, they may not be effective or may require a fee. However, Microsoft has provided a command-line utility that is both free and reliable. By executing a single command in an elevated command prompt, you can scan and fix any corrupted or missing system files automatically.
In this post, we'll guide you through the steps to repair your Windows 10/8/7 system files without using any third-party tools. With our easy-to-follow instructions, you can troubleshoot and resolve any issues with your Windows PC quickly and efficiently.
How to repair corrupt Windows 10/8/7 system files?
Follow these steps to repair corrupt Windows 10/8/7 system files:-
Step 1. Open Command Prompt with administrator using any method.
To open the Command Prompt with the administrator privilege, press the Windows logo + R keys to open the Run command box. Type cmd in the Run box and then press Ctrl + Shift + Enter to run the command prompt with full rights.
Step 2. Click Yes if you are prompted by User Account Control (UAC).
Step 3. Once the Command Prompt opens with administrative rights, type the following command, and press Enter from the keyboard:-
sfc /scannow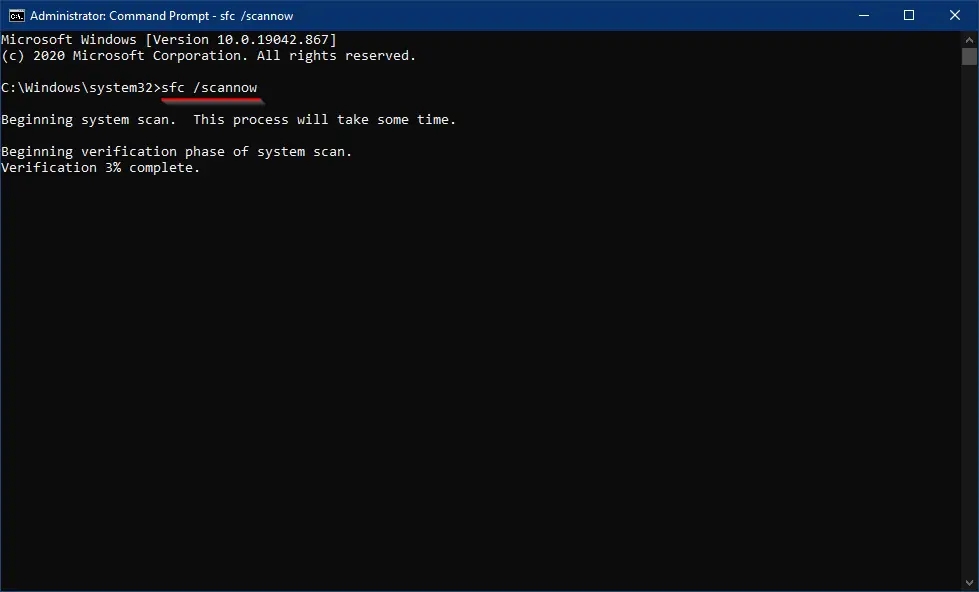 Step 4. The verification process may take a few minutes to complete. Once done, you can close the Command Prompt window.
Once the verification process is completed, it also includes a log file on "C:\Windows\Logs\CBS\CBS.log" (if you have installed your Windows OS other than the "C" drive, follow the path accordingly). You can check the log file and troubleshoot your Windows PC accordingly.