Windows 11 and 10 both displays the Spotlight Images to Lock Screen if you have configured it to do so. This feature automatically downloads beautiful scenery from the Bing search engine and displays it on your Windows 11/10 Lock Screen. However, Microsoft has not provided any option to save these images on the hard disk.
Although there is no direct way to save these spotlight images to your PC hard disk for future use, with a small trick, you can keep those pictures on your computer.
In this gearupwindows article, we will guide you on saving Windows 10 Lock Screen images on your PC for future use.
How to Save Windows 10 Lock Screen Spotlight Images?
Although Lock Screen Spotlight images are automatically downloaded to your folder, it is buried in your user folder. Also, this folder remains hidden by default, so average PC users can't reach here.
To locate and save Lock Screen Spotlight Images of Windows 10, use these steps:-
Step 1. Press Windows + R keys on the keyboard to launch the Run dialog box.
Step 2. Then, type the following and hit the Enter key on the keyboard to access the folder where Spotlight Images are saved:-
%userprofile%\AppData\Local\Packages\Microsoft.Windows.ContentDeliveryManager_cw5n1h2txyewy\LocalState\Assets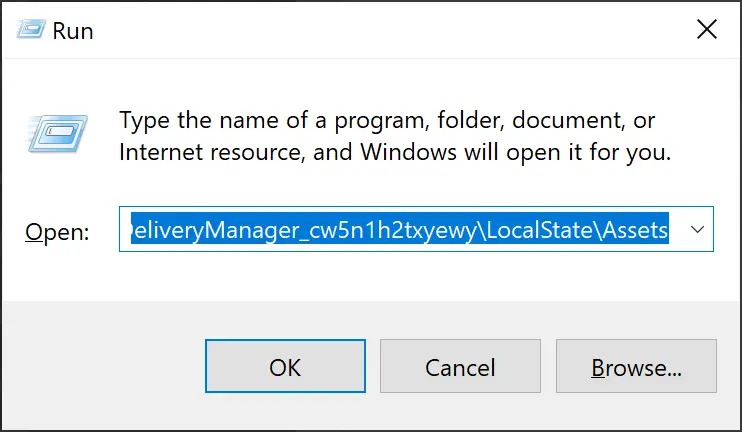 Step 3. When you're done, it will open the "Assets" folder of the currently logged-in user will open. In this folder, you may find a bunch of files with long and meaningless file names without extensions. So, you need to work with this folder. Instead of working with these files directly in the Assets folder, just copy all these files into a separate folder. For instance, we have copied all these files to "C:\Users\GearUpWindows\Desktop\Spotlight Images."
Step 4. Next, you need to rename these files with a valid extension such as ".JPEG" or ".PNG." To rename all these files at once with the ".jpg" or ".png" extension, open an elevated Command Prompt. Then, copy and paste the following command and hit the Enter key on the keyboard:-
ren "folder_path\*.*" *.jpg
or,
ren "folder_path\*.*" *.png
Note: Please replace "folder_path" in the above command with the new folder path where you have copied Spotlight images.
When you're done, go back to the folder in which you had copied Spotlight images, you will notice all files now have a ".jpg" or ".png" extension. That means you can open these with any image viewer software.