Microsoft allows you to block Macro virus or Macro targeted malware files from the Internet from opening & running automatically in your Microsoft Office programs such as Word, Excel, or PowerPoint documents. For that, you need to use Group Policy in Windows 11/10.
Office Macros are codes written in Visual Basic (VBA) to carry out select repetitive tasks. They are helpful by themselves, but malware writers often misuse this functionality to introduce malware into your computer system.
Cybercriminals send macro-infested files that will later download a malicious script via email and use a subject line that interests or provokes you to open the document. Once you open such a document, a macro-virus runs on your computer and executes whatever task the criminal wants.
By default, Microsoft has disabled the Macro functioning on the Office program. That means no macro would run in Microsoft Word or Excel until you allow it to run since the files now open in Protected View. Apart from that, Microsoft also allows you to block or stop malicious Macros using Group Policy.
In this gearupwindows article, we will guide you on preventing Macros from running in Microsoft Office.
How to Stop or Block Macros from Running in Microsoft Office?
Before proceeding with steps, please ensure that your Windows 11/10 computer can run Group Policy. If you are using Home Edition Windows 11/10, you'll need to enable the gpedit.msc. Next, you need to download and install the Office's Group Policy template. For that, navigate to the Microsoft website and download the latest admin templates.
To prevent Micros from running in the Office program on a Windows 11/10 PC, do the following:-
Step 1. Open Local Group Policy Editor.
For that, press Windows + R keys on the keyboard and type gpedit.msc in the Run box. After that, hit Enter key on the keyboard.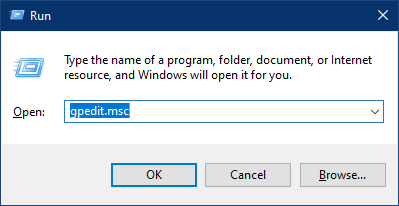 Step 2. When the Local Group Policy Editor window appears on your computer, navigate to the following path in the left sidebar:-
User configuration > Administrative templates > Microsoft Word > Word options > Security > Trust Center.
Step 3. On the right-sidebar, double-click on the policy, "Block macros from running in Office files from the Internet."
Step 4. Select the Enabled option.
Step 5. Click Apply.
Step 6. Click OK.
Similarly, disable the policy mentioned above at the following paths also:-
User configuration > Administrative templates > Microsoft Excel > Excel options > Security > Trust Center
and,
User configuration > Administrative templates > Microsoft PowerPoint > PowerPoint options > Security > Trust Center.