If you purchased a computer with Windows 11 Home preinstalled, you can pay and upgrade to Windows 11 Pro. You will need a valid Windows 11 Pro edition key to upgrade your PC. Upgrading Home edition Windows to Pro will not erase your data, which means it is pretty safe. You don't need to make a bootable USB drive and install your Windows from scratch.
You can get a valid Windows 11 Pro license key from a vendor and then add the key to your current PC and upgrade. Otherwise, you can buy it from the Microsoft Store.
Why do you need to upgrade to Windows 11 Pro?
Windows 11 Pro contains a few significant features that the Home edition doesn't have. A percentage of Windows 11 Home edition users will be happy, but not all may. As the name suggests, the Pro edition is more geared towards professionals and enterprise-managed PCs.
One of the Windows 11 Pro exclusive features is BitLocker encryption, which helps protect the data on your PC from external attackers. After encrypting the data of your computer, only you can access it. If you store personal or secret data on your computer, BitLocker will help you a lot.
Another notable feature is Remote Desktop support. It lets you remotely connect to your PC and control it from anywhere. This functionality may be handy if you want to access your computer from other places. For remote desktop access, TeamViewer is a good alternative.
Pro edition Windows 11 also supports Hyper-V virtualization that lets you create and run virtual machines so that you can test specific environments or risky software without damaging your host PC. However, some freeware applications like VirtualBox allow you to install Windows 11 after bypassing system requirements.
Above are some of the examples of why you should consider upgrading your Windows 11. After all, you need to decide to upgrade to the Pro edition or rest with a Windows 11 Home.
How to Upgrade Windows 11 Home to Pro?
Before upgrading to Windows 11 Pro, you should note that your Windows 11 Home is activated; otherwise, you can not continue with the upgrade process. Usually, if you have purchased a preinstalled computer, your copy of Windows 11 should already be activated. If you need, check whether your Windows 11 is activated?
When you know that your Windows is activated, to upgrade to Pro edition, do the following:-
Step 1. First, open the Settings app by pressing Windows + I keys.
Step 2. When Windows Settings opens, select the System category from the left sidebar.
Step 3. On the right sidebar, click on the Activation tab.
Step 4. After that, click the Upgrade your edition of Windows option to expand it.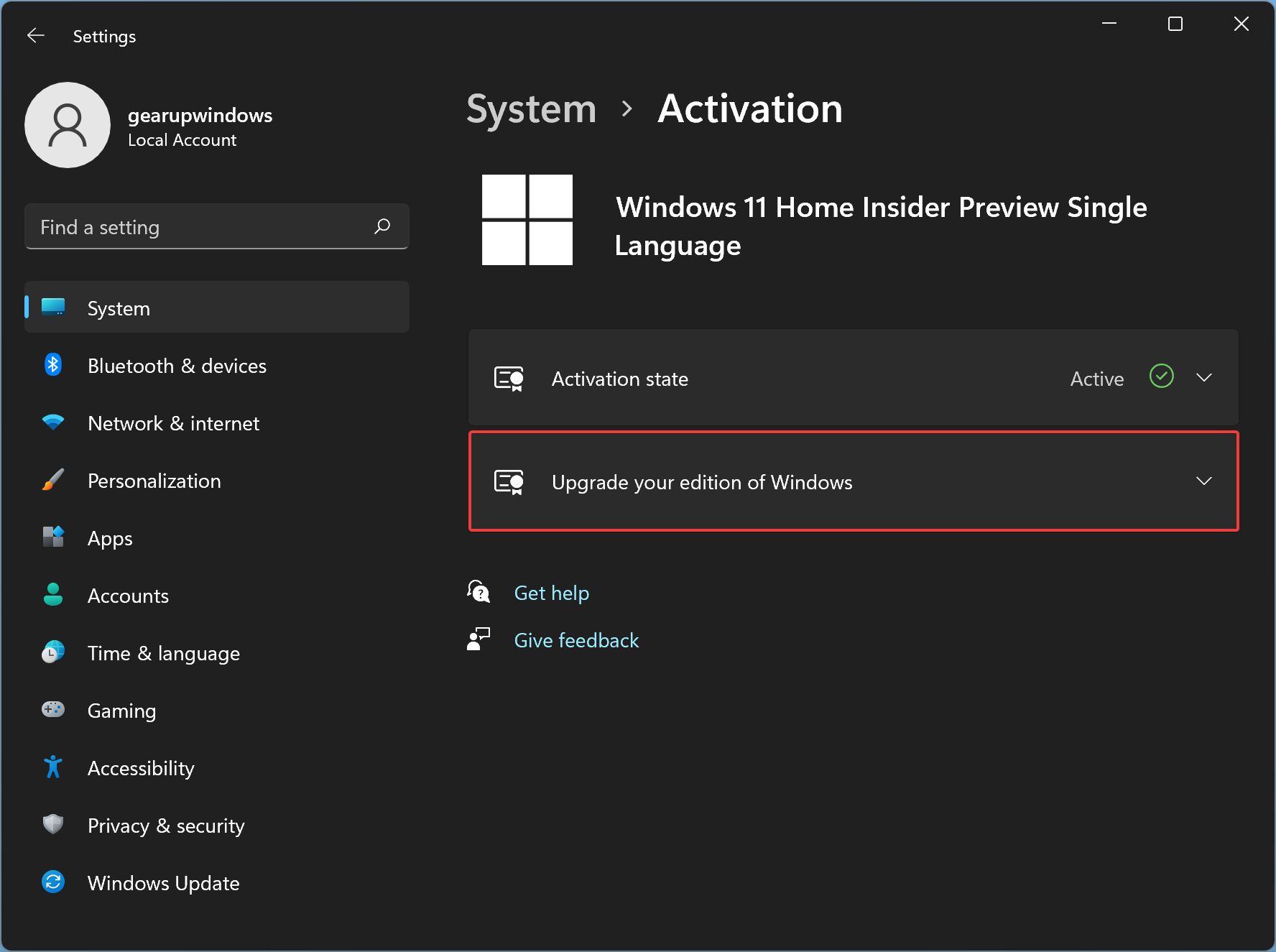 Step 5. Next, click the Change button beside the "Change product key" option.
Quick Note: If you have not yet purchased Windows 11 Pro key, click the button Open Store beside "Upgrade in the Microsoft app" and complete the purchase.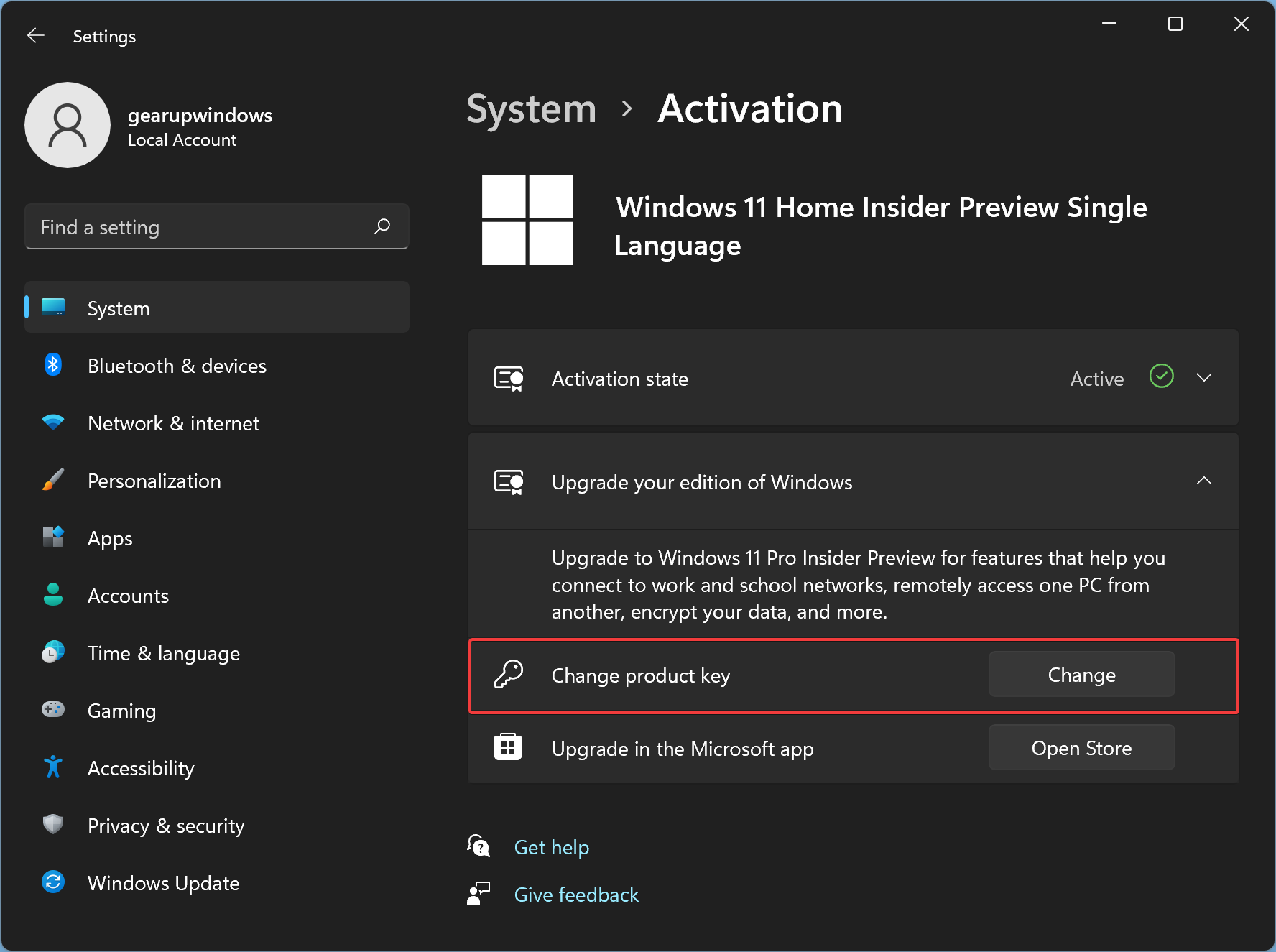 Step 6. Now a pop-up window will appear to enter the product key. Enter here Windows 11 Pro key that you already purchased.
Step 7. After entering the correct 25-digit product key, click the Next button. Please ensure you have an active internet connection to validate the product key from the Microsoft activation server, and Windows 11 Pro should activate permanently.
When you're done, you will get a message "Your copy of Windows is successfully activated" upon successful activation. Now, you can access all the features of Windows 11 Pro on your PC.