To reduce the eye strain, Windows 11 uses the Night light feature. If you're still having problems seeing what's on your screen, you can use Windows 11 built-in color filters. It will help you to distinguish between things that differ only by color. This changes the color palette of objects on the screen, which brings out the contrast and could help you see clearly. These built-in color filters of Windows 11 might help people with vision loss or color vision deficiencies.
How to Adjust Color Filters in Windows 11?
Step 1. Open the Settings app by pressing Windows + I keys.
Step 2. When Windows Settings appears, select Accessibility from the left sidebar.
Step 3. On the right sidebar, click the Color Filters.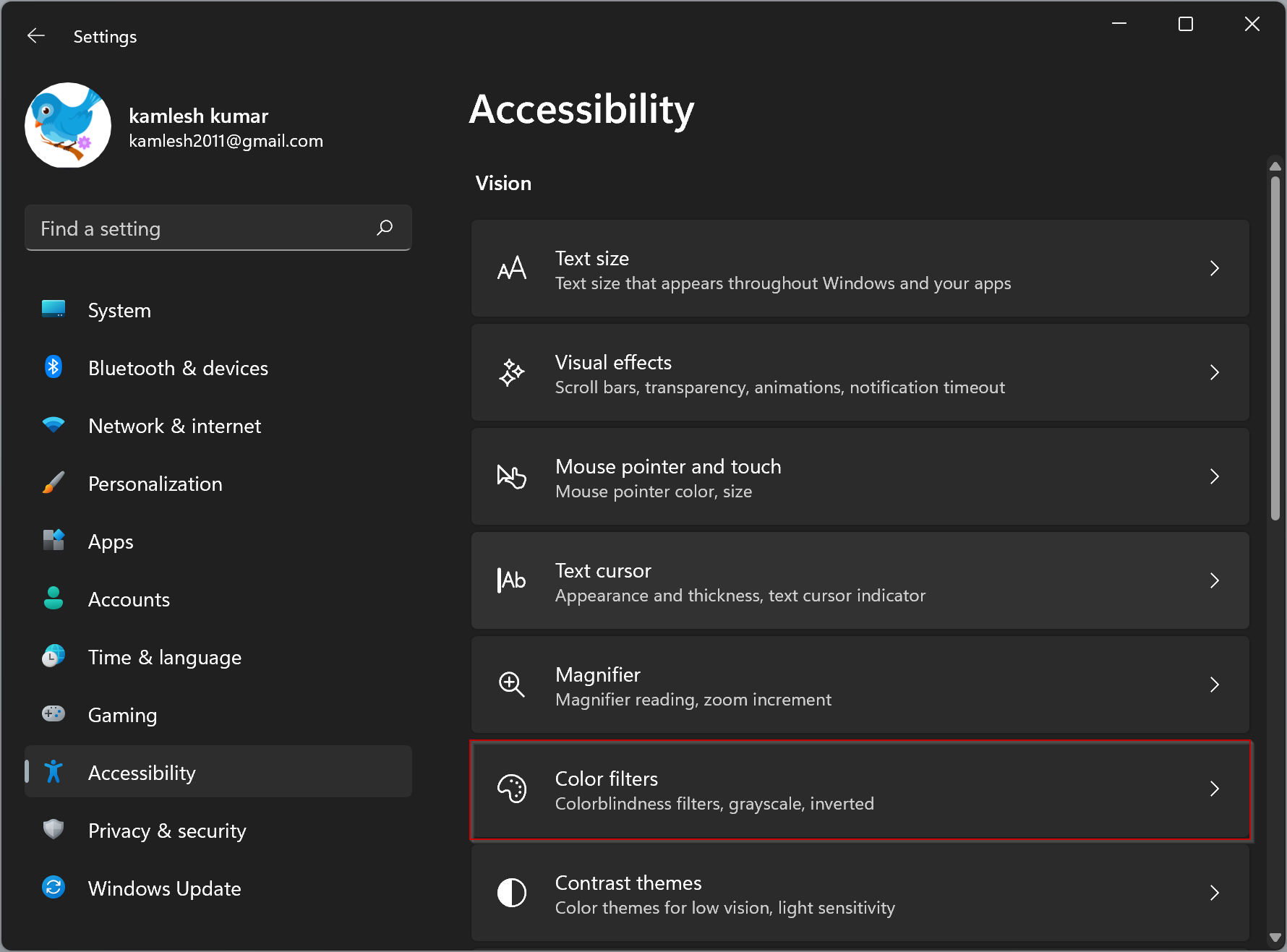 Step 4. In Color filters settings, flip the toggle switch to On beside Color filters option.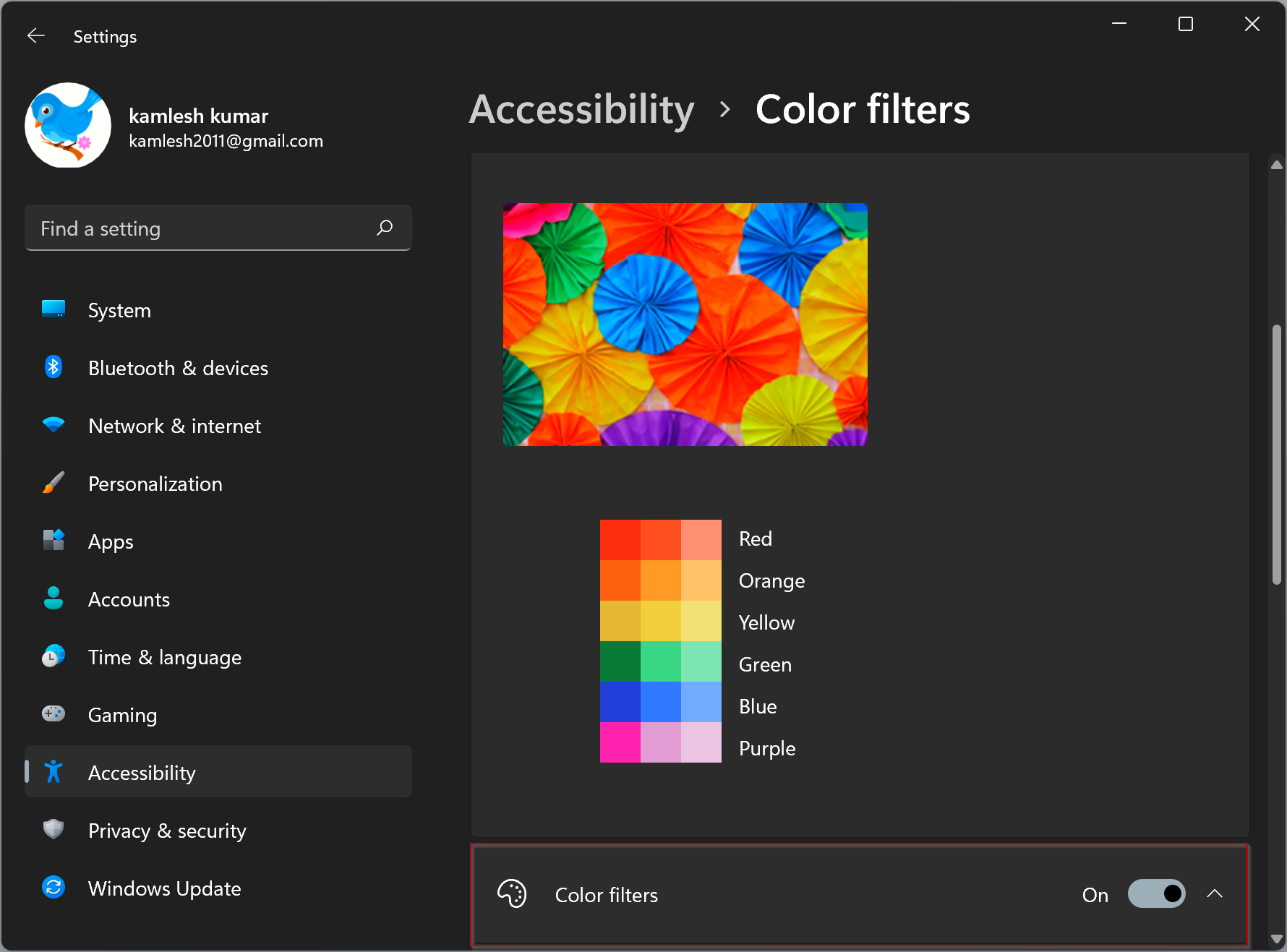 Step 5. Next, you'll see six filters. These are the following:-
Red-green (green weak, deuteranopia)
Red-green (red weak, protanopia)
Blue-yellow (tritanopia)
Grayscale
Grayscale Inverted
Inverted
Select the color filter that you'd like to use.
Step 6. When you select the filter, it will be applied immediately and automatically. If you want to see the preview of the effects of the filter, scroll up the window to view the "Color filter preview" section. Here, you will see a color wheel, sample photo, and grid of colors.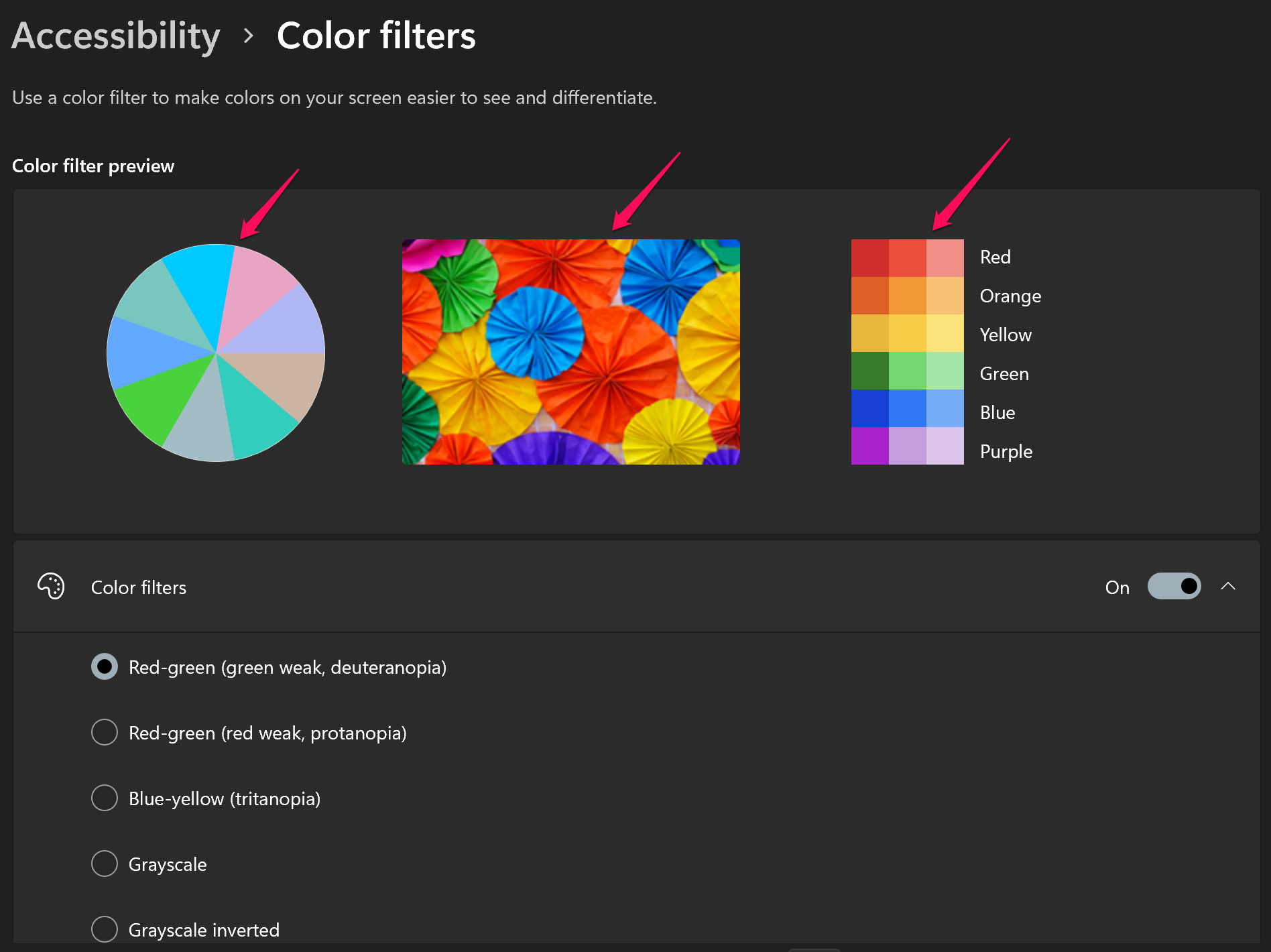 That's it. Now color filters are applied. Suppose you want to enable the quick keyboard shortcut to turn on/off color filters, flip the toggle switch beside "Keyboard shortcut for color filters" to "On."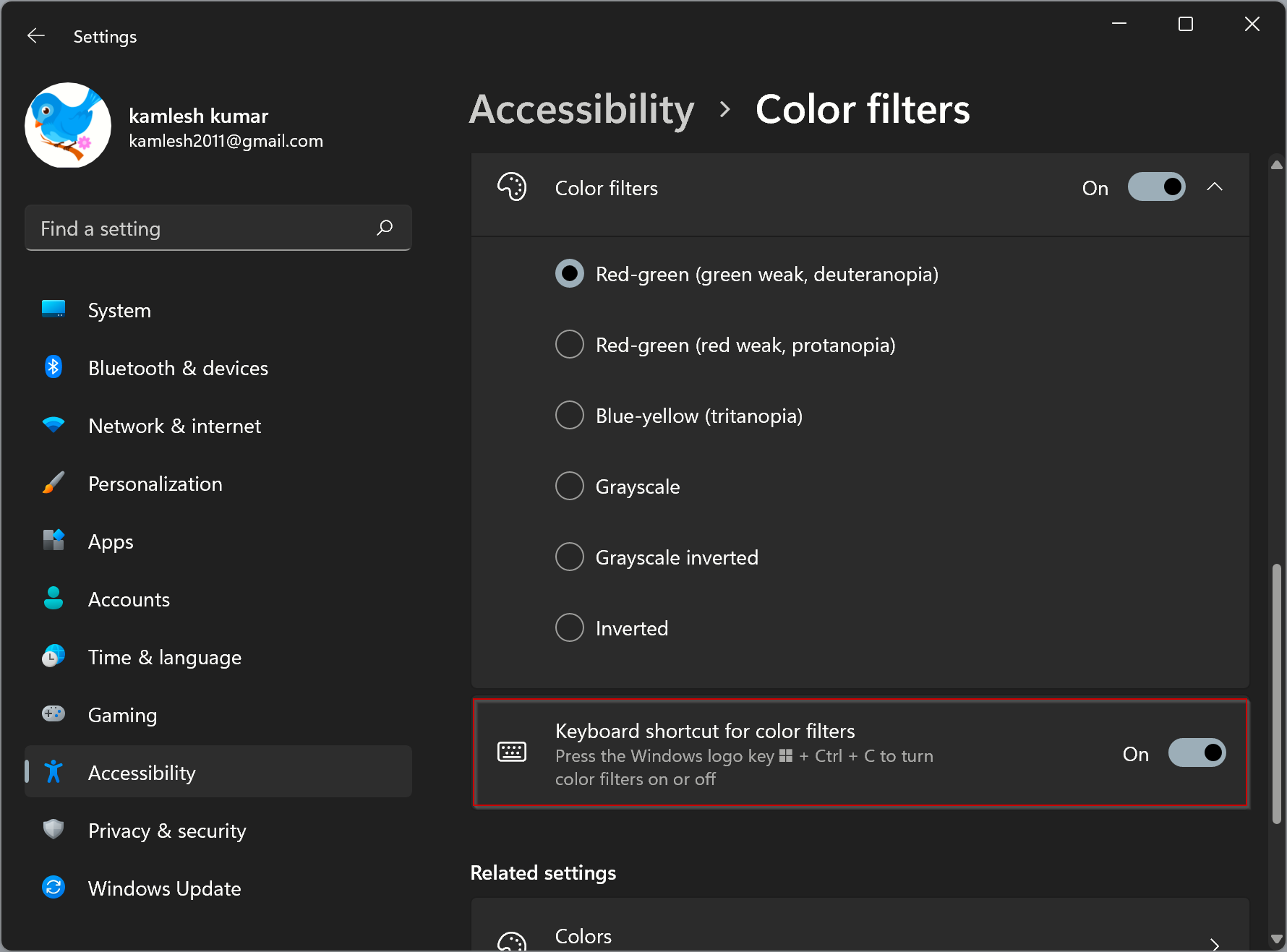 Now that you have enabled the shortcut for color filters, press Windows + Ctrl + C on your keyboard at any time to toggle color filters on or off.
How to Quickly Turn Color Filters On or Off?
Apart from the keyboard shortcut Windows + Ctrl + C, you can also quickly turn on/off Color filters using Quick Settings button in the taskbar. To do that, perform the following steps:-
Step 1. Click the Quick Settings on the taskbar and select the Accessibility icon.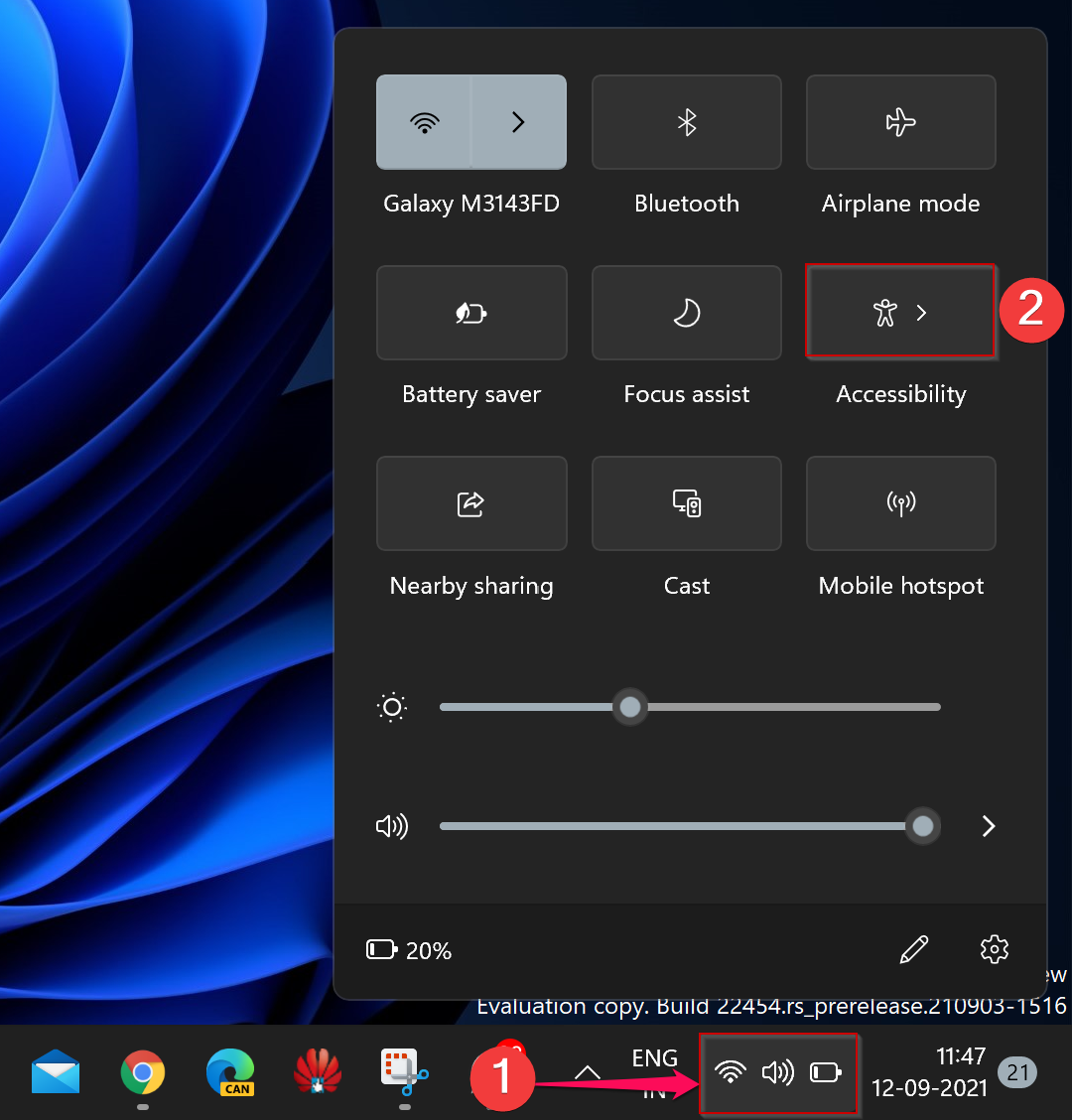 Step 2. In the Accessibility Quick Settings menu, flip the toggle switch beside "Color filters" to turn it On/Off.