A few freeware over the internet can help you create a Windows 10 / 8 / 7 bootable USB flash drive. Windows USB/DVD Download Tool is one of those that lets you create a Bootable USB / DVD directly from ISO. We have reviewed AnyBurn software that supports creating a bootable USB flash drive, and let's burn & create an image to CD/DVD/Bluray/USB Disc. Microsoft also provides an official tool to create a bootable USB / DVD from ISO known as Windows USB/DVD Download Tool.
EasyBCD is one of the top-rated utilities for the Windows operating system, known for its ability to add, remove, and edit boot entries. Most Windows users are unaware that this freeware even lets you create a bootable Windows USB drive with a few clicks.
You can even create a bootable Windows 10 / 8.1 / 7 USB flash drive using a native command prompt or a popular tool Rufus.
Let's now check how to prepare a bootable Windows USB flash drive using EasyBCD.
How to use the EasyBCD tool to create a bootable Windows 10/8/7 USB Drive?
Step 1. Download, install and launch the latest version of the EasyBCD utility.
Step 2. Connect the USB flash drive to your PC.
Step 3. Right-click on the USB flash drive and select the Format option (before proceeding with formatting, copy all important data from your USB drive).
Step 4. Select the File System as exFAT.
Step 5. Click the Start button to process the formatting.
Step 6. Once the formatting is completed, run the EasyBCD utility tool.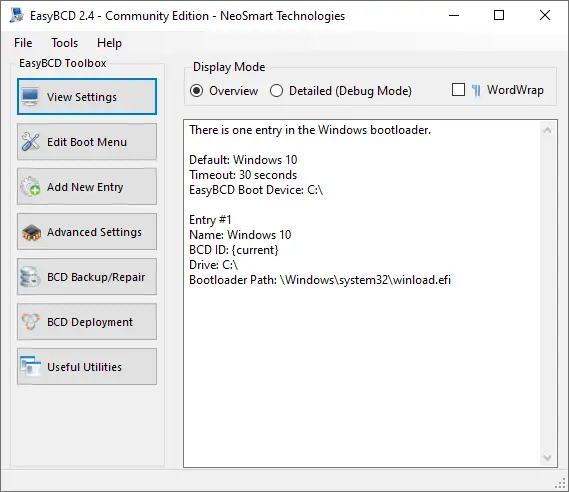 Step 7. Click on the BCD Deployment button.
Step 8. Under the "Create Bootable External Media" section, select the USB drive, next to the Partition drop-down, that you want to make bootable.
Step 9. Click the Install BCD button and wait to see the Bootable Disk Created dialog box.
Step 10. Click on the Yes button and close the EasyBCD tool.
Step 11. Now copy all installation files and folders from Windows 10 / 8.1 / 7 DVD or ISO file to USB flash drive.
Note:  You can extract the contents of ISO using WinRAR software.
Once all the files/folders are copied into a USB flash drive, you can use your USB flash drive to install Windows 10 / 8.1 / 7.
Once you have created a bootable USB flash drive, you can test it without installing it on your computer or laptop.
Download EasyBCD
You can download EasyBCD from here.